Denise Richards Had a Heartfelt Reunion with Her Estranged Daughter Sami Sheen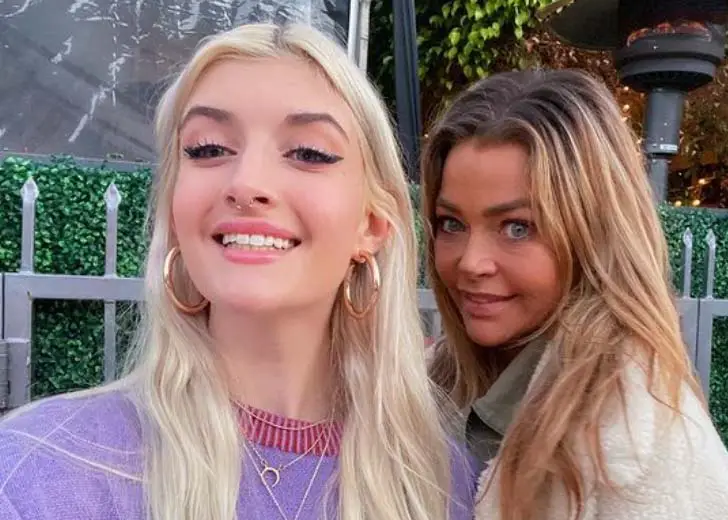 On May 8, 2022, Denise Richards reunited with her estranged daughter, Sami Sheen, for Mother's Day.
The actress' oldest child, whom she shares with former husband Charlie Sheen, posted a series of selfies with her mom to celebrate the holiday. 
The mother-daughter duo was all smiles for the cute photos together, and they both had heartfelt messages for one another in the comments section. 
Denise wrote, "Thank you Sami for an amazing Mother's Day. It means a lot to me. I know nana was at dinner with us she would never miss one of her favorite restaurants. Thank you & I love you so much."
The Mother's Day reunion comes after the mother shared that her relationship with her oldest daughter was "strained" after she lived with her father. 

Denise Richards and her oldest daughter, Sami Sheen, on Mother's Day. (Source: Sami Sheen/Instagram)
During an appearance on SiriusXM's Jeff Lewis Live, she admitted raising teenagers was difficult, especially since they were used to having everything they wanted. 
She explained she had certain rules enforced in her house and insinuated that her daughter disagreed with it and went to her father's place, where there were different rules. 
Denise Richards' Three Kids
Besides Sami, Denise is also a mother to two other kids. 
Her oldest daughter Sami was born on March 9, 2004, while her second child, Lola Rose Sheen, was born on June 1, 2005. 
While the actress was pregnant with Lola, her marriage with Charlie took a tumultuous turn, and she filed a restraining order against him. 
After that, she filed for divorce, which was finalized on November 30, 2006. The couple had an ugly custody battle, but Denise won and was given primary physical custody of their two kids.
Meanwhile, the Two and a Half Men actor got visitation rights.
Years after the divorce in November 2015, Denise revealed in the Allegedly With Theo Von and Matthew Cole Weiss podcast that her former partner was not struggling with substance abuse when they walked down the aisle. 
"He was sober for almost four years. He was a very different person. His lifestyle was very different. He was a former bad boy, I guess," said the actress.
Denise Richards Moves on with Aaron Phypers
A decade after her divorce, the Love Actually star met her current husband, Aaron Phypers, at his wellness clinic, Quantum 360.
In January 2018, the couple got engaged months after Phypers' divorce from Nicollette Sheridan was finalized.
And then, in September of that year, the duo tied the knot.
Before marrying, Phypers called her ex-spouse to let him know they were getting married and that he would be a stepdad to their kids.
"He and I are definitely great partners with the kids and we're definitely on the same page, which makes it so much easier. We have a strong family unit, we're very secure and I'm so happy that Eloise has such a wonderful dad and my girls have a great stepdad," shared the Wild Things star.
At the time, Denise was raising her third and adopted daughter, Eloise Joni Richards, all on her own, but that changed when Phypers officially adopted her.
Denise now lives happily with her husband and kids despite her difficult past.