Rosie Mercado, Plus Size Model Shares Weight & Husband Trauma Struggle
As a plus-size model, Rosie Mercado often promotes...common misconception when it comes to the love lives of people...embraced a beautiful relationship with her...seems to have found another destined one for herself...incoming husband of the model...finally found her perfect man who is willing to...

Quick Information
Ethnicity/Race

Latino

Religion

Christianity

Height/ How Tall?

5'9" (1.78 m)

Weight

N/A

Hair

Long

Hair Color

Brown

Eye Color

Brown

Lesbian

No

Children/Kids

3

Date of Birth

Mar 28, 1980

Age

42 Years, 11 Months

Nationality American
Birth Place

Los Angeles, California, United States

Profession

Model

Career

2009-present

Relationship Status

Married

Husband/Spouse

Gilberto Flores (m. 2019)

Ex-Husband

Kirby Braden Mercado

Divorce/Split

Yes (Once)

Wedding Date

February 9, 2019

Dating/Affair

No

Net Worth

Not Disclosed
American plus-size model Rosie Mercado faced a series of difficulties when it came to her weight and accepting herself. And her struggle only got harder after she parted with her husband. So how did she cope with the trouble and prioritize herself? 
Rosie Mercado is quite known for her appearance in reality television show Curvy Girls on NuvoTV and for featuring on Taboo of National Geographic Channel. She has lost nearly 250 pounds bringing her weight to around 160 pounds as of now.
Beautiful As Always: Rosie Mercado discusses her dramatic weight loss and the definition of beauty on The Doctors (Published on 2 November 2016)
As a plus-size model, Rosie often promotes body diversity as a lifestyle coach who inspires women to embrace their authentic beauty. 
Rosie Mercado Continues To Inspire Women As Plus Size Model
Born on 28 March 1980, Rosie Mercado was raised in Riverside, California but she spent the majority of her life in Las Vegas after her family moved their business there. She attended Bishop Gorman High School but left it in 1999 after getting bullied because of her weight as she was often called 'a big girl with a pretty face' or 'the girl with the pretty face and the big ass.'
You May Also Like: Openly Gay Robin Cousins Is Married With Husband & No One Knows - Why?
Rosie, age 38, had a desire to participate in the fashion industry but was hesitant due to her insecurities with weight. But she soon stepped into the fashion industry as a photographer; she was trying to grow her business but didn't have enough money to hire professional models.
It was after a celebrity photographer suggested her to try modeling for her beautiful face that Rosie pulled the courage to try it out. But she often got rejected because of her size. She then started to work as a radio personality in Las Vegas and went to work for Telemundo and Univision doing several red carpet interviews with high profile Latino celebrities.
The plus-size model soon featured on National Geographic Channel's Taboo and is now working as a special correspondent with Emmy award-winning show, Dr. Phil and The Doctors on CBS that adds to her net worth of millions.
It wasn't long before Rosie realized that her weight wasn't healthy and that she had trouble doing normal activities on a daily basis, so she struggled hard to lose weight. After going through intense routines of working out and eating right, the model who was a size 32/34 before, is now down to her current size of 12/14 at her smallest.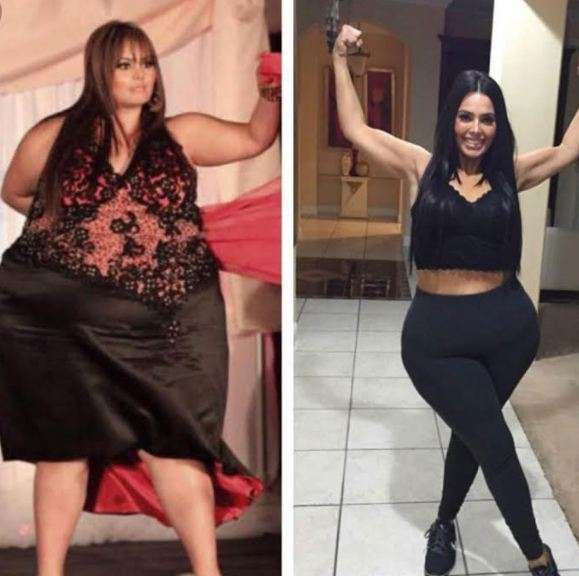 Massive Change: Before and now collage picture of Rosie's weight transformation (Photo: US Weekly | 17 August 2018)
But her weight loss wasn't quite appreciated by some people as many criticized her for being ashamed of her own body. Some of the over-weight women even slammed back at her stating that she had 'betrayed' them, even going to the extent of telling her to kill herself. 
Read Also: Connie Chung Blessed With Husband And Son! Retirement, Net Worth And More Facts
It was difficult for Rosie to survive those comments but she took it upon herself to accept herself with a much healthier body. She is even considered one of the top six influential latinas by Latina Magazine and Univision.
Rosie Mercado Gained Weight After Parting With Husband
There is a common misconception when it comes to the love lives of people with obesity. Many often believe that most men prefer women with a slender figure and ideal height, which is why overweight women face certain insecurities to involve in a romantic affair.
But time has changed now and men are not setting their bars too high. And for a plus size model, Rosie too embraced a beautiful relationship with her former husband, Kirby Braden Mercado.

Too Good For Him: Rosie shares a picture of herself with her former husband and friends on Twitter (Photo: Rosie Mercado's Twitter | 8 April 2017)
She even shares three children with her then-husband. But they parted in 2018, which led to Rosie going back to her old habits and gain 20 pounds.
You Don't Want To Miss: Did Charles Osgood Quits Sunday Morning Amid Health Complication? Illness, Death Rumor, Age, Family Net Worth
It was difficult for her to prioritize herself but she picked herself up eventually and focused on being a good mother to her children even though she had parted with her husband. In fact, her daughter deals with being overweight and Rosie had all the good words to say for her 18-year-old daughter on People in August 2018,
My daughter is 18, and because of genetics and bad decisions and past pain, she's dealing with being overweight. And it's something I'm so proud of her about because she hasn't gotten the gastric sleeve, and she's taking control of understanding why she's eating what she's eating. I tell them that I'm your mom and I love you unconditionally, but what I want you to learn is that every time that you have food in front of you, you have to consider if you need the food or if you just want it.
And while the plus size model who isn't that plus now seems to have found another destined one for herself.
Is Rosie Mercado Introducing New Husband?
It was on 25 November 2018 that Rosie shared a series of pictures with a man and her whole family as she wished the man a happy birthday. That alone was enough to guess that he was the incoming husband of the model.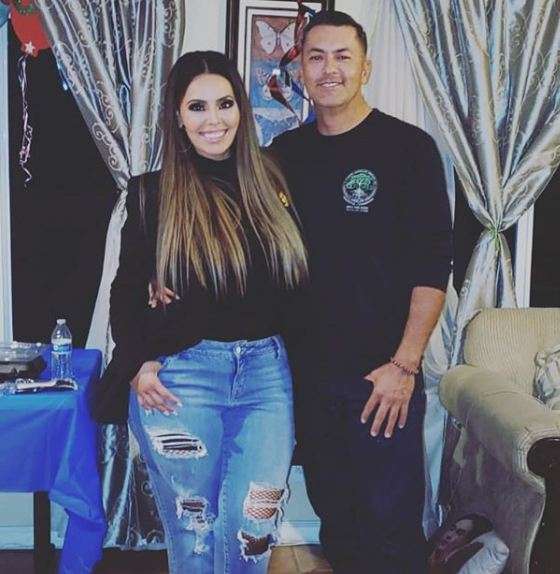 How Cute: Rosie Mercado smiles for a picture with her possible future husband wishing him a happy birthday on Instagram (Photo: Rosie Mercado's Instagram | 25 November 2018)
Oh, and let's not forget to mention that she called the guy 'handsome' in the caption of the picture. Sounds fishy, right?
But she has not yet confirmed if she has moved on from her divorce and finally found her perfect man who is willing to respect her as a person. Until then, we can only keep guessing.