Health Complication Led Charles Osgood Quits Sunday Morning Show
Know why Charles Osgood Left CBS in detail. Besides that, get a hold of the details of his Illness, Death Rumor, Family and Net Worth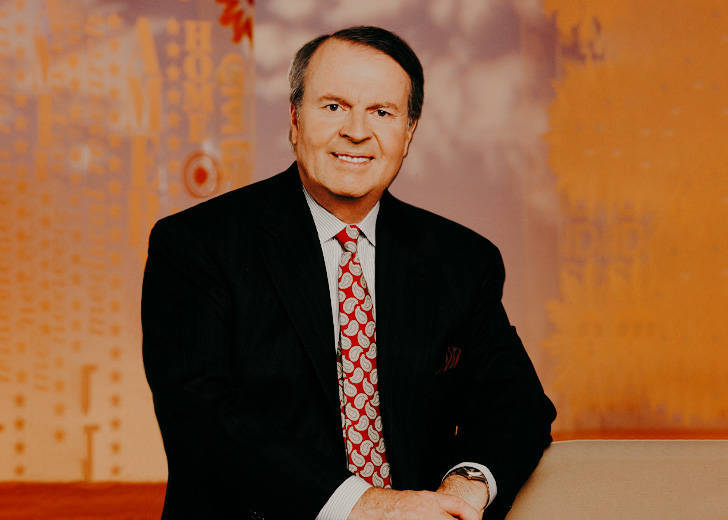 American television writer and commentator, Charles Osgood is best known for hosting the CBS Sunday Morning. With nearly half a century dedicated to TV media, Charles has amassed huge followers and well-wishers. 
If you are a fan of this anchor, then you are probably aware that he has waved goodbye to his television career. But how well are you aware of the reasons for his departure?
Well, join us in the following article to get acquainted with the facts related to Charles's retreat from his job!
Goodbye to CBS: Reasons Behind It
Charles Osgood was a famous anchor, who wore colorful bow ties every morning on the CBS news's CBS Sunday Morning for nearly fifty years. But he bid a goodbye to the show and its viewers officially announced his retirement in August 2016. 
Read Also: CBS' Errol Barnett Wiki: From Gay Rumors To Complete Biography
Rumors were already swirling that Osgood might say goodbye prior the announcement in the media. During the time of rumors, he was preparing for his knee surgery too which was to take place in February 2017. Turns out, the surgery was one of many reasons for his withdrawal from the show besides his ascending age.
However, neither Charles nor CBS News confirmed the news at the moment until now. However, a few months later, Charles addressed the rumors himself and confirmed his retreat by making his last appearance as the anchor on the show in September 2016.
Moreover, in September Charles got a heart-melting farewell program on the set of the Sunday Morning by his colleagues and Jane Pauley, Charles's successor. 
All Good With Osgood: Charles Osgood introduces Jane Pauley as his replacement on 25th September 2016 (Photo: politico.com)
However, even after his pull back from television, he did not miss out on his radio commentary, "The Osgood File."  He continued anchoring for the daily commentary broadcast for about a year.
But later on 21st December 2017, Charles gave up his radio commentary job citing health considerations which may be due to illness or his increasing age. In a statement from Charles, he wrote that his doctors won't allow him to continue the radio projects. 
Another CBS Journo: CBS' Vladimir Duthiers A Married Man? Insight On Personal Life
Nevertheless, fending away all the death rumors, Charles now seems to be peacefully living with his family and enjoying his life away from all the working pressures. 
Charles Osgood's Short Bio
Charles Osgood, who is in the 85th year of his life, was born on 8th January 1933 in the New York City, United States. He was raised by his parents; Charles Osgood Wood II and Mary Osgood. Charles earned his graduate degree in Economics from the Fordham University in 1954.
Even though Charles was an economics graduate, he began his broadcasting career at the school's radio station. 
However, until 1963 he was not pursuing his journalism career. During his time away from the media, he got enlisted in the U.S Army and served there for five years. After returning from the service, Charles landed a job in ABC as a reporter for  ABC's radio and television. 
After four years of his service at the ABC, Charles joined the CBS in 1967. Since then, he has been dedicated to his working passion at the CBS Network where he worked for 22 years.
He got married to Jean Crafton, with whom he shares five children; Kathleen, Winston, Anne Elizabeth, Emily Jean, and Jamie. After retiring, it seems like Charles is currently enjoying his life with his family along with a ravishing net worth of $5 million.
Charles Osgood On Break Or Dead?
The CBS man after retiring has disappeared from the limelight of social media. Although he has never been the one to brag about his personal life, news on him has come to a halt after leaving behind his long-lived radio career.
With deepening silence on the whereabouts of the former anchor, people have started questioning his existence. It is utterly ordinary for the people to wonder if he is dead provided that the last time he was in front of the camera, he was struggling with health issues. 
Flashback: Jane Pauley looks back at the very beginning of Sunday Morning in 1979. (Published on September 14, 2018)
Everybody release your breath! The legendary TV  host is alive and having his reasonable family time. He is now living a life of 85 years old senior citizen, in a healthy state or not is yet to be known.
Fired! Dan Rather: Interview On Trump, Controversy, Getting Fired, Net Worth And More 
The CBS Sunday Morning is not ready to let go of Osgood without a tribute. He was remembered for his 22 years of contribution when CBS celebrated its 40 years of completion on 12 September 2018.
Charles Osgood's name shall be recited as long as Sunday Morning runs and even after.