Surprise! EJ Johnson Boyfriend Issue - Openly Gay Roots From Dad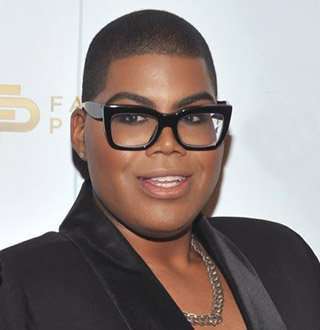 Living a colorful life of EJ Johnson, How hard can it be? Oh well, you need to stand on his feet, and you will know.
Having born to a high profile family, the media was never a big fuss for the Beverly Hills native. But his feature in the Rich Kids of Beverly Hills in 2014 post revelation of sexual orientation provided him with self-owned stardom.
EJ Johnson's Bio (Age): Parents, Sister
The reality TV Star was born on June 2, 1992, in Beverly Hills, California, the United States. He is hardly known by his birth name, Earvin Johnson III.
America's Favorite Gay Newsman: Openly Gay Anderson Cooper Split With Restauranter Partner; Boyfriend Still Family
The fact that the gay man is the son of legendary NBA player, Magic Johnson is not unveiled at all. His mother Earlitha Kelly has been pet named as, 'Cookie' and he has an adopted sister, Elisa Johnson as a sibling.
The Reality Shows favored EJ Johnson Impressive Net Worth of $2 million.
From starring in the E!'s Reality television series, Rich Kids of Beverly Hills in 2014 to starting his own spin-off to the reality show, EJNYC in June 2016, he has been dedicated to the entertainment world. He has proved his fittings for the industry as a news personality (E! News), fashion commentator (Fashion Police) and even as a panel moderator for the 2017 BeautyCon, The Gender Revolution.
It is not hard to figure out that the Television career must have shaped the reality star's interest in fashion.
The trendy fashionista has built a fortune for himself and certainly has a long way to go.
EJ Johnson's Dad Magic Johnson Didn't Accept Being Gay At First
In a world of mainstream stereotypes, standing out and being accepted at the same time is tough. And when one stands out his sexual orientation, estimate the toughness for yourself.
Celebrity kid or not! The openly gay man was not free from the anticipation of opening up. Had it been up to him he might as well have avoided the revelation. But he couldn't refrain from getting suspiciously close to a male friend on a family trip to Hawaii in 2013 that bombarded him with questions afterward.
Another Gay: Openly Gay Andrew Scott Reveals Secret! Boyfriend, Dating, Family & Facts
The reality star had already confessed about his sexuality to his family at the age of 17.
The 26-year-old didn't have an easy coming out as gay as his famous athlete of a dad had a hard time believing his son turned out to be gay.
The gay man had to call a quit on the church he grew up in, West Angeles Church of God in Christ, because of their opinions on homosexuality. In a circumstance as such it natural to feel rejected, unwanted and not clicked. He must have felt the same provided he moved to join New York University.
As for the belief about distance damaging relationship, in Johnson's case, it did the opposite. His relation with his father healed quickly after he moved away. Magic must have had much needed time to pursuit, accepting his son for who he was.
I Couldn't Believe It Man: Magic Johnson talks about his son's Coming out on The Ellen Show (Published on April 19, 2017)
After having a hard time making his family members believe about his sexuality, the star kid was hesitant about coming out as gay publically. It was only in 2013; he came out as a gay with TMZ after his romances surfaced online.
Similar: Revealed? ABC's David Muir Gay: Boyfriend, Dating History, and Married Life
Opening up is a gem of confidence. You must have heard tales of gay men appearing confident after opening up. The tale has come true in EJ's case as well. He is in love with the freedom followed confidence of self-expression and had not failed to surprise the entertainment world with his bold fashion moves.
Openly Transgender(Gay) EJ Johnson's Weight Loss Story: Lost 360 Pounds
We
often hear celebrities saying 'it is not what everyone thinks.' Well in the fashionista's case as well his shocking weight loss was not intended for transitioning his gender. He happened to undergo a huge weight loss; 180 pounds to be exact, on account of gastric sleeve surgery in 2015.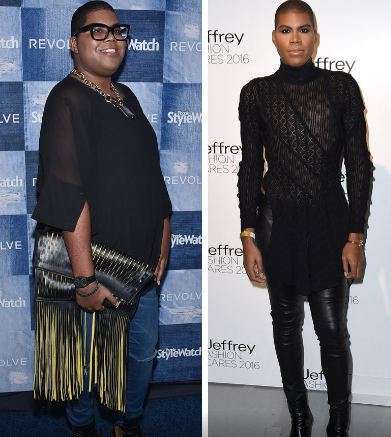 Some Transformation: Before-after image of EJ Johnson after his weight loss surgery in 2015  (Photo: Lifestyle.org)
The gay man's shocking weight loss led to speculated gender transitioning. But whether he wants to be called; a transgender or just as a gay is entirely up to him.
Johnson's new weight reduced body has boosted up his confidence for sure and has been working out to maintain. His Feminine sense of style now compliments him even more, that he has a toned down body.
Does EJ Johnson Has Boyfriend in 2018?
Everybody wants to be in a relationship to be loved to love. But it's not always easy to find a person who would love you for you, not for who your dad is or how much of popularity you offer.
Gay Chef: 'Chopped' Star Ted Allen As Gay Man: Successfully Married, Recipe To Happy Husband
Having Magic for a dad did give EJ plenty of guys to date but not a single one to love till now. The boys would linger either impressed by his dad's reputation or in hopes of getting into the footage for dating the famous gay man.
However, the news made rounds in October 2017, that EJ was allegedly dating former Love and Hip Hop: Hollywood star, Milan Christopher, a rumor he neither accepted nor denied.
Anyways, the gender revolutionist has more than to look for in guys as he has been searching for more than a boyfriend. He aspires to be an inspiration as a gender-flouting role model by breaking boundaries.
EJ Johnson Indifferent To His Best friend's Death
Only Crying, mourning and merely appearing sad is the notion of being hurt when you lose someone?
Well not for the trendy gay man. He looked well put and even dared to smile while appearing with another friend in LA. on August 25, 2018, after his best friend plus EJNYC co-host, Lyric McHenry's demise on 14 August 2018. His friend had died of a drug overdose.
You May Like: Gay Man Scott Mills Dusts Away Boyfriend Tragedies, New Partner Gives Serenity
The American star shut down prospective controversies through the tweet.
 I'm going to make this clear to everyone there will be no mourning post because I'm not going to reduce a 25yr friendship to 1 Instagram post. Please respect my privacy and my process.
It is not hard to figure out EJ's urge to stay uptight irrespective of the circumstances. He is not intimidated to get his hands on bold moves, not even going from bald to blonde.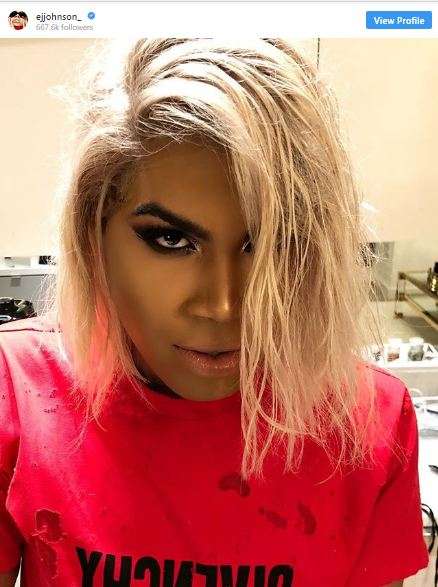 Surprise: EJ Johnson surprises the followers with a picture in Blonde hair -September 3, 2018. (photo EJ Johnson's Instagram). 
Stay bold and stay brave. And as the supporters say, Keep Slaying!