Young Age Actress Mckenna Grace Making Parents Proud!
Her emotional performance has won many hearts, including the ones that mattered her the most: her parents...Mckenna Grace has already created a decent resume at an early age...she boasts her net worth in thousands...The talented protegee stands a height of 4 feet 7 and a half inches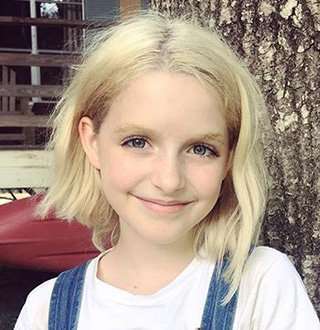 Quick Information
Date of Birth

Jun 25, 2006

Age

16 Years, 9 Months

Nationality American
Birth Place

Dallas, Texas, United States

Birth Name

Mckenna Grace Burge

Profession

Actor

Career

2012–present

Relationship Status

Single

Wife/Spouse

No

Husband/Spouse

No

Boyfriend

Not Known

Gay

No

Ethnicity/Race

White

Father

Ross Burge

Mother

Crystal Grace
Mckenna Grace shared screen spaces with famous Avengers' star Chris Evans at an early age. Her emotional performances have won many hearts, including the ones that mattered her most: her parents.
The American child actress is best known for her portrayal of Jasmine Bernstein in the comedy series, Crash & Bernstein (2012-2014) and Faith Newman in the drama series, The Young and the Restless (2013-2015), alongside co-star Gina Tognoni. 
She made her debut on the big screen with movie Mr. Church (2016) and has since appeared in other movies Independence Day: Resurgence (2016), Gifted (2017), and How to Be a Latin Lover (2017). 
GMA: American actor Chris Evans and Mckenna Grace talk with host Octavia Spencer about movie Gifted on Good Morning America. (Published on Apr 6, 2017)
Aside from that, Mckenna currently portrays Penny Kirkman, in ABC's hit show, Designated Survivor.  She is also working on Netflix's The Haunting of Hill House, which will release in late 2018.
You May like: Demi Lovato's Ex Wilmer Valderrama Dating Status After Her Alleged Drug Overdose
Mckenna Grace's Bio: Height, Hobbies
Born on 25 June 2006, The talented protegee stands a height of 4 feet 7 and a half inches (1.41 m). Mckenna Grace is a vegetarian and shows her affection towards animals through her campaigns with Farm Sanctuary and PETA. Her family also consists of an elder brother named Taner as well as two dogs named Marshmallow and Baby Unicorn.  
Her favorite song is Imagine by John Lennon. Despite only being a little kid it's prominent how much she understood the song, through her adorable interviews with fellow adult co-stars about whom she has nothing but sweet things to say. Apart from admiring songs, she has quite a soothing voice of her own as well. The word, compassion, sums up her character as a human being.
At Age 11, Mckenna Grace Lands Lead Role Alongside Captain America, Chris Evans
Mckenna Grace has already created a decent resume at an early age. However, her most significant break came when she got selected for a lead role at the age of 11. After an 8-month audition process and a global search of over 600 girls, she landed her first significant leading role in Fox Searchlight's movie, Gifted, directed by Marc Webb.
Grace starred as child prodigy Mary Adler alongside Chris Evans who played character's uncle, Frank Adler.
See Also:  Joanna Krupa & Douglas Nunes Poland Wedding! Husband & Wife's First Selfie
Chris Evans praised Mckenna's emotional performance saying,
"Precocious child actors can be annoying especially when they're playing kids brilliant beyond their years, but Mckenna Grace, with appraising eyes, her top front teeth missing, and a sugary but brisk delivery that is never less than spontaneous, is like the Drew Barrymore of "E.T." on speed-dial. When Mary Gripes that children her age bore her, it isn't just haughty code for how smart she is; you really feel her alienation-her sadness at being a girl apart."
She also starred in Miramax's Margot Robbie lead drama, I, Tonya in 2018, where she portrayed the role of Tonya Harding.
How does Mckenna Grace Earn Her Net Worth?
When it comes to getting paid as an actor, age is just a number.  Pay is primarily related to box-office draw. However, a child actor is limited to a certain number of hours. Their earnings are well protected from parents or managers who might take their advantage because of the Coogan law -which requires the earnings go to a protected account.
That aside, the more famous you are the more you get paid regardless of age. Having starred alongside Avenger's Chris Evans, in a well-received movie as well as starring alongside Margot Robbie, she probably boasts her net worth in thousands.
Parents Crystal & Ross Burge Proud Of Their Daughter, Mckenna Grace
Mckenna Grace is one of the most prominent child actresses at the moment but that is all thanks to her parents who encouraged her to follow her dreams. Her mom, Crystal, and dad, Ross, are very proud of their daughter's achievement as well as the person she's growing up into.
It's clear to see how much they love their daughter and how she reciprocates the love back to them. Although she has risen to fame, she lives a grounded life thanks to her parents. 
Avengers: Infinity War's Sebastian Stan Dating History; Girlfriend In 2018 & Gay Rumors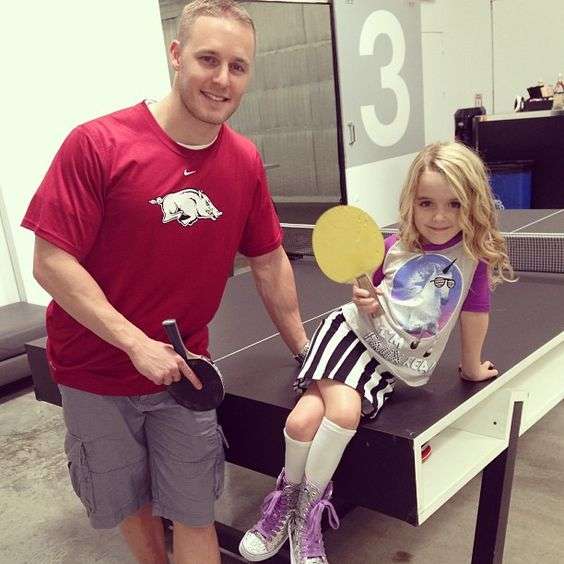 D&D: Dad Ross and Mckenna enjoy a game of Table tennis. (Photo: Pinterest)
To commemorate their daughter growing up, Crystal has created a Pinterest account dedicated to keeping all the photos of Mckenna. The pictures range from her pet dogs to her adult co-stars to his family. They'll be hoping that their daughter's success will continue on as they give her the freedom to follow her dreams.