Did Joey Essex Mum's Death Turn Him Into 'Dating Addict'; Girlfriend?
Most prominent reality stars are never short of relationship dramas and that's what is keeping them interesting. With English Reality Star Joey Essex, the case was similar. He made a pact not to date anyone only to date someone just 10 minutes after making the admission!

Most prominent reality stars are never short of relationship dramas and that's what is keeping them interesting. With English Reality Star Joey Essex, the case was similar. He made a pact not to date anyone only to date someone just 10 minutes after making the admission!
The 28-year-old is an English television personality who rose to fame in 2011 from the ITV2 television series The Only Way Is Essex. The reality show featured several of his family and friends. Although he along with his sister Frankie left the show in 2013, his cousin, Chloe Sims is still earning a reputation for herself on the show.
Goosebumps Time: The season finale of the Five Star Hotel, which featured Spencer Matthews and Joey Essex (Published on Apr 5, 2018)
The reality star also featured in the 2018 series, Five Star Hotel, where he was one of the finalists. The show was won by Spencer Matthews. 
In recent times, as of 2018, Joey is starring in another hit reality show called Celebs Go Dating. He has been a core member of the show since its beginning in 2016, acting as agent, psychologist, and presenter.
Joey Essex' Net Worth, Acting & Other Venture: D'Reem Hair
Although deemed by many including his dad as a broken tool in the toolbox, no one can deny the fact that the reality star has been an enormous success. With essential roles in hit shows including The Only Way Is Essex, Celebs Go Dating, and more, Joey has garnished himself the net worth of around £6 million.
Other Hot Reality Star: Brooke Valentine Marrying Baby Daddy? Single Parent To Son Talks On Boyfriend
Adding to that, Joey also has a range of products including a hair product called Joey Essex: D'Reem Hair. His other initiatives include an aftershave lotion called Fusey and perfume for women called My Girl.
Joey Essex' Short Bio: Real Name, Age, Height
Born as Joey Donald Essex(Real Name) on 29 July 1990 in Southwark, Greater London, England, Joey, age 28, stands tall with a height of 5 feet and 9 and a half inches (1.76m).
His mum, Tina, passed away when he was just ten years of age because of which his dad, Donald, raised him and his sister, Frankie, as a single parent, serving as their hard rock.
Dad, Donald Essex Brands Joey As 'Useless'
During one of Joey's successful years in 2013, when he was a TOWIE favorite, Donald, his dad, opened up about how he was ashamed of his son and concurrently praising for his success; it was an odd mixture of 'dad love.' His dad branded him as 'useless' while talking to The Sun about his early age and revealed that even he was surprised at his success. He said,
"Even I've been gobsmacked. I mean, I didn't even know he couldn't tell the time and as for not knowing how to blow your nose. I'm embarrassed, to be honest. Joey's a one-off. You won't find another like him, believe me."
However, his dad also cherished him with love at the end of the bizarre interview saying he was funnier than most people credited him for. He also expressed his sadness for Joey after the split with his former girlfriend, Sam Faiers around the same time.
Find Out: Jesse Palmer Dating; Gather All Gay Rumors, Hot Girlfriend Will Kick Them Off
Joey Essex On Losing His Mother: I Stopped Learning After Mum's Death
If a father is the backbone of a family, then the mother is heart and soul of it and an essential cog in raising up a child. It's hard to imagine growing up without a mum; something which Joey sadly had to go through.
Joey along with his sister received the news that their mum, Tina, had passed away in a car accident. It was only years later that they found out that their mum had been a victim of suicide. Tina had been suffering from mental health issues caused by candida - a yeast imbalance in the gut that can lead to depression.
In his autobiography, Being Reem, he shed some light on the devastating effect his mum's death had on him.
"Some people reckoned I stopped learning because of what happened to my mum. Almost like I froze in time. I don't know about that but I remember it hitting me really hard."
While the 28-year-old is always criticized for his 'lack of common sense,' the void of the love of his mum seems to have had a profound effect on his character and everchanging dating life; the lively reality star is known as a free bird in the world of romance.   
Is Joey Essex A Dating Addict?
Joey has been in a fair share of relationships with A-list girlfriends. His first girlfriend with whom he ended up getting engaged with was his then-co-star from TOWIE, Sam Faiers. Unfortunately, their dating life was constantly in the news and had a tumultuous relationship with plenty of heartbreaks and reconciliations.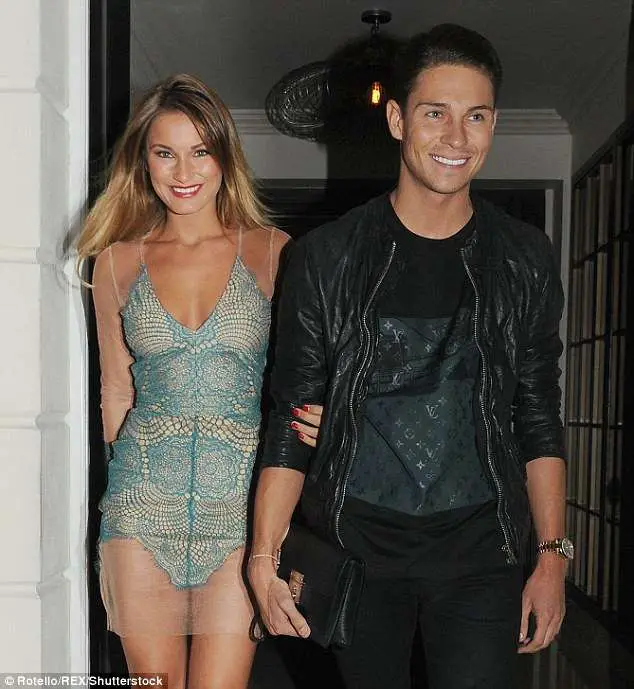 Hottie & Hunk: Joey Essex flaunts with his former fiance Sam Faiers in 2014 (Photo: Dailymail.co.uk)
Eventually, they broke up for good in 2014. He also had been involved with another TOWIE star Amber Turner as well while he had been on a break from Sam.
Aside from that, the reality star was rumored continuously with I'm a Celeb campmate and former Miss Universe GB winner Amy Willerton. They denied suggestions of a relationship at first claiming that they were just friends but he has since admitted they did enjoy a fling as a girlfriend-boyfriend duo.
Explore: Gay Brianna Hildebrand Reveals Dating Requirements: Girlfriend Isn't Limit
In 2017, Essex was dating a stylist named Georgie Purves, but that also didn't work out. A year later, however, showing the world that chivalry isn't dead, he escorted a Wrexham schoolgirl, Harriet Le Tissier, to prom. He had acted on the request of her dad, Sean's request-who later revealed that Joey had taken good care of his daughter the whole night.
It's safe to say that he is in a way 'a dating addict.' But it's more likely the case of him searching for the right girl.
Who is Joey Essex' Girlfriend in 2018?
After looking back at his dating profile, most people would easily assume that Joey was a dating Addict. And the TOWIE star himself admitted that he was addicted to dating.
He also admitted that he once made a pact of not being involved in dating for about two years after one of his high profile breakups. He was left aghast by the heartbreak and explained to The Mirror that he would not have a girlfriend for an extended period of time. The pact, however, ended shortly after the interview, as he straightly made off to a dinner date. 
In an interview with DailyMail in July 2018, he made the revelations about his inclination towards dating.
In the same interview, he also shared his frustrations about not finding the right girlfriends, and instead of getting attracted to the opposite kinds of partners than he had hoped. He went on to elaborate about his ideal girlfriend as well saying,
'I don't really go for big lips. I like really pretty, nice girls who are quite genuine.'
As of now, Essex is reportedly single however he is in search of a 'genuine' girlfriend- one that is not famous!