Chloe Sims Says Daughter Before Boyfriend! Won't Mix Dating & Motherhood
With her daughter growing day by day the over conscious mom is very protective of her daughter...Relationships for Chloe never seem to be a constant, with her flipping between boyfriends as flip-flops...her boyfriend was really into Chloe while they were dating with sources even claiming that they were a real deal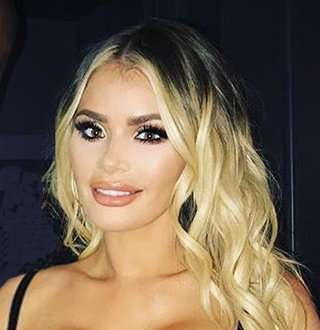 Television personality, Chloe Sims faced a lot of difficulties raising her daughter as a single mother. She, however, didn't lose faith as she strived to make sure that her daughter had a better upbringing.
Chloe Sims is quite known for her role in the ITVBe reality series The Only Way Is Essex. She is also a glamour model and an entrepreneur.
ITVBe: James Argent is trying to clear a conflict he had with Chloe on Towie. (Published on 25 May 2018)
Chloe Sims first appeared as a supporting cast member in 2011 in the second season of The Only Way Is Essex. She was later added as a primary cast member of the show.
You May Like: Susan Mikula, Rachel Maddow's Partner: Age, Net Worth, Photography, Bio
Chloe Sims' Bio: Early Life and Career
The 36-year-old model was born on 3 November 1982 in Newbury Park, London, England. Chloe was abandoned by her mother when she was just three years old and was taken in by a foster home.
Being very unstable financially, Chloe even worked as a pole dancer to earn and fulfill her needs.
Chloe Sims started her career as a cast member in the reality TV show, The Only Way Is Essex that earned her many admiring glances. She will be playing in the next series as well.
Apart from her career as a reality star, she also runs a beauty business called the 'Chloe's Beauty Bar' in Essex and offers services like hair color and extensions, lashes extensions and special event makeup.
Is Chloe Sims Dating Anyone After Having Multiple Boyfriends In TOWIE?
Relationships for Chloe never seem to be a constant, with her flipping between boyfriends as flip-flops. She has had a few unsuccessful relationships on the show, including the on and off dating life with TOWIE's Elliott Wright.
Her list of boyfriends also consisted of Richard Abidin Breen aka Abz Love confirming their relationship in 2017, but later revealed that it was all for ITV2 show, Celebrity Showmance.
During TOWIE's Season 22 the series novice, Dean Ralph was another name added to her list of boyfriends, after he took Chloe on a date on the show.  However, their romance wasn't quite successful, as Chloe dumped him after spotting pictures of him on a night out with fellow cast member, Clelia Theodorou.
But it wasn't long after separating with Dean that Chloe started dating the newest member of TOWIE, Adam Oukhellou in May 2018.
Read Also: Former Stripper Kia Proctor, Parents To Three & A Daughter From Past Flame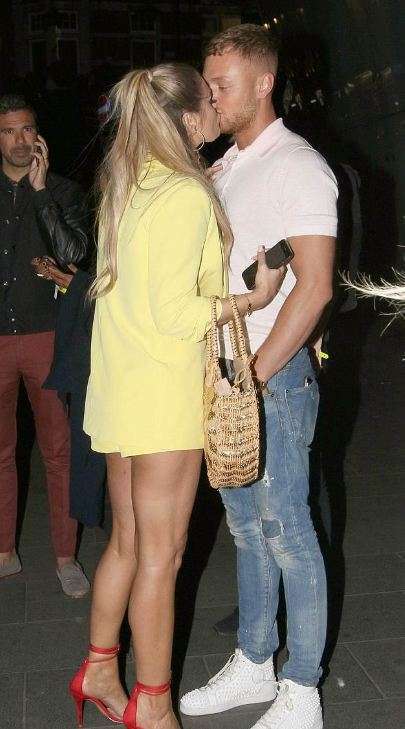 PDA At Its Best: Chloe and Adam spotted sharing a peck at the Quiz x TOWIE clothing launch in May 2018. (Photo: thesun.co.uk)
According to The Sun, Adam was really into Chloe while they were dating with sources even claiming that they were a real deal. The pair enjoyed a short and sweet relationship during the 22nd season of the TOWIE but parted ways in July 2018.
As of now, Chloe is still single, and ready to mingle. The mingling though comes with a perk as she has mentioned in an interview that if she were to return to the dating game in the near future, her daughter would be her main priority.
Chloe's Struggle To Become a Role Model to her Daughter
The TOWIE Star is a single mother to daughter, Madison Sims, who was born in 2005. Chloe went through a tough time when Madison was born as she was broke financially.
At one point, Chloe even resorted to selling her body as she was worried about how to feed her daughter.
While talking to Reveal Magazine, Chloe revealed the ordeals she faced in raising up her girl saying,
I needed to support my little girl and I felt I had no choice. I was pole dancing. I did what I had to do for my daughter and I hated every minute of it.
Things slowly started to get rosy for her, after her TV career got going through TV series, The Only Way Is Essex.
You Don't Want To Miss: CBS' Jane Pauley Career Details: Net Worth Of The Sunday Morning TV Show Host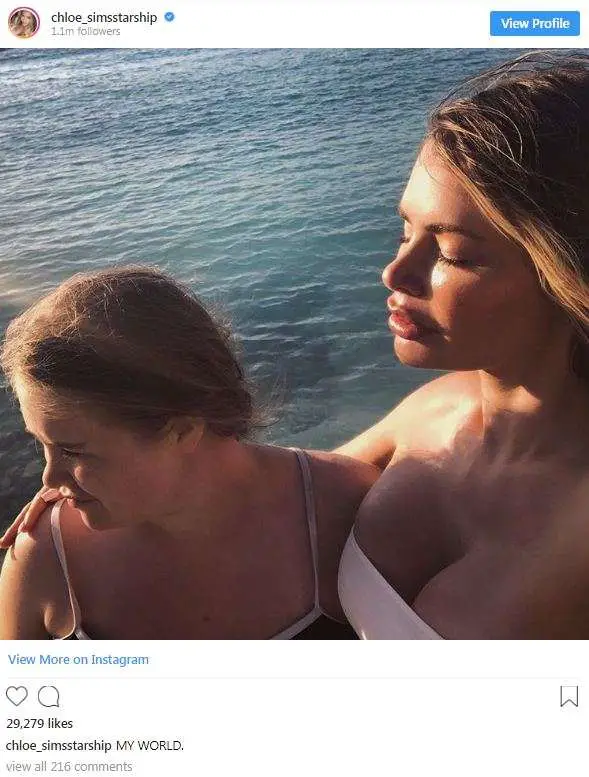 Daughter Is The World: Chloe posts a picture with her daughter on Instagram on 23 July 2018. (Photo: Chloe Sims' Instagram) 
With her daughter growing day by day the over conscious mom is very protective of her daughter. Despite Chloe not hiding anything about her daughter, she mentioned to The Mirror that she was worried that Madison would have to face the wrath of social media abuses because of her being a celebrity.
That has made the Blonde mum very careful about what she shares online, so as to protect her daughter from the vile abuses celebs have to face online. 
As a single mother, Chloe has done countless for her daughter and loves her so much that she would prioritize her over anything, including her possible boyfriend.