Does Brad Mondo Have A Twin Brother Or Triplets?
Brad Mondo frequently makes content with his "twin" brother Eric on YouTube. Is Brad Mondo A Twin? The Truth About His Twin Brother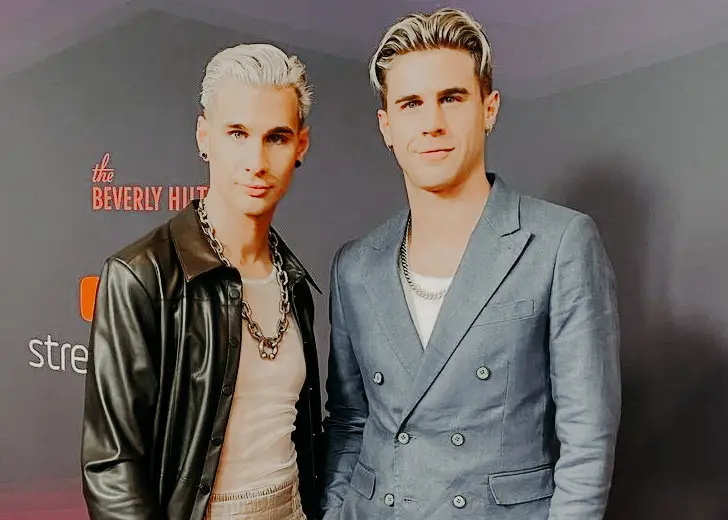 All YouTubers seem to be embroiled in controversies at some point in their career.
Brad Mondo, a YouTuber and TikToker popular for posting funny hair-style reaction videos and go-to hair guru, was berated by fans over a twin drama with his brother Eric Mondo. 
If you've been watching Brad's videos somewhat regularly, you might have noticed that his popular videos are titled 'I gave my Twin a Major Hair Makeover,' 'I tried Squirt Gun Hair Color With My Twin!' and so on.
These videos were really popular. Why? Because people love twin content. But is Brad Mondo a twin?
Who is Brad Mondo?
Born on October 24, 1984, in Franklin, Massachusetts, Brad Mondo is a hairdresser who has gained immense popularity for his Hairdresser Reacts video series on Youtube. His zodiac sign is Scorpio. 
In 2020, the famous hairdresser expanded his career horizons, founding XMONDO, a began haircare and color brand. He is the creative director and CEO of the brand.
Momemntumcommerce reported in May 2022 that the brand had grown as a multi-million dollar company by achieving six-figure sales within 60 days of its launch on Amazon. Initially, the products were exclusively sold on the brand's D2C website. 
Mondo's popularity has also helped his business to shine. He has 2.1 million followers on Instagram, 7.67 million followers on Youtube, and 9.4 million followers on TikTok. 
Are Eric & Brad Mondo twins, brothers, or triplets?
YouTube is filled with twins; Dolan Twins, Dobre Twins, Niki & Gabi, Merrell Twins, Brooklyn & Bailey, and the list goes on. Brad and Eric looked so identical that viewers believed they were twins, which boosted his views and subscribers.
It even started a Reddit thread. Fans discussed at length about whether they were identical or fraternal twins and how height differences were common amongst twins. 
Fans became more curious about their personal life, and after digging, they discovered that their birth date and height were different.
According to their mother's Instagram, it is clear the two are not twins. Brad was born on October 28, 1994, while Eric was born on April 17, 1992. 
Upon learning the truth, fans were upset at being lied to.
In the same Reddit thread, some fans wrote that they clearly remembered Brad explaining in a video that they were brothers, and the twin's thing was a joke because people kept commenting that they looked identical. 
YouTubers like Brad know that it takes a lot to get views; hence, his "twin videos" were accused of having exaggerated titles known as click baits to hook potential viewers.
Although the brothers have not commented on it, Brad uploaded a video on April 2 with his brother, and this time, he avoided using the word twin and opted for the title 'Drunk Get Ready With Me Ft. Eric Mondo.'
Is Brad Mondo a vegan?
Brad Mondo became a vegan couple of years back. That is why all of his products of Xmondo are vegan. In addition, the products are also cruelty-free, paraben-free, sulfate-free, and gluten-free.  
Brad Mondo's learned the basics from his dad's salon 
Brad and Eric were raised by a hairdresser father. He owned a salon in which Brad spent most of his time. He loved having total creative freedom and thus joined YouTube. 
He initially posted reaction videos on the platform but gradually diversified his content and started giving hair care tips and showing his hairdressing skills to remain relevant.
Brad set the record straight that washing hair in cold water would result in healthier, shinier hair and advised against using hot water. 
I'm known as a hairdresser who reacts to hair fails. I love doing those videos and I think they're super entertaining, but I'm more than that.
Soon he caught the attention of celebrities and worked with Shay Mitchell, Vanessa Hudgens, and Heather Marks; the rest is history.
Who is Brad Mondo dating now?
Currently, there have been no reports of Brad Mondo dating anyone. 
Mondo became aware of his sexuality during high school. However, he didn't come out then by choice. Rather, one of his friends played with his trust and disclosed his sexuality in front of the whole school. After that, Mondo broke up with his girlfriend and started living openly, embracing is sexual orientation as gay.