Colman Domingo Is Openly Gay; Movies And TV Shows Speaks A Lot
Having played in plays and series with powerful gay protagonists and having breathed life into gay characters...has led his fans to raise a question: Is Colman Domingo Gay...To answer the question 'Is Colman Domingo gay...His illustrious career boasts a catalog of movies and tv shows...

Colman Domingo's profile has seen a rise over the five years or so. But so has the questioning of his sexuality.  
The 48-year-old actor is best known for his performance as a gay character named Victor Strand on AMC's post-apocalyptic zombie series Fear The Walking Dead. He's also a playwright, television and stage director, having worked with industry heavyweights like Steven Spielberg, Spike Lee, Oprah Winfrey, Salman Rushdie, and Ava DuVernay.
Discussing Work: Colman Domingo talks about the upcoming season 4 of Fear The Walking Dead (Published on May 7, 2018)
Colman's latest venture sees him starring Sam Levinson directed movie titled Assassination Nation, which was purchased by NEON with AGBO for $10 million. He is also starring on the running season 4 of the Fear Of The Walking Dead.
Explore:  Is Graham Bensinger Gay? Personal Life Insight With Married And Wife Details
Moreover, his bio has expanded from actor to director after he directed an episode of Fear Of The Walking Dead in 2018.
Colman Domingo's Career: Movies and TV Shows
Born on 28 November 1969, in Philadelphia, USA, the Fear The Walking Dead star is a Temple University Alumni. After graduating, he migrated to San Francisco to pursue a career on the stage.
His illustrious career boasts a catalog of movies and tv shows very few can rival. In 1995, he made his big screen debut playing the role of Khris in the movie Timepiece. Two years later, he made his first tv appearance playing Reggie Harrell in Nash Bridges.
A couple of years and a few movies later, Colman hit it big; this time acting in Clint Eastwood directed 1999 blockbuster True Crime. Between 2000 and 2012, he worked in movies such as Desi's Looking for a New Girl, Kung Phooey!, Freedomland and Miracle at St. Anna.
His TV gigs, however, were limited to one-off roles on various Law & Order franchise 2000's. The Philly native also appeared on The Big Gay Sketch Show in 2010, having appeared on the same show in 2008.
2012 was a big year for him as he was cast to play Private Harold Green in Steven Spielberg directed movie titled Lincoln. From then on, he went to star on big commercially successful movies: The Butler(2013), Selma(2014) and The Birth Of a Nation(2016) to name a few.
Read Also: Michael Greyeyes Blessed Wedding Day Reflects Now! Content With Wife & Beautiful Family
Red Hook Summer, All Is Bright, 42, HairBrained, 400 Boys, Time Out Of Mind, Beautiful Something and First Match are the name of movies the 48-year-old actor has applied his trades on.
Onto the small screen:  Following his guest appearance on season 1 of AMC's Fear The Walking Dead, in December 2015 it was announced that he would be a regular on the show for the season 2 of the series. He would direct an episode of the same show in 2018, three years after the announcement.
Pick Of His Movies And TV Shows: Colman Domingo talks about his character from AMC's hit zombie series, Fear The Walking Dead (Published on May 3, 2016) 
The success of Fear Of Walking Dead only helped to strengthen his portfolio as he began to make more TV appearance than ever -- The Knick(2015), Lucifer(2016), Horace and Pete( 2016), Timeless(2017), BoJack Horseman(2017), Miles From Tomorrowland(2017) and American Dad(2018).
Playwright And Stage Performance
He hasn't limited his talent to movies and tv shows. The Selma actor has been a recognizable face in the world of theatre, both as a playwright and a performer.
You May Like: 'Insecure' Star Issa Rae's Predictable Boyfriend Amid Gay Rumors & Comic Dating Lessons
His playwright gigs include Pieces of the Quilt(1998), Single Black Female(2006) and A Guide for the Homesick(2017), to name a few. While his time on stage he has participated in plays such as Twelfth Night(1995), Romeo and Juliet(1999), The Scottsboro Boys(2014) and many more.
The Philly native is revered for portraying various gay characters over the span of more than 25 years as a performer.
Many of his plays are laden with powerful gay protagonists. On top of this, his most prominent role to date has been playing a gay character(Victor in Fear The Walking Dead). This has led his fans to raise a question: Is Colman Domingo Gay?
Is Colman Domingo Gay?
Having played in plays and series with powerful gay protagonists and having breathed life into gay characters, Colman has been stuck with gay labels every now and then.
It is normal for questions to arise to actors in such situations because the topic of sexuality is very sensitive. The long-held question 'Is Colman Domingo Gay?' became a social stigma and garnered more attention and interest from the viewers. Colman, however, settled the debate once and for all after he confessed being a gay in an interview with Metro in 2013.
You Don't Want To Miss: Anna Cathcart Explicit Wiki: Age, Parents, Net Worth, TV Shows | Detailed
Moreover, he revealed the outpouring of support he received from friends and family once he came out of the closet, made him emotional. He said, in the interview with Metro: 
It's an experience I'd like to add to the chorus...that these blue-collar, macho men, like my older brother, had the capacity to say: "I don't care, I love you anyway."
The Tony-nominated Broadway star was especially taken aback by the reaction of his 'macho' brother who would love him regardless. He further added that young boys should come out without hesitation and guilt since they could receive acceptance for being gay from other people like he did. In a general tone, he meant that people should be more accepting regarding sexuality and brave enough to accept one's own nature.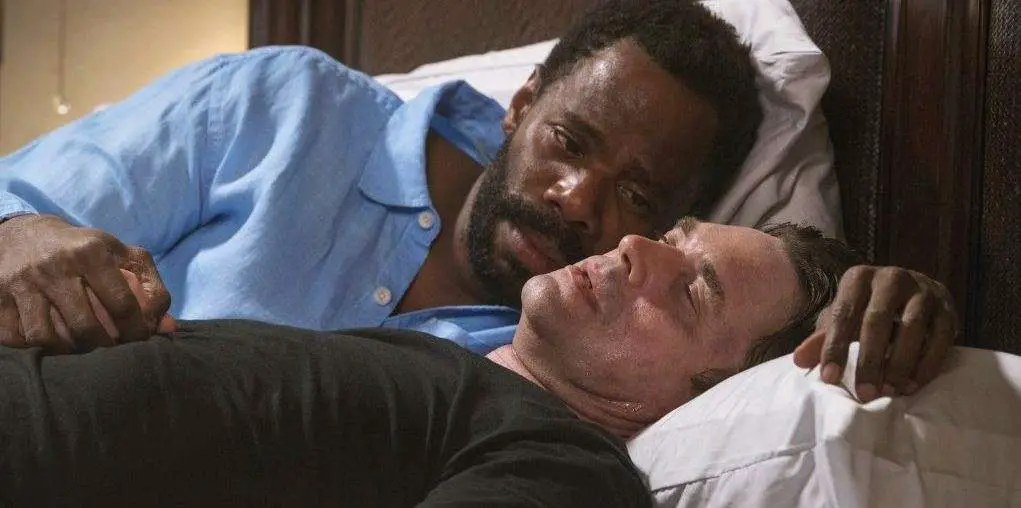 Gay Love: Colman, portraying gay character Victor comforts his love affair in an episode of Fear The Walking Dead (Photo: attitude.co.uk)
People close to him have known this about him for a long time, it seems. It can be easily understood so as to why his sexuality was kept hidden in the shadows for so long. But the continual support from his brother, friends, and family helped him garner the courage to come out as gay, for the first time in the media. It was not easy for him, but his family and friend made the stone a little less heavy to carry.
Interesting: Lamman Rucker Is Married; Wife Of Famous Movies & TV Shows Star Revealed
To answer the question 'Is Colman Domingo  gay?' Hell, yeah! And a proud one at that.