Inside Brett Raymer's Marital Status, Friendship With Wayde King & Divorce With Ex-wife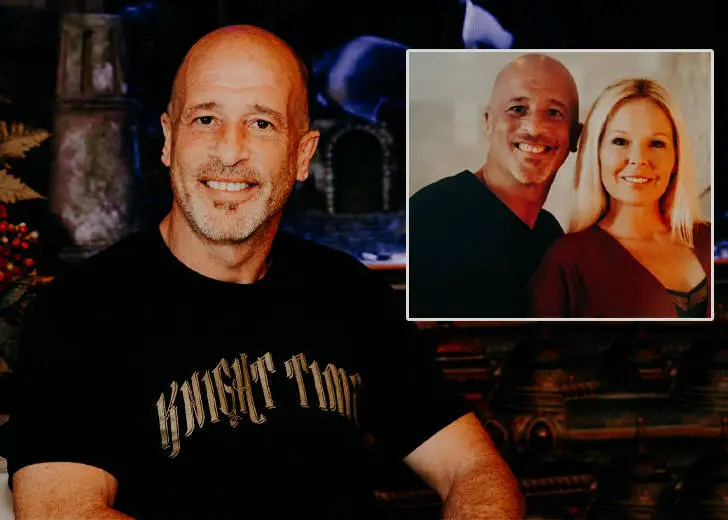 Quick Information
Date of Birth

Oct 25, 1969

Age

53 Years, 5 Months

Nationality American
Profession

Television Actor

Relationship Status

Dating

Divorce/Split

Not Yet

Dating/Affair

Yes

Girlfriend

Trisha Marie (2011-)

Gay

No

Net Worth

$5 Million (Estimated)

Ethnicity/Race

WhiteIrwin Raymer

Father

Irwin Raymer

Sister/s

Heather King

College

Stony Brook University

Height/ How Tall?

N/A

Hair

Bald

Eye Color

Brown

Son/s

Bryce

Daughter/s

Kayla
When American reality star Brett Raymer came to work on a chilly December morning, it seemed a normal working day. The star, however, had a different thought on his mind as he provided his castmates and girlfriend with a beautiful surprise that turned just another day into a memorable event.
The Brooklyn native is best known as one of the cast members (alongside his brother-in-law Wayde King) in the Animal Planet reality series, Tanked. The series follows the operations of a Las Vegas-based company, Acrylic Tank Manufacturing, where Raymer serves as the Chief Operating Officer (COO).
Now That's A Tank: Brett Raymer and Tanked crew build up a custom aquarium for NBA superstar Anthony Davis complete with his squad number 23 (Published on 12 December 2017 )
In the show, Raymer and his partner Wayde King travel around the country either examining the aquariums of the biggest names in Hollywood or preparing a custom tank for them on their request, as part of the series. After the show was canceled, the duo hosts also shut down their aquarium company Acrylic Tank Manufacturing. 
Why was 'Tanked' Cancelled?
If you are living under a rock, the show Tanked is no longer in business.
Tanked was a reality TV series that followed the daily operations of Acrylic Tank Manufacturing, a Las Vegas-based aquarium manufacturer run by Brett Raymer and Wayde King. Heather, Brett's sister and Wayde's wife, worked as an accountant, and Irwin, their father, was the office manager.
The show, run by the brothers-in-law, also featured shop manager Robbie and sales coordinator Agnes. In 2012, the series was re-released as Tanked: Unfiltered with added commentary from the cast. The show ran for 15 seasons before ending in 2018 and was also broadcast on the UK's DMAX channel.
The reality television series about fish tanks was canceled by Animal Planet a few days after news spread about a reported domestic violence between the show's co-host Wayde and his then-wife, Heather King.
It was reported that Heather was taken into custody after allegedly kicking and slapping her then-husband Wayde's stomach. She also filed for a divorce two days after the reported incident.
However, it was later revealed to TMZ that the show's cancellation wasn't connected to the stories about the estranged King couple who remained married for 21 years. 
Where is Brett Raymer from 'Tanked' now?
After Tanked, Raymer, who stands at 1.7m, has had only one credit in the on-screen world—he functioned as a co-executive producer in the movie American Sicario.
However, the Brooklyn native has laid his hands on multiple ventures off-screen since then, including aquarium manufacturing. His Linkedin mentions that he still owns the ATM in Las Vegas. He also updates about new aquariums and shares about build, tips, and tanks training programs on his  Instagram and Twitter.
In a video she uploaded on 22 December 2022, Raymer disclosed via a video that he was going to build affordable and customizable tanks for everyone. "I used to build aquariums for celebrities, for everybody. But now, we will make aquariums affordable for everybody," he boasted. 
In 2022,  he opened an eatery named Stallone's Italian Eatery that occupied a 1400-square-foot storefront.
Previously in 2018, when Tanked was still running, Raymer had also partnered in a local doughnut business called Donut Mania, but the business was closed in 2019 following a lawsuit by Pinkbox Doughnuts LLC.
Are Brett Raymer and Wayde King still friends?
Raymer and King no longer feature on each other social media, and it seems likely that the former co-host's relationship hasn't been like before following Waydes' troubled relationship with Raymer's sister Heather ended. Additionally, they only shortly collaborate in the anticipated combined Youtube channel  Lifestyles of the Fish & Famous still 2021.  
Brett Raymer's bio reveals age, family, and career
Raymer was born on 25 October 1969 in Brooklyn, New York. His father,  Irwin Raymer, known as "The General," previously worked as the office manager of Acrylic Tank Manufacturing. He has a sister named Heather, who was married to his former business partner, Wayde King.
See Also: Chris Potoski Bio: From Age, Parents To Wife, Wedding & Essential Facts
The star, aged 53 as of writing, pursued his school education at Abraham Lincoln High School in his hometown. Later, he moved to Las Vegas from Brooklyn to economically support his family by establishing a business of a tank-building shop.
Raymer, along with Wayde King, created Tanked in 2011. As the COO of a tank company, Raymer was known for his ability to wheel and deal with his clients.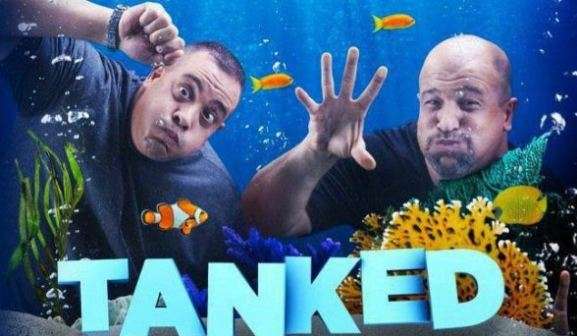 Endowment for the viewers: Brett Raymer and co-star Wayde King on the posture of Tanked series. (Photo: Tvseriesfinale.com)
Other cast members of the series included shop manager Robert Christlieb and sales coordinator Agnes Wilczynski. The former was rumored to be married to Raymer because of their strong coordination. However, the rumor disappeared as netizens got to know about Raymer's then-girlfriend Trisha and his past marital relationship.
 According to Wealthypersons, Brett Raymer's net worth is estimated at $6 million. In 2019, he listed his home located in northwest Las Vegas for $3.2 million. 
Brett Raymer's previous marriage with mysterious wife ended in divorce
Raymer, aged 53 as of writing, was a married man once; however, his married life ended sourly with a divorce. He was reportedly married to Melissa Bradford, the office manager of Acrylic Tank Manufacturing.
But what has remained an open secret is that he fathers three children from his marital relationship. His children with the previous wife include two sons, Chandler and Bruce, and a daughter named Kayla. 
Interesting: Street Outlaw Star Murder Nova Net Worth Form New Car! Details: Family and Wife!
A keen family man, he is seen spending time with his children in his spare time.
Raymer, who was a coach on his daughter's volleyball team, routinely shares delightful updates about his family, whether it be a leisurely Sunday spent with his kids or news of his daughter winning an award for her high school volleyball team. 
And there's a reason why Raymer is devoted to spending more time with his family. He didn't have a fun childhood, as his parents opted for divorce when the reality star was only two years of age. So he wants to dedicate himself to marking his presence in his children's lives.
He even posted a picture on Instagram with his mom and dad, saying it was the first time he had taken a picture with his parents.

Picture Perfect: Brett Raymer poses for a picture with his mom and dad (Photo: Brett Raymer's Instagram | 23 September 2018)
He didn't hide the fact that his parents had been divorced since he was only two and that he was still glad to have them both, even if they weren't together.
The fact that Raymer's parents were able to come to good terms for the sake of their son after parting ways is something to admire.
So even if he has been divorced himself, Raymer has come quite a long way to prove himself as a wonderful father to his children.
Reality Star: Jersey Shore's Mike Sorrentino Proposes Girlfriend-Turned-Fiancee, Dating To Engaged Story
Brett Raymer tanked surprise for then-girlfriend on sets of 'Tanked'
After his first marriage ended sorely, he again found love with a co-worker this time.
Raymer is currently in a long-term relationship with his girlfriend, Trisha Chamberlain, then-owner of Donut Mania and then-sales/internet marketing director of Acrylic Tank Manufacturing.
The couple has been dating since July 2011. Chamberlain is the mother of two children, Chandler and Dylan, from her past relationship.
Marking the fourth anniversary of their relationship, Raymer tweeted in 2017 to wish his girlfriend, Trisha, that he loved her with all his heart and looked forward to many more years together.
The promise of Raymer seemed to be true when he proposed to Trisha in December 2017. He got engaged to her at a surprise party filled with friends and family on the set of the Tanked series.
Will You Be My Wife?: Brett Raymer proposes his longtime girlfriend Trisha Chamberlain on the set of the Tanked series (Published on 16 December 2017 )
Despite the world taking notice of the pair's engagement, the couple remained coy about getting married.
With the couple not revealing the exact date of turning his fiance into a wife, many wondered if the reality star was taking his time for his next wedding so that his second marriage doesn't end like the first one! 
And it turns out Raymer and Trisha couldn't turn their relationship into a husband and wife bond. They eventually separated.
Who is Brett Raymer Dating Now?
Raymer's current girlfriend is realtor Melinda Sue, who won the Leading Edge award by Berkshire Hathaway in 2022. They have been dating since 2018.