Street Outlaw Star Murder Nova Is Living A Lavish Lifestyle With His Wife And Family; His Hefty Net Worth Makes It All Possible
Shawn Ellington aka Murder Nova is a master of creating a balance whether that be customizing the power of a car to give a balanced performance or personal and professional life balance. The act of balancing has seen the daredevil rider slowly accumulate a decent net worth along with a loving family.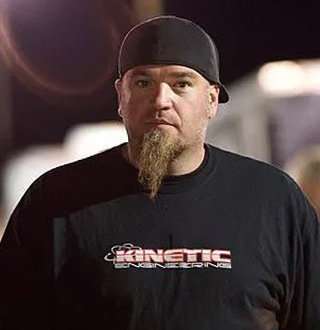 Quick Information
Birth Year

1977

Nationality American
Profession

TV Personality

Relationship Status

Married

Wife/Spouse

Erin

Divorce/Split

Not Yet

Wedding Date

2005

Gay

No

Net Worth

$700Ks(Estimated)

Ethnicity/Race

White

Height/ How Tall?

N/A

Weight

N/A

Son/s

Aiden
Murder Nova is a master of creating a balance whether that be customizing the power of a car to give a balanced performance or balancing his personal and professional life. The act of balancing; has seen the daredevil rider slowly accumulate a decent net worth along with a loving family.
The 41-year-old is known for speed in the Discovery show Street Outlaws, whose eleventh season has been out on September of 2018. Besides appearing in the show, he also works in car customization and restoration.
Interview: Murder Nova talks about his show Street Outlaws (Published on 30 May 2013)
He also is a part of the podcast The Chief and Shawn show along with his Street Outlaws co-star Big Chief.  
Murder Nova Bio & Age
Murder Nova was born as Shawn Ellington in California in 1977. At the age of 5, he moved from to Sayre Oklahoma in 1982. Since then he has spent his whole life with cars.
See more: Street Outlaws Star JJ Da Boss Family & Wife Are Serious About This..The Controversy..
His fascination for cars began when he started as a cleaner in an auto parts shop which his father owned. After spending his whole teens in the Sayre shop of his father, he moved to Oklahoma City in 2005.
What's more, the movement proved to be a turning point in Nova's life. After moving to the city he purchased 1969 Chevrolet Nova, and he became a vital part of Street Outlaws from 2013 onwards.
Murder Nova's New Modified Chevrolet Nova Is The Fourth Fastest Car In USA
After becoming a part of Street Outlaws, a show which comprises of the upgrading the classic cars through a series of modifications, he modified his new car Chevrolet Nova he bought which was a bit low on power and efficiency.
He converted the car's engine to a twin turbo setup from its initial pro charged power. Along with an engine power of more than 3400 hp, the new car, called Murder Nova, boasted Diamond Pistons, Oliver connecting rods, and a 380cc Dart Pro 2 cylinder heads.
The modifications quickly established the beast as one of the fastest on display in the Street  Outlaws show and gained him the second spot on the speediest cars list. The first however belonged to his long-term friend Big Chief.
His Murder Nova believed to be the 4th fastest car in the country, producing an astounding 3000HP.
Murder Nova Openly Shares His Love For Wife In Social Media
Besides his love for cars, there is something he is more in love with and that happens to be the love of his life Erin who likes to be called as 'Mrs. Murder Nova'.
The reality star has been married to Erin since 2005 and the love and bond between the pair have been on the up since the day they met.
Related: Big Chief Talks Trouble With Wife! Cars Enthusiast Hinting Divorce?
Opposing his persona as a daredevil rider he is very romantic at heart and openly shares his love and isn't afraid to shower his partner with mentions on Instagram whether that be Valentine's day or just a casual day off.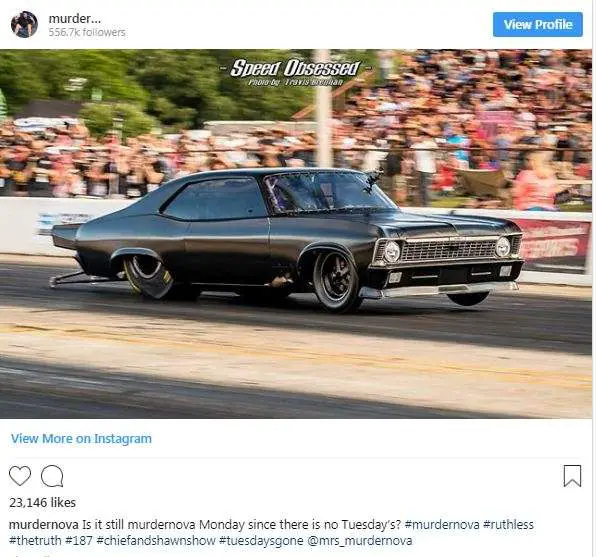 Fastest Car: Shawn posts about his darling car Murder Nova (Photo: Murder Nova's Instagram | 28 August 2018)
The daredevil rider posted a cute message on his Instagram on 17 June 2017 on his wife's birthday. He saluted his wife for all the sacrifices she had made for him, and also thanked her for helping him be sane. He added that he would not have been able to handle his crazy life if his wife was not with him.
Not just that his wife has been a perfect partner in crime for Shawn and is involved in numerous racing adventures with her husband. She also returned the favor for her husband on 18 June 2018 wishing him a pleasing birthday.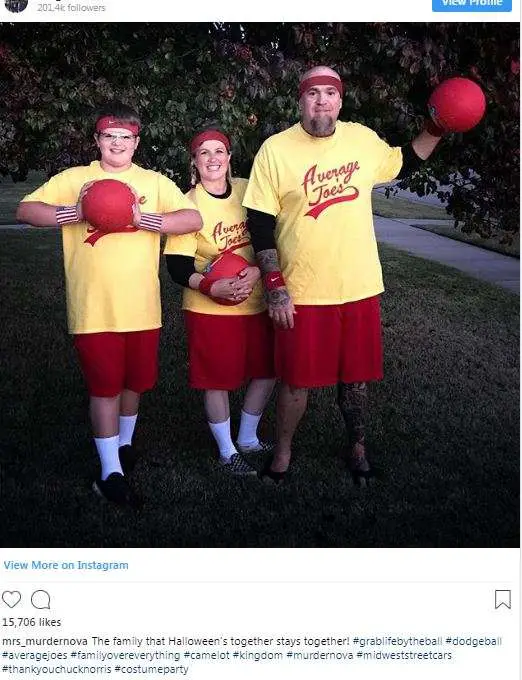 Halloween: Murder Nova's wife shares their Halloween Costumes (Photo: Erin's Instagram | 28 October 2018)
The lovely couple is also blessed with a son together named Aiden and as seen in Erin's Insta picture we can see how the family enjoys each others company. Shawn frequently posts pictures of his son and the family lives happily together with each other.
The family's togetherness has stood the test of time and continuously been on an upward curve and the racing fanatic has been able to able to strike a sweet balance between his professional life and his personal life, and his wife has been a massive part of it.  
Whopping Net Worth Earned By Murder Nova As DareDevil Rider
Starting as a cleaner in his father's auto parts shop, Shawn never envisaged having a net worth in six figures. Not just that he never dreamt of life as a celebrity when he brought his first car the Chevy Nova. However, his love for speed and involvement in the Street Outlaws has helped him amass a fortune.
Find out: Patrik Antonius Massive Net Worth & Wins Adds To Family Happiness With Girlfriend Turned Wife
Murder Nova has been able to muster up a decent net worth of  $700Ks a considerable figure for a boy living his dreams of making a name for himself in the racing scene.
However, the number is continuously on the rise because of the growing popularity of the racing show. The show recently released its 11th season in 2018 and has been doing great which definitely contributes to boosting his net worth.