5 Things You Don't Know About The Apprentice's Andrew Brady
He earned recognition as a participant on the business-styled reality game show, The Apprentice...Here are some wiki facts of Andrew that includes his bio and girlfriend...The duo has enjoyed an impulsive dating relationship despite significant age gap...Before making it big as a reality series star, he had a day job as a project engineer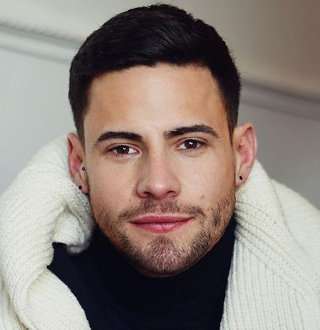 Andrew Brady recently rekindled the relationship with his on-and-off-girlfriend on a secret break to Ibiza in August 2018.
The Sheffield native is a reality star who earned his recognition as a participant on the business-styled reality game show, The Apprentice (UK), aired on BBC networks. His popularity led to more than 200k people following him on Instagram as well as 60k followers on Twitter.
Here are some wiki facts of Andrew that includes his bio, appearances on reality series, on-and-off relationship with girlfriend, Caroline Flack and the net worth.
1. Andrew Brady's Wiki-Like-Bio; Birthday, Family, Height, Job
The reality star was born to an English family in 1990 in Sheffield, the United Kingdom his birthday falls on 5th of September every year. His grandfather was a coal miner, whom he regards as "he was the hardest worker you could ever know."
At the age of 25, he earned his graduation with a first class honors degree in Aerospace Engineering. He used to work to work 35 hours a week in a bar until 3 am while pursuing his degree.
More On Reality Star: Lizzie Cundy Married & Separated! Wedding, Husband & Children Status Now
Before making it big as a reality series star, he had a day job as a project engineer in Cheshire. He used to work in the aerospace industry and his best attribute while in his work was a relentless job ethic.
2. His Appearances On Reality Series: The Apprentice, Celebrity Big Brother,  Love Island
Andrew appeared on the BBC One's series, The Apprentice in 2017 and took part in some tasks and led Team Vitality to their first victory on the fourth week.
However, he was fired in the eighth week after being accused of sleeping in front of a client with another candidate, Anisa Topan, who was already engaged and had been planning to get married to her fiance. Rival Anisa, who was ten years older than Andrew fell for his charms. The pair were fired by Lord Sugar in the same week, along with consultant Charles Burns.  
After being fired from the Apprentice, Anisa later married fiancé Tristan.
Meanwhile, Andrew was whetted by his reality series experience and pursued a career in it leaving his day job. He entered the Celebrity Big Brother house in the first celebrity edition of reality hit show, Big Brother in January 2018. He was eliminated at the last week of the 21st season of the reality show.
3. Andrew Took Back Ring From Girlfriend, Caroline Flack After Getting Engaged
Andrew has garnered a huge female fan following because of his alluring body physique and a perfect height. And one of his supporters in the Big Brother house included Caroline Flack, a much known British TV host, who hosts the ITV's Love Island. 
It was rumored that Andrew was the lowest paid celeb on Celebrity Big Brother ever. However, the rumors were false as he managed to earn a reasonable amount for his time in the famous house – and he didn't seem bothered while he was pictured leaving the show with a massive smile on his face. 
According to The Sun Online, the businessman earned £10,000 for his time on the reality juggernaut which is lower than the fee offered to CBB winner Stephen Bear during his season, for which he's said to have been paid around £12,000.
Later on, he also appeared in the CBB house; a reality TV program. And the couple first got to know each other through CBB and met after his stint at the house. The couple has since enjoyed a whirlwind romance with multiple breakups and patch-ups including an engagement. They began dating after Andrew left the CBB house in February 2018.
The duo has enjoyed an impulsive dating relationship despite the significant age gap, Andrew is just 28 while his girlfriend Caroline is 38 years of age. 
However, in March, they announced their split as Andrew was reported spending the night with another woman in a Chester nightclub. 
Interesting: Gorgeous Jesse Underhill Age 19, Ready For Dating & Girlfriend Amid Raging Career
Just a few days after the split, they got reunited and were determined to give their relationship another chance. They even decided to step-up their relationship by getting engaged in April.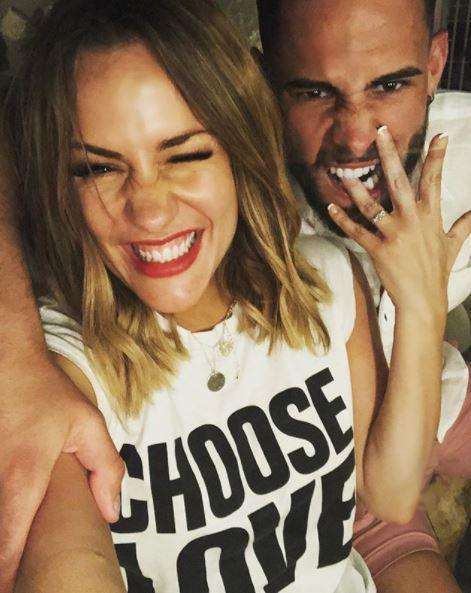 Wedding soon: Andrew poses with his girlfriend, Caroline after being engaged in April 2018. (Photo: Thesun.co.uk)
But in July, it was reported that Andrew took back the engagement ring from Caroline after she kicked him out of their London home. In August they rekindled their relationship on a secret break to Ibiza.
Recently, it came to the limelight that Andrew and his girlfriend, Caroline flew to the Caribbean island of St Lucia last week were to spent the holidays. It shows the couple is set to start the new life after their wedding soon.
4. Andrew & Caroline Still Together?
After seven months of engagement, the rumors were sparkled that Andrew and his fiancée, Caroline is secretly married as they were both spotted kissing and Andrew was seen in a new gold ring in October 2018. The duo was out for a walk near Caroline's London flat with their French bulldog puppy Ruby Coco.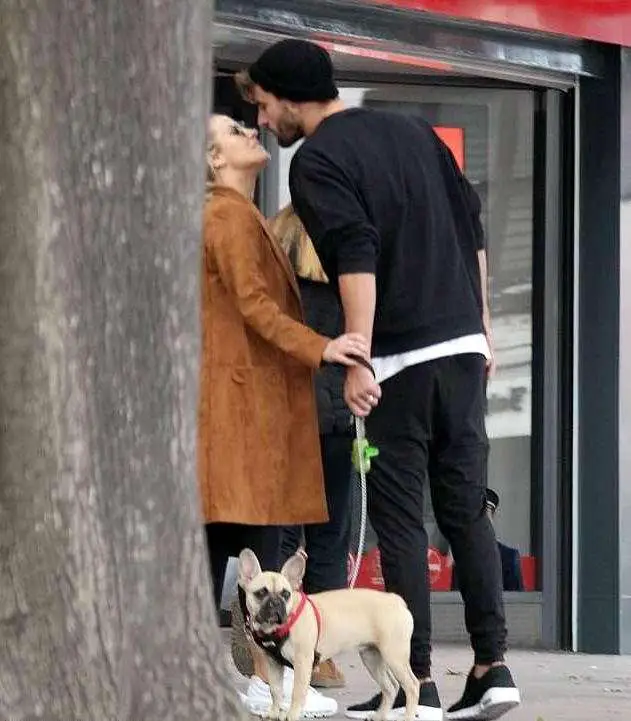 Secretly Married? Andrew and Caroline spotted kissing while he flashed new gold ring during a walk near Caroline's London flat in October 2018. (Photo: Dailymail)
However, it looks like the couple is no longer together as they reportedly parted their ways in November 2018. After their break up, Andrew and Caroline have contretemps over custody of their pet, with him hanging onto Ruby after the split. 
After the split, Caroline insisted that she would be with Ruby for the festive period through her Instagram post in December 2018 and she kept the dog with her for Christmas, but the dispute between them for the dog was still on.
However, in 2019, Andrew and Caroline settled their dog dispute amicably as he gave up custody of their beloved pooch Ruby before fleeing to Australia. He did not fight his ex for the pup they adopted together. Moreover, the custody agreement of their dog was sorted before Christmas. He handed over Ruby to live with Caroline full time before he packed up and moved to Australia to start a new life.
Shortly after Christmas, Andrew announced he was leaving Britain and starting a new life in Australia, and since then, he has been asking for work online after struggling to find a job Down Under. He also revealed his split from Caroline prompted him to change his life.
5. Andrew Brady's Net Worth 
Andrew has amassed a decent net worth both from his works; as a project engineer and on-screen appearances on reality series.
As a project engineer in the aerospace industry, he used to earn a salary of $90,000 per year. Similarly, he has also made money for his work on reality shows. It was revealed that Andrew was the lowest paid celebrity on the history of Celebrity Big Brother series, earning the salary of a mere $10k during his stint on the series.
Millionaire TV-Star: Rick Ness Wiki: Gold Rush Star - Age, Family, Net Worth
Talking about his ex-girlfriend, Caroline is a prominent television presenter, who has a net worth of $8 million.