Love Island's Caroline Flack Whirlwind Romance With Boyfriend; Dating To Engaged Journey
Caroline Flack has a lengthy list of boyfriends she has dated, from a royal to wannabes. But her latest dating affair also is a classic Caroline Flack type, consisting of romance, tears, and reconciliation. The 38-year-old is one of the most known faces in the TV and is the host for various hit programs, Love Island, Celebrity Big Brother and The X Factor.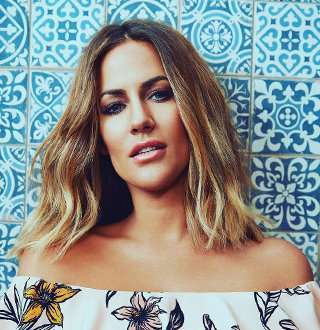 Caroline Flack had a lengthy list of boyfriends she dated, from a royal to wannabes. But her latest dating affair also is a classic Caroline Flack type, consisting of romance, tears, and reconciliation. 
The 38-year-old is one of the most known faces in the TV and is the host for various hit programs, Love Island, Celebrity Big Brother, and The X Factor. Similarly, she has also appeared in multiple reality shows, winning the 12th season of Strictly Come Dancing in 2014.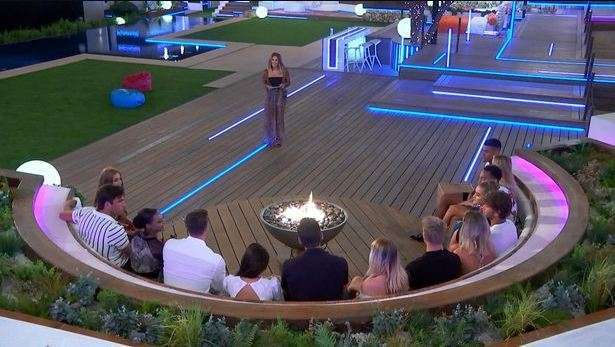 Caroline Flack welcomes the contestants of The Love Island 2018 (Photo: mirror.co.uk)
Caroline Flack's TV career began after appearing in a sketch show, Bo' Selecta! in 2002. And after bit part appearances, and modeling contracts she was roped in by Channel 4 in 2005 where she co-hosted The Games: Live at Trackside and When Games Attack.  After Channel 4, she dilly dallied between BBC and ITV hosting TMI and Something For The Weekend with the BBC, and I'm a Celebrity...Get Me Out of Here! NOW! with the ITV. 
More on Love Island: Why Iain Stirling Age 30, Love Island Narrator Came Out With Girlfriend
And in 2014, she participated in the Strictly Come Dancing with professional dancer Pasha Kovalev as her partner. The duo went all the way to the finals and clinched the trophy showcasing her dancing talents. She is set to return again on the show on Christmas day along with her former celebrity contestant Aston Merrygold for 2018 festive special.
As of 2018, she is the main presenter of ITV2's Love Island. 
Born on 9 November 1979 in Enfield London, she suffered an awkward fall during her childhood leading her to keep her mouth shut for about two months. The result of 2 months of silence; an overly talkative girl, who is good at keeping people engaged, has helped her excel as a TV host. She also has a twin sister whom she wished a happy birthday on a new cute childhood post on Instagram in 2018 on her birthday. The fun must be double as a child when you have a twin!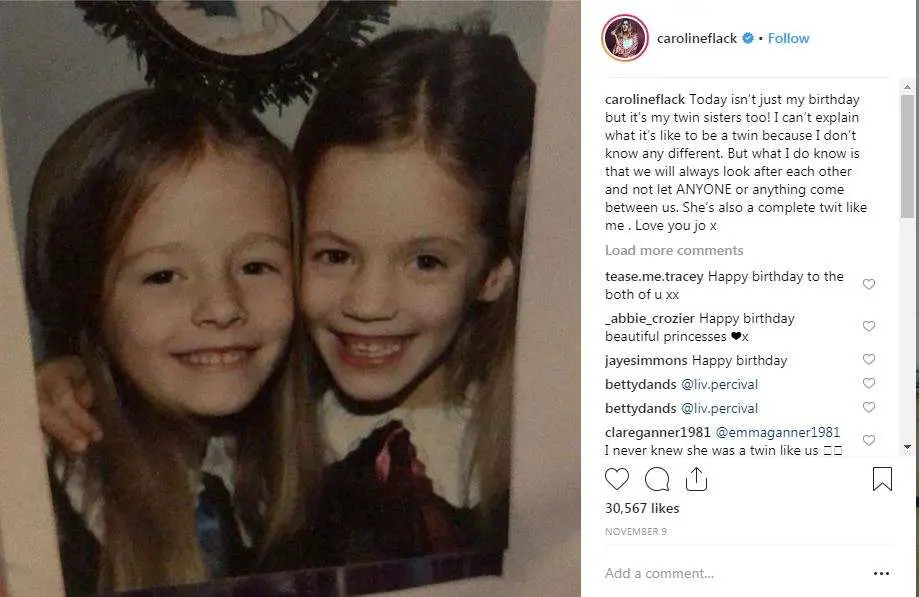 Twin Sister: Caroline Flack with her twin sister when they were young (Photo: Caroline Flack's Instagram| 9 November 2018)
The multifaceted TV persona is also famous for her love life, where she has been linked with plenty of men. She briefly dated Prince Harry in 2009. However, they called off their romance after their romance got out publicly. 
She was also gossiped to be dating Harry Styles in the late 2011 and received a lot of flak from the commentators for dating someone 15 years junior. The couple romanced for three months before separating in Januray 2012 in amicable terms. After dating Harry Styles, she shifted her attention to Sam Smith's manager and dated for about a year from 2014. 
After the couple's split, Caroline has strayed away from having a relationship despite having been linked with James Arthur and Olly Murs. 
From Dating To Exchanging Rings Via A Split In Just 2 Months
Caroline's dating life surfaced again after a hiatus that seemed like ages. This time, she was dating The Apprentice and Celebrity Big Brother star Andrew Brady. 
Caroline met Andrew during his stint in the Celebrity Big Brother and flared up a romance after his departure from the house. The couple was seen together at various events and even attended the screening of The Shape Of Water in February 2018.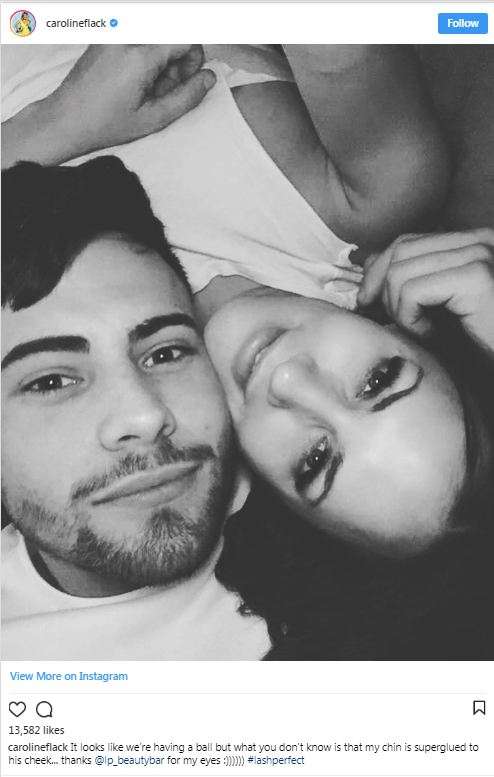 Caroline Flack shares an intimate moment with boyfriend Andrew Brady in April 2018 (Photo: Caroline Flack's Instagram)
Related: Andrew Brady Wiki: The Apprentice Star's Girlfriend, Family, Job, Net Worth
However, their romance seemed to have hit a full stop after Caroline dumped Andrew citing him being unfaithful towards her. Her close friends added that Andrew had been using the famous TV persona to enhance his stardust and claimed that their bond was not made to last long. 
The full stop turned out to be a coma, as the pair reignited their romance after a heart to heart conversation. Caroline even flaunted a tattoo bearing the initial of her to-be-husband 'AB' under her wrist. The tattoo was on display when Caroline attended Cosmopolitan Influencer Awards 2018 on 13 April. 
Barely 15 days later, Caroline posted in her Instagram that the couple had been engaged to get married and shared her engagement ring for her followers.  Not just that, Caroline also Instagrammed a post where she was seen reading a bridal magazine and preparing to walk down the aisle to be pronounced husband and wife with Andrew on 15 June 2018. 
Caroline Flack And Boyfriend Brady's Unstable Relationship 
But the on and off again couple, after planning for the wedding which hasn't happened yet, was back on the news on November 5! Caroline was seen without her engagement ring which raised speculations on their split.
See more: Sam Frost Found Perfect Boyfriend After Split With Ex? Dating & Relationship Talks
Giving insight on the speculations,  in the earlier November, her boyfriend Andrew Brady dialed 999 for an ambulance to be sent to the TV star's home claiming she had threatened to kill herself after a drunk call between the two. 
But later he apologized for stirring unnecessary drama. Caroline said that she was mortified to hear the news and hadn't taken an overdose. She stated the incident "as typical Brady" giving rise to unnecessary drama.
Are Caroline And Brady Back Again?
Well, the speculations were true and they did break up. As of recent news on December 2 according to Mirror, she has taken Andrew Brady back again!
A source as per Mirror said:
"Caroline has been told by so many friends that she should get rid, but she is refusing because she still loves Andrew and is desperate to make it work. Everyone wishes Caroline will realise her worth because she deserves so much better."
But despite pals warning her, she has gotten back into the toxic relationship again!