Know 'Gold Rush' Star Rick Ness' Wiki: His Age, Family, and Net Worth
Know About 'Gold Rush' Star Rick Ness' Net Worth Through His Career. Also, Get Along With Interesting Wiki Including His Family, Age & Relation With His Mom.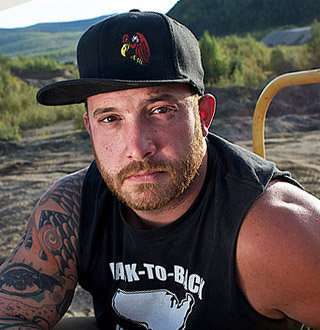 Quick Information
Date of Birth

Mar 05, 1981

Age

42 Years, 2 Months

Nationality American
Profession

Reality Star

Relationship Status

Single (2021)

Net Worth

$3 Million

Brother/s

Twin Brother (Randy)

Hair

Short

Father

Big Rick

Birth Place

Milwaukee, Wisconsin, United States

Hair Color

Brown

Eye Color

Brown
Goldminer Rick Ness is an American reality television star and musician, best known as the excavator and rock truck operator on Discovery's reality television series Gold Rush. The series shows the gold mining efforts of family-run mining companies of Dawson City, Yukon, and Canada.
Being a prominent part of the series Gold Rush, he has been acting as the right-hand man to the group leader and gold miner Parker Schnabel since the second season in 2012.
Moreover, Ness has also appeared in Gold Rush's spinoff shows such as Gold Rush: Parker's Trail, Gold Rush: The Dirt, Gold Rush: Haulin' Pay, and Gold Rush: Claim Chronicles.
Get along to learn more captivating wikis about Rick Ness, including his age, family, measurements, personal life, and net worth!
Ness Started as a Football Player
Born on March 5, 1981, Ness was raised in Milwaukee, Wisconsin, along with his twin brother.
The reality star was initially a football player during college, but after a head injury ended his playing career, he opted to start a music group called 'The .357 String Band.'
During a tour around the world, the band performed at the Southeast Alaskan State Fair, and that's when Ness met Schnabel. After that, the Wisconsin native piqued interest in working with him.
Has Immeasurable Love for His Family
Despite the occupying schedule with the show and the occasional traveling to different places, Ness never fails to make time for his family, especially his mother, father, and twin brother.
Mother Passed Away Due to Cancer
The Gold Rush star often shared pictures and mentioned his mother on special events like her birthday to show affection.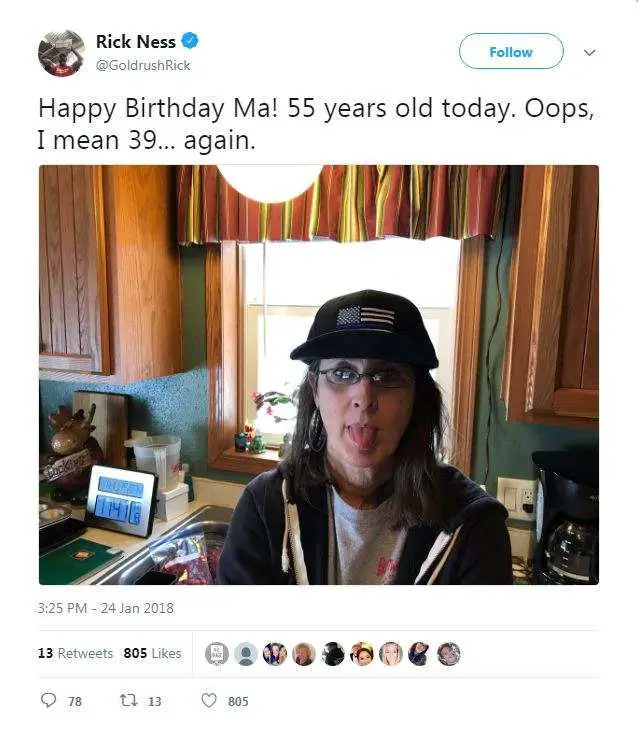 Rick Ness posts a picture of his mom on Twitter, wishing her a happy birthday on January 24, 2018. (Photo: Twitter)
But sadly, she passed away in March 2018 at the age of 55 due to cancer. He confirmed the details through Twitter, where he wrote:
RIP Mom. 55 years young. She left us peacefully in her house and with my face resting against hers she took her last breath. It hurts. It's not long enough. Cancer is the devil.
Shares Strong Bond With Father Big Rick
Ness's father is Big Rick, a construction company owner/operator, grew up in Escanaba, Michigan, and looked after the family construction business that his father and uncles had set up. 
Today with nearly 4 decades of experience in construction, he a specialist in heavy machinery and even helped his son Ness reach his goal of 1,000 ounces in 2019.
Showing his love for his father, Ness also shares pictures with Big Rick on social media occasionally. On his father's birthday in July 2019, he wrote, "Happy Birthday to my dad, he's like 80 billion years old or something like that, but he is awesome, and I love him. Hahaha."
TECHNICALLY I'm not a bad son because although it's 2:42AM where my dad lives, it's still only 11:42PM where I'm at and it's still his birthday here. So. Happy Birthday to my dad, he's like 80 billion years old or something like that, but he is awesome and I love him. Hahaha pic.twitter.com/1W8nivyL5I — Rick Ness (@GoldrushRick) July 18, 2019
Ness Has a Twin Brother
Ness doesn't hesitate to share the time he spends with his twin brother Randy and often shows off his twin on social media.
Doing that, on March 6, 2016, shared birthday of Ness and his twin brother, the reality star posted a picture with his brother on Twitter.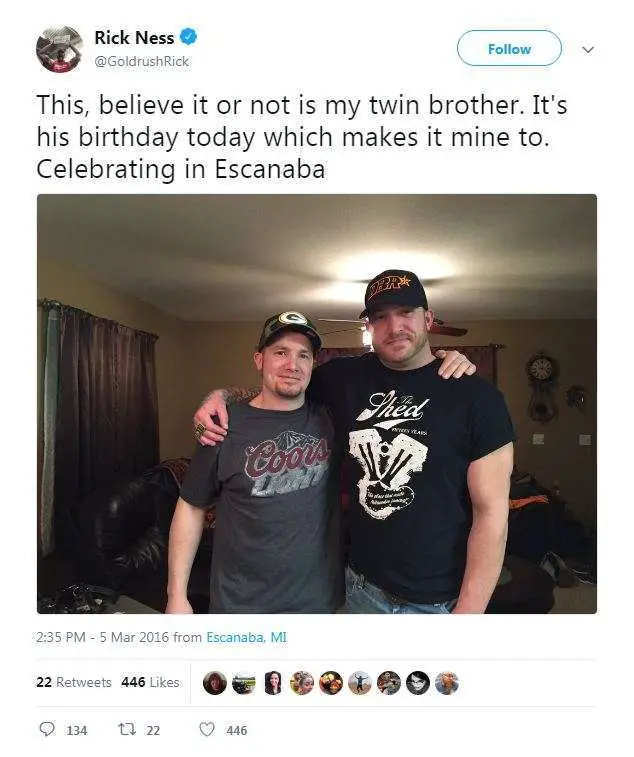 Rick Ness and his twin brother Randy on their birthday in March 2016. (Photo: Twitter)
"This, believe it or not is my twin brother. It's his birthday today which makes it mine to. Celebrating in Escanaba," Ness wrote.
Moreover, even though he often posts pictures of his twin brother, Ness hasn't yet revealed his whole identity. He might not disclose his family's identity, but he does keep his fans updated on the happenings of his life with family.
Gold Rush: Ness Left Parker Schnabel's Crew
Starring in Gold Rush, where he shows an entertaining role as the right-hand man of Parker Schnabel, Ness makes the series worth watching. He was featured from the second season of the series along with Parker and is still active with his regular appearance.
As an impressive excavator, Ness gained a massive amount of fans and great admiration from the crew's leader. But he has revealed his plans to lead his own operation, replacing Todd Hoffman as the new Mine-Boss in Season 9 of the series.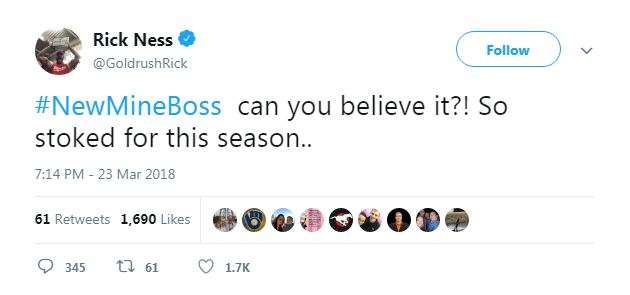 Rick tweets an announcement of his new role in the upcoming season of Gold Rush on Twitter on March 23, 2018 (Photo: Rick Ness' Twitter)
Leaving the crew was a hard decision that Ness made, considering his close friendship with Schnabel. He even confessed that Schnabel didn't know how to be a boss and a friend — and that he was fully aware of the difficulty in drawing the line between the positions.
Ness's Gold-Mining Career & Net Worth
The skilled miner quickly proved to be a capable excavator and rock truck operator in Gold Rush. He continuously seeks out adventure, and during his free time, he grows his tattoo collection and frequently works out.
Being the main cast of the Gold Rush and taking the show's primary objective as finding gold into account, there is no doubt that Ness earns a hefty amount of money.
According to Celebrity Net Worth, he owns a net worth of $3 million.