Meet Cameron Hanes Longtime Wife & Know About His Job & Net Worth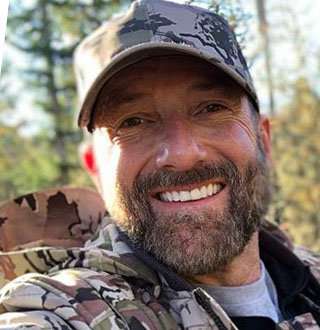 Quick Information
Official Site

https://www.cameronhanes.com/

Son/s

Truett,Tanner

Daughter/s

Taryan

Date of Birth

Oct 02, 1967

Age

55 Years, 4 Months

Birth Place

Eugene,Oregon,United States

Profession

Athlete

Relationship Status

Married

Wife/Spouse

Tracey (m.7th June 1992-Present)

Divorce/Split

Not Yet

Gay

No

Net Worth

Not Disclosed

Ethnicity/Race

Caucasian

Religion

Christian

Father

Robert Hanes

Mother

Kandice Hanes

Height/ How Tall?

5 feet 8 inch (1.73 m)

Weight

N/A
Always seen in the jungles running and hunting, famous American bowhunting athlete and trainer Cameron Hanes has a massive social media following.
What does Cameron Hanes do for a living, you ask? Well, he publishes DVDs and videos of his work rightly attracting a slew of viewers and subscribers for his YouTube Chanel.
He is also an author and has written two best-selling books on bowhunting and wildlife, namely Backcountry Bowhunting- A Guide to the Wild Side and Bowhunting Trophy Blacktail.
As a trainer, he trains people on specific exercises, lifts, and diet strategies that help them become hunting athletes themselves.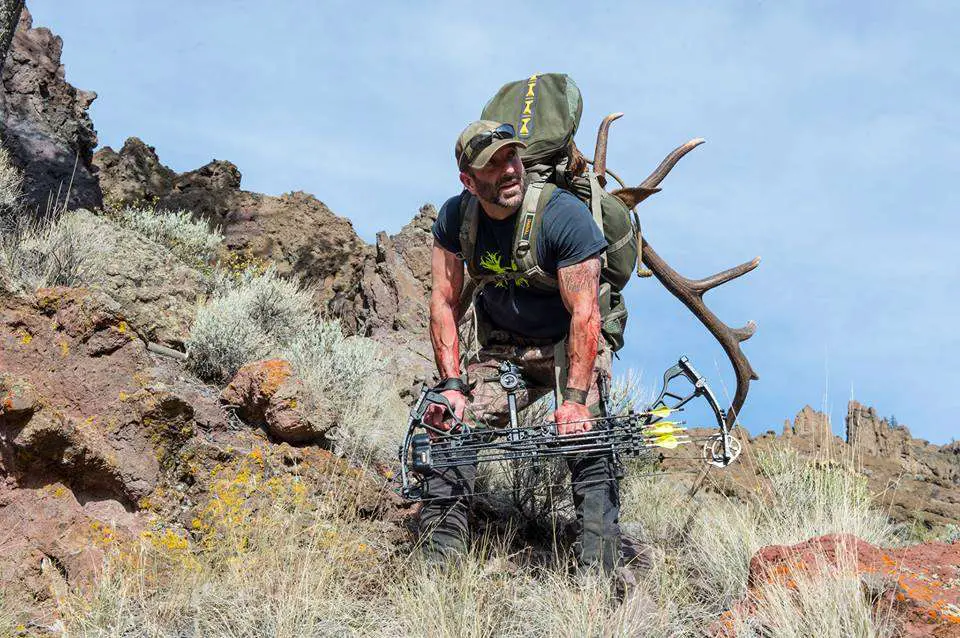 Tough work on rugged Mountains: With a bow gear in his hands, Cameron Hanes fetching his prey in the rugged mountain jungles. (Photo: Tracey Hanes Facebook)
Hanes calls himself a bowhunting athlete, training intensively each and every day to become the "Ultimate Predator."
With a passion for hunting the wild, pure backcountry and a love for the written word, his greatest love is bowhunting the remote wildernesses of the West. 
In addition to shooting his bow every single day of the year, he trains in the weight room 7-days a week and writes his experiences in his blog.
Also Read: Gator Boys' Jimmy Riffle Age 32 & Girlfriend Getting Married Soon | A Bio
A Short Bio Covering Cameron's Age & His Broken Family Life
A native of Eugene, Oregon, Cameron Hanes was born on October 2, 1967, to a cheerleader and a star athlete, Bob Hanes. His parents were divorced when he was just five years old.
He and his younger brother Pete were very hurt, and they wanted nothing more than the reunion of their parents.
Their mother remarried, and Hanes hated his stepfather. So he moved in with his father but missed his brother, who opted to live with his mother as he was still a toddler and was attached to his mother.
Later Hanes moved in with his mother because living with his father became tough. Bob was busy with his work, and Hanes was missing his brother dearly.
When Hanes was 15 and Pete was 12, their stepdad took them rifle hunting, trying to extend an olive branch of sorts.
Eventually, Hanes went out on his own and became a hunter—a successful one at that. However, he was not excited about hanging out with his stepdad as he thought it would be disrespectful to his own father.
Let's Find Interesting Facts About Cameron's Life and His Unique Job
Born and raised in the remote backcountry, Hanes's greatest love was bowhunting in the remote wildernesses of the West and Alaska. Hanes's best friend Roy Roth and Bob were the most important people in Hanes's life, but sadly, he has since lost both of them.
Hanes was attached to his buddy Roy Roth who was also a bowhunter. It was Roy Roth who got Hanes into bowhunting as rifle hunting wasn't that challenging to him.
Likewise, he had a lot of respect for his own father, whom he refers to as his hero.
Hanes was devastated when his father Bob Hanes died in 2010 due to cancer, and buddy Roy died in 2015 when he fell while stalking a Dall sheep.
Overcoming the pain from the past, Hanes lives a life of adventure, success, and danger.
In addition to shooting his bow every single day of the year, he trains in the weight room 7-days a week and runs 100-mile ultra marathons in the mountains during the off-season to toughen up for the mental and physical test that he'll face in the backcountry.
 Interesting: How True Is Aaron Goodwin Getting Fired From Ghost Adventures? Truth Revealed
What Is Cameron Hanes' Net Worth?
Cameron Hanes has based his life and career around the things he loves, i.e., writing, self-improvement, photography/filming, his family, and bowhunting the backcountry.
His quotes "Keep Hammering," "Nobody Cares. Work Harder" are famous among his fans. No wonder his merch sells like hotcakes. He sells a wide range of t-shirts, belt buckles, and snapback hats on his website.
Hanes has hosted TV shows, been featured in TV commercials, published two books, produced DVDs covering his bowhunting adventures, and provided training to those who want to become a bowhunting athletes.
Hanes makes a very good sum of money from his works and having over hundred-ninety-five videos, and 288k subscribers on YouTube adds to his net worth.
Meet Cameron's Wife & Children
Aged 51, Cameron Hanes has been married to his beautiful and supportive wife, Tracey Hanes, for the past 26 years. Whoa, the adorable couple already crossed their silver jubilee!!!
They make a beautiful couple and are blessed with three children: two sons, Truett and Tanner, and a daughter Taryn.
His oldest son Tanner is 25 years old, and it seems he has followed in his father's footsteps. Hanes's children are also working and training in bowhunting with their father.
You may Like: Hallie Gnatovich Bio: Age, Baby, Adventure Enthusiast Husband & Facts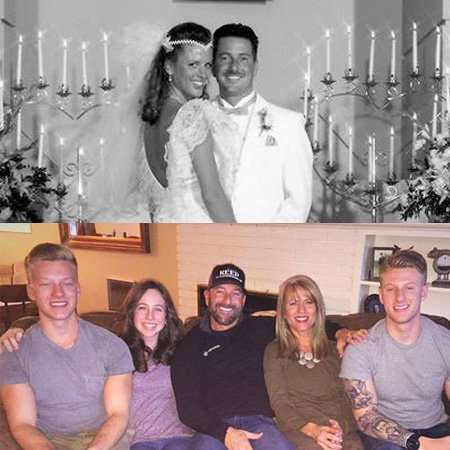 Complete and beautiful family: A rare picture from Tracey and Cameron's wedding in 1992(up) and Cameron posing happily with his wife and children(down) (Photo: Tracey Hanes Facebook)
Having experienced a broken family at a very tender age, Hanes bonded his family with love and compassion for more than two decades.
He understands the pain children have to bear when their parents separate.
Not only Hanes but his wife Tracey has contributed a lot to sustain a complete family. She has been very supportive of his work which needs a lot of dedication and time.