Know Laura Govan's Bio, Husband Queries, Instagram, Net Worth, Kids & Alleged Affair with Shaq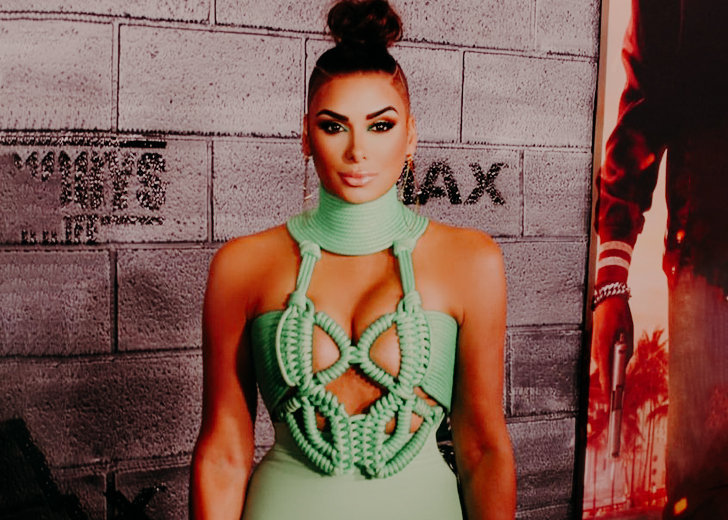 Quick Information
Date of Birth

Sep 21, 1979

Age

44 Years, 0 Months

Nationality American
Birth Place

Oakland, California, United States

Profession

Television Personality

Relationship Status

Dating

Divorce/Split

Yes (Once)

Boyfriend

Name Not Disclosed

Net Worth

$1 Million

Ethnicity/Race

Mixed

Sister/s

Gloria Govan

Brother/s

Lonnie Govan

College

New Mexico State University

Height/ How Tall?

6' 2"

Hair Color

Black

Eye Color

Dark Brown

Son/s

Aloni Arenas, Alijah Amani Arenas

Daughter/s

Hamiley Arenas, Izela Samaya Arenas

Fiance

Gilbert Arenas (2002-2014)

Father

Michael

Mother

Gloria

Siblings

2

Children/Kids

4
American reality star, fashion model, and youth basketball coach Laura Govan has been currently promoting a fashion brand named Say La V on her social media. She can also be seen hosting and participating in fashion shows. 
The Oakland native initially found the limelight in 2011 after starring in season 1 and season 2 of the VH! reality series Basketball Wives LA as an on-again, off-again love interest of NBA all-star Gilbert Arenas. She shares four children with him.
When Govan joined the show, she had been separated from him for six months.
Govan would later reveal to Lyanla Vanzant on Fix My Life that she had joined the show being angry with herself and her ex.
"I had sat in this house that was 15,000 square feet with four babies, by myself," she shared. "And I couldn't, I couldn't tell nobody. It was like I was drowning. I had everything and I had nothing."
However, they reconciled later for the sake of their children.
But around the end of 2014, she was kicked out of their home, and he had also sold the engagement ring she had given to him in 2008, according to her. 
And in 2015, she filed a court case against Gilbert demanding she should get a fair share in Gilbert's wealth, arguing that she had been with him since 2002, long before he made $200 million-plus as an NBA star. 
And not only Gilbert, but Laura also had a history with basketball before she joined Basketball Wives LA. In fact, she was a basketball player in high school who averaged 30 points per game. 
Further, she was granted a full-ride scholarship to New Mexico State University and she later earned a master's degree in psychology in addition to a bachelor of arts degree in international business. 
After completing her studies, Laura declined an offer to join Santa Clara University as the head coach because she was pregnant with her first child.
She wanted to obtain a Ph.D. degree but didn't pursue it back then.   
Read the full article to get exclusive information on Laura Govan's parents, her life after divorce, and her alleged past relationship with basketball star Shaquille O'Neal.
We also have brought updates regarding her children.
Does Laura Govan have a Husband or Boyfriend after Divorce?
Currently, Govan has kept her relationship status a secret as she has opted out of her previous habit of posting about her dating life on social media. 
But not in the distant past, Govan moved on from all the controversies and started dating a new boyfriend.
Though she kept his identity under wraps, she revealed he was a Moroccan in an interview with The Domenick Nati Show podcast in August 2018.
I like 'em white! I have a boyfriend now...He's actually Moroccan, but he's white. He acts white and he looks white. Sometimes I'm like, 'Damn! you're hella white' and we just laugh. I'm happy.
In a 2020 Instagram post, she addressed her followers' questions about the age gap between them. She disclosed she called her boyfriend her "daddy."
Replying to the followers that questioned the age gap between them, she wrote,
Some Ask If Hes My Son .... Naw, But Often I Call Him Daddy
And as of now, Govan has gone private about her dating life and relationship status. Since 2021, she hasn't dedicated social media posts to anyone who could be linked with her as her boyfriend.
The Alleged Vincent Herbert Affair & Sister Controversy
Back in 2017, Govan also bashed rumors that she was pregnant with Tamar Braxton's husband Vincent Herbert, and stated that she was dating someone else. 
Apparently, according to TMZ, it was Gilbert who had told Tamar that Govan and Herbert were having an affair. 
In the same year, appearing on Fix My Life, Govan claimed that her sister Gloria had slept with her former partner Gilbert when they were still dating.
"We started dating and it was great, and then I introduced him to my family, and in a short period of time it went south, real fast," she shares. "I believe that he shared a relationship with my sister," she said.
However, both Gilbert and Gloria denied such claims by Laura. Even her parents told the show that they didn't believe Laura's story.
And during the show, Laura also claimed that "my life hurts with the men I had in my life," answering that those men were her father and her ex Gilbert, to name a few.   
When her father was asked about his disciplined upbringing by host Iyanla, he revealed that he had raised all of his children to be aggressive and vocal. 
During the conversation, the host also implied that his upbringing had left her not knowing how not to fight and left her "heartbroken."
Since 2015, Laura's sister Gloria has been dating NBA guard Derek Fisher. She was previously married to NBA star Matt Barnes and has twins, Carter and Isiah, with him.
In 2023, Barnes was asked by the court to pay over $133 thousand plus to Gloria. The verdict was that she was obliged to receive the past-due child support amount from him, according to TMZ.
How many Children do Laura Govan and her former fiancee Gilbert Arenas have?
Govan and Arenas were once close to getting a husband. She was in a relationship with her former boyfriend and baby daddy, Gilbert Arenas, from 2002 to 2014. 
The duo got engaged in 2008. But before they could ever get married, their relationship tumbled, and they separated. 
During her 12-year relationship with Arenas, Govan experienced motherhood. 
That is to say, she and Arenas became parents to four children: two sons and two daughters. 

Laura Govan's children: Izela, Alijah, Hamiley, and Aloni Kiann Arenas. (Photo: Instagram)
Govan's first child, a daughter named Izela Semaya Arenas, was born on December 24, 2005. Her second child, a son named Alijah Amani Arenas, was born when she was at the age of 27, on March 16, 2007. 
She welcomed her third and fourth child, a son and then a daughter, on December 9, 2009, and June 1, 2011, respectively. 
Her second daughter is Hamiley Penny Arenas and her second son is Aloni Kianno Arenas. 
And it turns out that both Gilbert and Laura are proud of their children and things are alright, at least between the parents and the children.  
If you didn't know, Govan and Gilbert's two elder children, daughter Izela and son Alijah, are following in their father's footsteps pursuing basketball and making news. 
Izela is a star performer for the Sierra Canyon School located in California.
The 5 feet and 9 inches player aided her team for her second CIF Open Division title in February 2023. 
Similarly, their 6 feet and 4 inches son, Alijah, made quite a reputation for himself as a freshman guard for Chatsworth Chancellors.
He finished the 2022-2023 season as a freshman with an average point of 30.3, 2.0 assists, 9.0 rebounds, 1.6 blocks, and 1.4 steals per game. 
Because of his stellar performances, UCLA Men's Basketball team, The Bruins, offered Alijah a lucrative offer to join them.
And the proud parents, Laura and Gilbert, have been posting pictures of them with their children and posts related to how proud they are, but they haven't been seen together since their relationship turned sour. 
Controversies after Laura Govan's Split From Fiance Gilbert Arenas
After Govan's separation from her fiance Gilbert, the couple got tangled in controversies. 
She made an accusation against Arenas for transmitting STDs to her for which Arenas won a lawsuit against her. An email where she detailed the indictment was published all over the media in 2016. 
Arenas filed a $3 million defamation lawsuit against Govan, and the duo had a rough battle in court.
In October 2016, it was concluded that Govan circulated the email intentionally. Therefore, she was ordered to pay $110,110 to Arenas for emotional distress.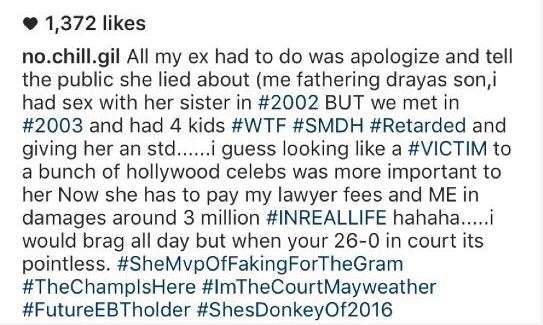 Gilbert Arenas reveals Govan's loss of the court case. (Photo: Instagram)
Again, after a few months of losing the battle with her former boyfriend-turned-partner, Govan accused Arenas of sleeping with her sister.
The controversy took a long series of bafflement after Govan posted via Instagram the relationships between her former fiance and her sister. The accusation of transferring STDs was also brought up. 
Therefore, her ex-fiance again filed a case for defamation again in 2017. But he withdrew from the case in December 2017.
And back in 2016, Arenas also won a child support battle against Govan and the outcome of it was that he only had to pay $7,100 a month instead of the previous verdict of paying her $20,000.
He claimed that he was pulled into the mediation for an increased amount when his payment had already gone up to $44,000 per month if accounted for kids' schooling, clothing, and others. 
He also deemed the extravagant lifestyles of the "NBA Baby Mamas" left their children broke when they turned 18.
He said, "Think of all these NBA baby mamas, they have touched millions in child support. Child turns 18-there's no money for them. The done spent it on Birkin bags and trips."
Not only that, but he also expressed that the $200,000 per month in child support that Kayne West had to pay to Kim Kardashian was unnecessary and argued that the child support system was "corrupted" and "outdated."
The Alleged Shaquille O'Neal Affair Rumors
During the 2000s, rumors surfaced that Govan, Gilbert Arenas' fiancee, and O'Neal, Shaunie's husband, were having an affair after alleged emails between the two surfaced online.
Arenas and Shaq, whose current girlfriend is General Hospital actress Annie Ilonzeh, were both teammates at the time.
A week after the rumors broke out, Shaunie filed for a divorce in 2011.
Later, in 2010, Laura clarified that she didn't have an affair with Shaq and it was someone who created those emails.
She also replied that she didn't refute the rumors soon because she was involved in her personal and family matters
She said, "I have three kids [ages 4, 3, and 11 months], and in between that I had a miscarriage. Gilbert was going through his thing, you know. He came first and foremost and then my children and us as a family. There was nothing else to that. And for the record, we never split."
Laura Govan's Bio: Parents, Net Worth
Laura Govan was born in Oakland, California, U.S.A, in 1979. Her nationality is American.
Her father is of African descent, and her mother is of Mexican origin. So, the 43-year-old has mixed ethnicity.

Laura Govan's parents. (Photo: Instagram)
The American reality TV star played basketball in her high school exceptionally, for which she received a full-ride scholarship to New Mexico State University.
While there, she earned her Master's degree in sports psychology and a B.A. in international business.
Govan, 6 feet 2 inches (1.88m) in height, appears in commercials and reality shows. She has amassed a net worth of $1 million, as per Celebrity Net Worth.