Know about Rui Hachimura's Parents, Difficult Childhood and Career
Learn how Rui Hachimura went from a simple boy to an NBA superstar.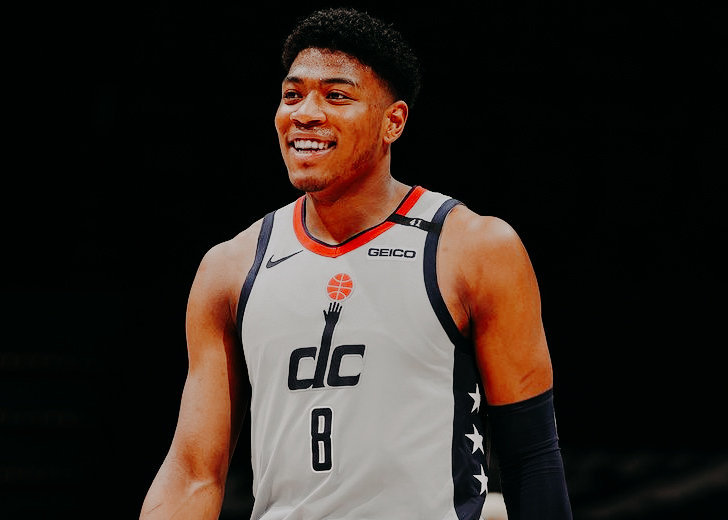 Rui Hachimura is a 23-year-old Japanese basketball megastar. Having started his basketball journey at 13, the 6 ft 8 player made history in 2019 when he was drafted as the only Japanese player to play in the National Basketball Association (NBA). He plays both small forward and power forward positions and is part of the renowned team Washington Wizards.
Hachimura is also a member of the Japanese national team and was named to the second-team NBA All-Rookie Team in 2020.
Early Life And Childhood
Hachimura is the oldest child of interracial parents - a Japanese mother and a Beninese father. He has one brother and two sisters.
Being the only black family in their town, their family had a rough experience in Japan. Hachimura had a hard time trying to fit in and being accepted into their neighborhood. But that didn't stop the young star from pushing forward.
Being an athletic person, Hachimura used to play baseball, basketball, karate, soccer, track and field while growing up. He was the best among all his peers, which finally made people respect him. Growing up, he realized his potential and felt proud of his unique mixed heritage. 
From Baseball To Basketball
Before Hachimura became a renowned basketball player, he used to play baseball. Since Baseball is more popular than basketball in Japan, the NBA star played baseball for six years. 
Hachimura was a pitcher with an excellent fastball. According to the athlete, one of the reasons he switched to basketball was that he was too good at baseball — no one could catch the ball he pitched. 
One of his classmates encouraged him to play basketball. Hachimura, who knew nothing about the sport, gave it a try. While the player didn't know what he was doing, his coach, Mr. Sakamoto, saw a potential in him. 
Mr. Sakamoto believed Hachimura could be an NBA player someday and started giving him tapes of various games. This made the athlete more serious about basketball. 
After rigorous practice and dedication, Hachimura found success and led his high school team to three straight consecutive All-Japan Tournament titles. This brought him a lot of attention and opened new doors for him.
Hachimura's Professional Basketball Career
He made it to the Japanese national teams and took part in the 2014 FIBA U17 Basketball World Cup. Their team ranked 14; however, Hachimura's big stats caught the attention of the Gonzaga assistant coach Tommy Lloyd. 
Following his feat in the World Cup, Hachimura was signed to play college basketball for the Gonzaga Bulldogs in the U.S. the following year. However, issues arose regarding the language barrier and his eligibility to play college basketball.  
The young star started preparing for the SAT to get into college. After tremendous hard work, he finally met the SAT and GPA requirements. His first game for the Gonzaga Bulldogs against Utah Valley in late November 2016. Recording one point and three rebounds in four minutes, Hachimura became the fifth Japanese-born player to play NCAA Division I basketball. 
Hachimura averaged 2.6 points and 1.4 rebounds in 4.6 minutes per game while shooting 53 percent from the field as a freshman. In his sophomore year, he earned first-team All-WCC honors and was named a finalist for the Naismith Player of the Year.
He returned for the 2017 FIBA U19 Basketball World Cup. Japan placed 10th place while Hachimura finished second in scoring (20.6 points per game) and third in rebounding (11.0 rebounds per game).
In 2019, Hachimura was drafted ninth overall by the Washington Wizards. He made history by being the first Japanese-born to be taken in the first round after another Japanese-born player Yasutaka Okayama rejected his drafting into the Golden State Warriors.Yasutaka Okayama was selected in the eight-round as the tenth pick. However, Okayama rejected the drafting, making Hachimura the first Japanese-born to play for the NBA. 
To date, Hachimura is still a part of the Washington Wizards. 
Victim of Racism 
Not only Hachimura but his younger brother Aren is also a basketball player. Aren plays for Tokai University in Tokyo, Japan. In May 2021, Aren took to Twitter to share a screenshot of a message he received.  
日本には人種差別が無いと言ってる人がいるけどこうやって人種差別発言をする人がいます。晒してどうにかなる問題では無いと思いますが、皆さんに今一度人種差別の問題について関心を持っていただきたいと思いました。 pic.twitter.com/QOXKtWFbXS — 八村 阿蓮 (@allen_hachi) May 4, 2021
While the message was sent in Japanese, the translation showed a horrifying text. It said that the Hachimura brothers were "born by mistake" and "should die" apart from using offensive insults. The text also inferred that the brothers were only good at basketball; other than that, they were worthless. 
The younger Hachimura clarified that racism exists in Japan since some people make racist remarks. He urged his fans and followers to take an interest in racial discrimination. 
The NBA star replied to his brother's tweet, saying that he gets those messages almost every day, showing everyone how he was a victim of racism online.