FC Barcelona Should Not Buy Lautaro Martinez In This Summer Transfer Window
Lautaro Martinez has been FC Barcelona's top priority for a number of months now. They have been trying different methods to get him to put pen on paper. The author sheds light on why Barcelona shouldn't buy Lautaro Martinez considering current signings, the financial crisis, and other existing problems at the club.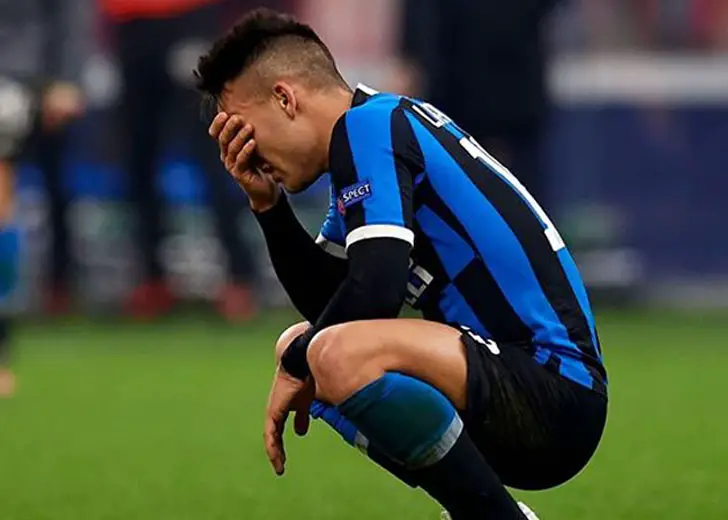 It has been ages since FC Barcelona started going after striker Lautaro Martinez's signature.  
Except for paying out an absurd transfer fee between $90, million to $125 million for the player whose contract expires in 2021, the Catalan giant have experimented with every method possible—from increasing his salary cap to offering players in exchange plus cash—to try and bring the Argentine to the Camp Nou.
And it's laughable when we hear the news that the five-time championship winner are still pursuing Martinez without considering the consequences. They will be better off without him at least for another year if we take into account all the problems his signing will bring upon the club. His signing will not only affect the club in sporting decisions but also in financial aspects.
First of all, the arrival of Lautaro could push the club into deeper financial troubles than they already are at the moment.
FC Barcelona were already in a huge financial crisis at the beginning of this season; the club had admitted to taking out a loan of €35 million to facilitate the signing of Griezmann in 2019. Additionally, the club already owes a lot of money to many different clubs all over Europe for the transfer of other players such as Coutinho, Malcolm, Neto, and so on.
For the next season, they have already confirmed a few arrivals. The Arthur-Pjanic deal saw the club exchange a 23-year-old bright midfielder Arthur Melo for a 30-year-old not-so-bright Pjanic plus a little bit of cash (€10 million).
Forward Francisco Trincao is another signing for the next season. He was brought in for €31 million. Add to that the €5 million worth signing of attacking midfielder Pedri Gonzalez and it will be crystal clear that the club now lacks enough funds for a mediocre signing, let alone a big one.
Even worse, the club still needs improvement in its defense. More than attack, the defense needs to be strengthened first. Currently, Lenglet is the only reliable long-term player right now. The club are also chasing Eric Garcia of Manchester City.
Therefore, the prospect of signing Garcia or making the squad's defense stronger will be in jeopardy if the club goes on or even attempt to sign Lautaro this summer. Just piling attackers in the team while not addressing the defensive issues is a strategy that's bound to waste financial resources.
Even if Lautaro does end up coming to Barcelona for next season, the club will have a lot of offensive players to accommodate alongside Messi in a team that uses three to four attackers at most at a time.
Currently, attackers such as Suarez, Griezmann, Ansu Fati, and Braithwaite are already fighting for a place in the starting lineup. Add to that Dembele—who is about to return from his injury; Trincão—who will be joining the team from next season, and Pedri—the same as Trincão, and the front-line looks already crowded.
Out of all the attacking players, the club will need to figure out the future of Suarez and Griezmann if they sign Lautaro.
Lautaro will come in with big wages and similar expectations. There is no doubt that whoever is in the dugout next season will try to play him for every minute possible, and the same with Messi, Suarez, and Griezmann. 
But Griezmann has been a mere shadow of his past self when it comes to performances on the pitch. He just has 15 goals and 4 assists this season playing in an unfamiliar position for most of the season. Urgently, the club has to find a role on the pitch for him that suits his playing style—a role that is already occupied by Messi.
As for Suarez, he too has been far from what he used to be. This degradation of performance could be due to his age, his mentality, his injuries, his comfort zone, or whatever else. The problem here is that he is not firing on all cylinders. 
Barcelona have to decide what to do with both these players. Both of them are under-performing: one due to positional issues and another due to multiple problems. And they are expected to play in tentatively the same position on the pitch with the same role. They have to both be off-loaded or at least one of them so that the position does not become too crowded if another striker such as Lautaro is added. Or, the club has to stop pursuing Lautaro and push both Suarez and Griezmann to get back to their best.
The latter seems to be the route to go for now because it looks like Suarez isn't leaving until the end of his contract (2021), and Griezmann is a player who nobody can afford considering how the pandemic has affected the current transfer market.
Why bring in another potential problem when you already have a handful to deal with already?
And it isn't just about the first team players, either. Players such as Alex Collado and Konrad de la Fuente from the B-team will also want some chances in the first team after their impressive performances this season.
Hence, these young players' playing minutes will diminish if Lautaro joins the squad. Most of them will likely choose to leave the club—much like the case with midfielder Carles Aleñá this season—if they aren't properly played.
Taking into account all these involved complications, the Barcelona board should stop their pursuit of Lautaro Martinez, at least for the next season. But then again, it would not be a surprise to see them keep trying regardless of how much the club suffers since it has a track record of making bad decisions.