Lautaro Martinez Will Join FC Barcelona For These Reasons. Salary?
Lautaro Martinez got an improved salary offer from Barcelona as per reports. But is it the only reason why he will join Barcelona? Let's talk about what personal reasons might motivate Lautaro to join Barca next season.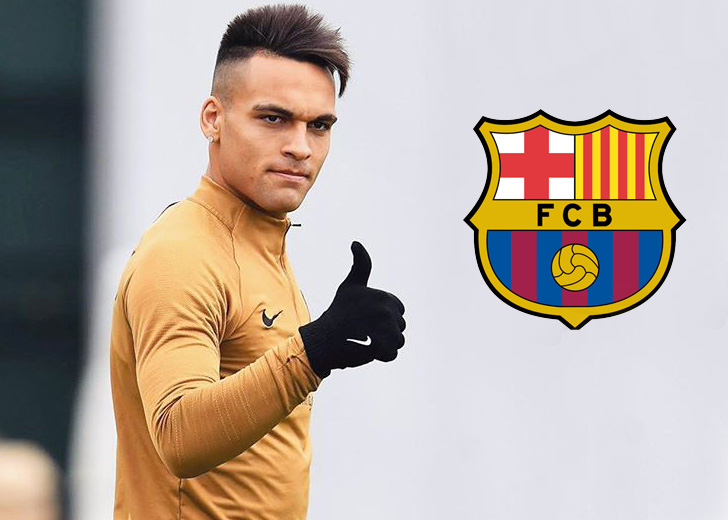 Lautaro Martinez has been linked with FC Barcelona for quite a while now. And negotiations between FC Barcelona and Inter Milan now seemingly reaching a dead end, this transfer story might finally be concluding.
We can talk all day about the transfer fee for Martinez and possible agreement between the clubs for his signature. But, what about the player himself? What motivations and reasons could motivate Martinez to join the Catalan giants this summer?
Here, we speculate and discuss a few reasons why Lautaro Martinez might want to join FC Barcelona in the next season: 
Getting To Play For FC Barcelona Is A Huge Deal
Lautaro is happy and doing great at Inter Milan. He has 11 goals and one assist in 22 games for Inter this season and is expected to score many more when Serie A restarts from the 20th of June 2020.
However, the temptation to play for a club with rich history and stature such as FC Barcelona is strong for most players, no matter how big the player is. And that especially must be the case for a young player like Lautaro Martinez, who is just 22 years of age right now and surely wants to compete for multiple trophies.
An Abundance Of Playing Time
Getting regular game time is usually one of the hardest things for a new player in a team like FC Barcelona because they already have such a considerable number of extremely talented players. However, this might not be the case for Martinez.
There are a few reasons why he might get decent game time at Barca.
One of the reasons is Suarez's age. The Uruguayan is now 33 and may not be able to play every game at the top level for much longer. Further, he will need to rest more often than not. Therefore, Martinez may get enough game time to adjust to the team properly and show his quality.
Secondly, he might enjoy adequate playing time at FC Barcelona because nobody excepts Messi to score regularly in the long-run. The club desperately needs someone who can bang in goals regularly; and, at the same time, lift some of the goalscoring load from Messi's shoulders.
Similarly, Martinez's goalscoring record at Inter may guarantee him regular playing time at Camp Nou since Suarez's goal output has been continually diminishing over the years. The Catalan striker only scored 17 goals for Barcelona last season (2018-19).
For Barcelona, Martinez can be a go-to striker if he manages to continue the scoring prowess that he has been able to show at Inter. And with Messi feeding him with the quality of passes that he usually does, the striker's output might be better than it has been at Inter.
Huge Increment in Salary
Amidst the transfer rumors and fear of having to lose Martinez, Inter Milan have been desperately trying to get him to sign a new contract at the club. Inter Milan reportedly offered him a new contract that will double his current annual wage, which stands at €2 million.
Over at Sport, Ivan San Antonio alleges that Inter had been trying to eliminate the €111 million release clause by completely removing it in each of the recently offered contracts. If the writer's report turns out to be accurate, Inter will have full control over Martinez's transfer deals and will not have to settle for a fixed release clause payment. However, the report states that Inter has not received any positive response from Lautaro Martinez or his representatives about the deal.
Meanwhile, Barcelona has reportedly offered Lauatro a  salary package of €12 million, excluding bonuses. This improved contract could be another reason why the Argentine might want to join Barcelona this summer.
Messi's Praise
When Lionel Messi opens his mouth to praise someone, that person gets all the attention in the world.
Martinez, for better or for worse, is one of those people. Leo has not held back kind words for the young striker. During an interview with Mundo Deportivo in February of 2020, Messi said the following words:
Lautaro is spectacular. He has some amazing talents. You could see that he was going to be a great player and now he's exploded. He has a lot of quality and he is very complete.
The kind words returned for Lautaro Martinez when Leo again spoke about him during another interview with Mundo Deportivo in May 2020. The Barca number 10 compared him with his teammate Luis Suarez and pointed out the similarities he sees between the two strikers. 
He's a really complete forward. He's strong, a good dribbler, he scores goals, he knows how to protect the ball. He has a lot of similarities with Luis [Suarez], they both use their bodies well and hold the ball up.
The Lure of Playing With Messi
Lautaro Martinez already knows what it is like to play alongside Messi; he has appeared alongside him for Argentina on multiple occasions. But playing and training alongside Messi on a daily basis at FC Barcelona must surely be a completely different thing.
Martinez's agent Alberto Yaque, too, confirmed his client's happiness to play alongside Messi for the national team. He said the following while speaking to Spanish outlet AS:
Speaking of the games they played in the national team, he said it was a dream.
Martinez wouldn't possibly let by the opportunity to play with Messi and help him win trophies during his final years. 
Potential Successor to Messi's Throne
Difficult as it is for all of us to comprehend, Messi's retirement from professional football is inevitable; and it is now nearer than ever. Messi has been Barca's savior more times than anyone can care to remember. But, with him not getting any younger, Barca will need to find someone who can at least attempt to fill in his shoes once his performance starts declining.
Hence, Martinez could be Barca's answer to Messi's vacuum in the future. Already a prolific striker at such a young age, Martinez can become the focal point on which Barca might well revolve around for a long time after Messi's departure.