How Lautaro Martinez Almost Quit Football Because of Homesickness? The Racing, Inter, Liniers, and Barcelona Transfer Game Included
As a proven striker, Lautaro Martinez has gained the interest of various top-notch clubs in Europe. But will anyone be able to afford him given the current situation of the Pandemic? Even if the deal is materialized, there is a dimension where some of the existing clubs have to be paid in any transfers that involve Lautaro.......To understand his personality and why everyone wants to sign him, his career stats and family background should be analyzed...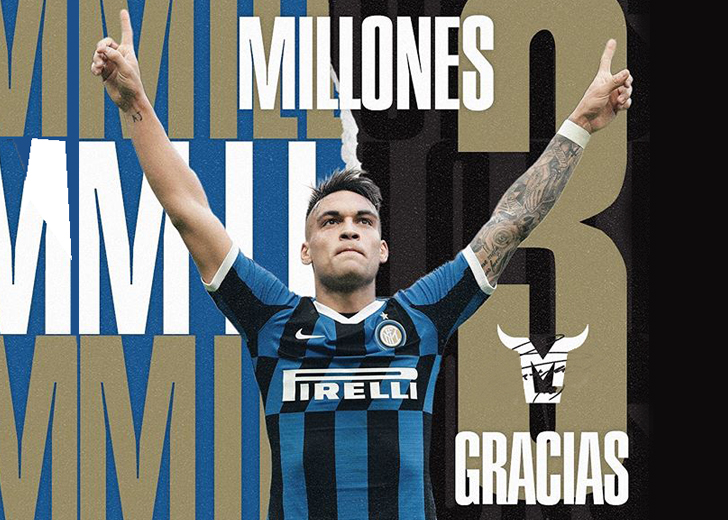 Inter Milan striker Lautaro Martinez is among few forwards who can play off the shoulders of the central defenders as well as drop deep to support a build-up play. Due to these qualities, he has naturally become a transfer target for the big giants such as FC Barcelona and Manchester City. 
In this article, let's learn about what pulled him back during his early career, his career stats, and the exciting transfer dimension that has benefited every club that has got involved with him.
1. Lautaro and His Brothers Followed His Father's Footsteps  

Lautaro Martinez with his father and brothers (Photo: Lautaro Martinez's Instagram)
Lautaro, whose full name is Lautaro Javier Martinez, was born on the 22nd of August 1997 in Bahia Blanca, a city in the southwest province of Buenos Aires, Argentina.
His father, Mario Martinez, is a former football player. He played as a left-back for five seasons with the likes of Club Villa Mitre, Rosario Puerto Belgrano, Racing de Olavarría, and Liniers de Bahia Blanca in the Nacional B league in Argentina. His mother, Carina, is a housewife.
When asked about his childhood during an interview with El Grafico, he humbly explained about his father's promising football career and how their lives revolved around him.
I lived in Bahia, but also in Punta Alta and Olavarría, because we followed my old man, with my mother (Carina) and my two brothers. For me, my old man was a great player, but he had no chance of jumping into big football, so he had to settle for the National B. I've seen him score many goals because he was in charge of free-kicks and penalties. Once we traveled to Mar del Plata just to see him play.
He then went on to give fascinating details about his parent's profession.
My old woman was always a housewife, and also took care of a lady. When my old man started soccer, he worked at the military naval base, he fixed the planes that went out to fly. He is now a nurse.
Lautaro is the second of three children born to parents Mario and Carina. In the same interview, he said that his older brother, Alan, was also a football player for Liniers de Bahia Blanca. Similarly, he added that his younger brother, Franco, was pursuing a career in basketball at Club Villa Mitre.
2. Lautaro Was a Teenage Sensation In Argentina
In 2013, Lautaro started playing for Liniers de Bahia Blanca, which was competing in the fourth tier of the Argentine football league, Toreno Argentino B. 
The year, he scored 13 goals in the under-17 Southern league and a goal in the National Cup final against Rosario, which his team lost on penalties.
3. Racing Club Marked His Professional Career in 2014; Real Madrid Moved For Him
In January 2014, he started his professional career, joining Racing Club de Avellaneda. He then went onto score 53 goals in 64 appearances for the team's reserve side in the sixth division in the season.  
This performance caught the eyes of Real Madrid, who were keen to sign him. The Spanish giant even agreed on a deal with Racing for his signature in 2015. However, the deal did not go through.
Mario Martinez, Lautaro's father, explained in an interview with TyC and La Red that the deal collapsed because Lautaro decided to cancel the agreement at the last minute, as per the Spanish outlet Marca.  He did so because he wanted to continue his development in Argentina.
Almost immediately after Lautaro rejected the deal with Real Madrid, he was given a chance in the Racing first team. His first professional top-league game was against Crucero del Norte, on Nov. 1st, 2015. He came off from the bench as a substitute for Diego Milito.
In his senior career at Racing, he scored 22 goals in 48 appearances from 2015 to the end of 2017.
4. Lautaro Almost Quit Football During His Early Career at Racing
Soon after joining the Argentine professional club Racing Club de Avellaneda in January 2014, Avellaneda, Lautaro, wanted to leave and go back home to his hometown of Bahia. 
When asked why he wanted to leave in an interview with Elgrafico, he hinted towards how hard it was for him to separate from his family and sick brother (who was suffering from epilepsy).
"I missed everyone, and especially Alan, my older brother. We are very similar, so we did everything together: we went to school, we went out, we trained together. Detaching myself from him was very difficult. Also, Alan had health problems just when I left, and all of that, taken together, made me sick."
However, he did not leave because Brian Mansilla, his friend and teammate at Racing, convinced him to stay and play. Acknowledging Brian's help and support, Lautaro stayed and shined with the Racing club that led to his €25 million transfer to Internazionale Milano (Inter Milan). 
5. Barcelona & Manchester City Wants to Buy Him; Messi Has Publically Praised Him
Since arriving at Inter in 2018, Lautaro has scored 17 goals, six of which came during the 2018-2019 season. He then scored 11 goals during the 2019-2020 season. Now with a bulk of the season yet to be completed, he is expected to add a few more.
But its hard to say if he would be at Inter in the next season. His versatility and prolific stats as a striker have attracted numbers of giants such as Barcelona, Liverpool, Manchester City, and Manchester United. However, the current situation of the pandemic has tied-up the purse of almost all of the clubs on this planet. 
Now, it is evident that Barcelona may be the only viable contender left who could sign him given the reports about his wish to sign for the Catalan giants, and Manchester City being out of the race to sign him.
In the given scenario, Barcelona's ace Lionel Messi has also been a factor in the transfer saga of Lautaro. In his interview with Mundo Deportivo, he showed eagerness to play beside Lautaro and praised him for his exceptional qualities. 
If I'm honest with you, I'm not sure if there were or are negotiations right now for him, I have no idea. I think I already mentioned it, that Lautaro is an impressive striker, especially because I think he is a very complete point: he is strong, he dribbles well, he has a goal, he knows how to protect the ball ... But well, we will have to see what happens finally with him and with other names that sound.
Given the interest and strong opinion from the arguably the best player in the world, it is hard for anyone not to create a situation to play alongside him.
The Transfer Market Review: The Unique Situation Regarding Lautaro Martinez's Transfer
Lautaro's agent, Alberto Yaque, has already confirmed the interest from Barcelona, and the matter is now under discussion between the two clubs. In the meantime, Lautaro has tried not to create further controversy and defend his role at the existing club, emphasizing that he is happy with the role Antonio Conte has been playing at Inter.
However, there have been unofficial reports from Diaro Sport that Barcelona and Inter have already agreed to a five-year deal with a pay package of €12 million-plus bonuses. 
 To protect its interest if Lautaro moves to Barcelona and also to fill in gaps created by Mario Icardi move to PSG, Inter is looking to pursue services from the likes of Alexander Laccazette, Federico Chiesa, Edison Cavani, Adolfo Gaich and Sergio Aguero among others.
If the reported €111 million (euros) transfer value of Lautaro materializes between Inter and Barcelona, his previous clubs Racing and Liniers de Bahía Blanca will also have to be paid out because of the earlier contracts between the clubs. Elintransigente reports that Racing will be entitled to receive as much as €11 million or 10 percent of the total transfer fee out of which Liniers will also get a percentage.
Such a transfer dimension once again proves the value of Lautaro. He has benefited every club he has played with both in footballing terms and financially. As for Barcelona, it will likely favor cash plus player/s deal since Inter may not likely decrease the transfer value of Lautaro because it must pay a certain percentage to Racing Club de Avellaneda
6. Football Isn't the Only Sport He Likes
Other than football, Lautaro loves playing and watching basketball. In the interview with El Grafico, he suggested that he would be a basketballer if not for football.
"As a boy, I played, but when I was 15 years old I had to choose and I decided on football. But, if I wasn't a footballer, I would play basketball."
7. What is Lautaro Martinez's FIFA 20 Rating? Shirt Numbers At Respective Clubs
As per Fifaindex, Lautaro Martinez's current FIFA overall rating/stats is 84. The site reports that he has the potential to go as higher as 94. Here are some of his major stats:
| | |
| --- | --- |
| Ball Control | 84 |
| Shot Power | 79 |
| Drilling | 86 |
| Finishing | 86 |
| Composure | 83 |
| Strength | 84 |
| Spring Speed | 83 |
| Composure | 83 |
| Vision | 77 |
| Agility | 86 |
| Jumping | 88 |
| Dribbling | 86 |
| Long pass | 73 |
| Short pass | 74 |
| Interceptions  | 45 |
At present, Lautaro is donning the number ten shirt at Inter Milan. Previously, he donned two jersey numbers, ten (2013-2017) and 32 (2016-2018) during his time at Racing. In the national team, he currently features the No. 22 shirt.