Clement Lenglet Is Becoming The Most Important FC Barcelona's Defender
Clement Lenglet has had an incredible turn of fortune, and that combined with hard work and good performances, has turned him from an intended backup to Samuel Umtiti to an undisputed starter. And in recent times, Lenglet has also started to become one of the most important players in Barcelona's defence.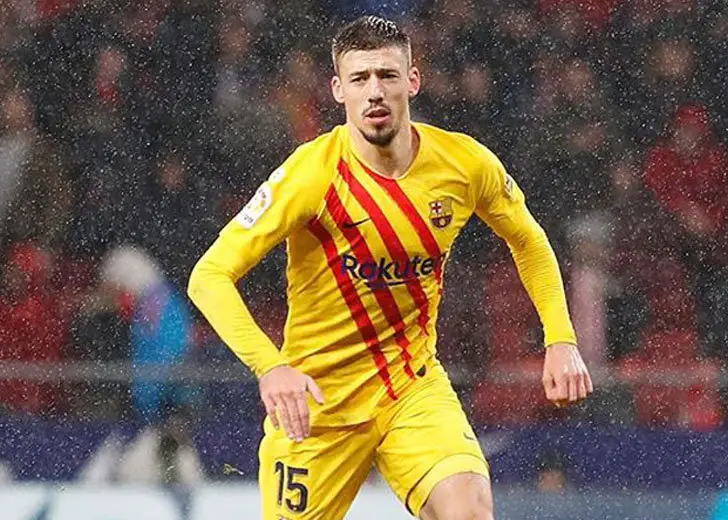 Clement Lenglet was initially brought in as a backup for center-back Samuel Umtiti. The new recruit was supposed to provide his French compatriot with the necessary rest and recovery time before the big games or during the crucial parts of the season.
However, Umtiti has been struggling with injuries since the 2018 World Cup. The Cameronian defender has not been able to play a majority of the matches ever since he got injured in the tournament that he and his team won.
But, one man's loss is another man's profit. Umtiti's lack of physical fitness has provided Lenglet with the chances he deserved in the team.
From being a backup, Lenglet directly became a starter—a thing he probably never thought would have happened so soon. And Lenglet took his chances as well and replaced Umtiti as the number one choice in the left-hand side of the back two.
When did Clement Lenglet join Barcelona?
After almost two seasons since his arrival at the Camp Nou from Sevilla in 2018, Lenglet is becoming one of, arguably even the most important defender in La Liga right now. The Catalan giants paid Sevilla €35.9 million for the player.
Why Clement Lenglet matters to Barcelona?
The following might be some of the reasons that could explain the importance of Lenglet to Barcelona's team right now.
Performance and Consistency
Despite Barcelona's bad defensive performance this season in which they have conceded 36 goals in 36 LaLiga games, Clement Lenglet has been largely consistent in his game. And that consistency is in all facets of his game, including defending.
Let's start with his average ratings per match across all competitions. Match rating methods vary from site to site and they also do not paint the whole picture of a player, but let's go through it for what it's worth, anyway.
According to WhoScored, Lenglet has an average rating of 6.92 in La Liga, in which he has made 25 appearances playing 2231 minutes. Similarly, in the Champions League, he is rated 6.58 on average from his performances in 541 minutes across 7 matches with one appearance as a substitute. Each of the specific rating values has a maximum value of 10.
This above-mentioned figure mean that Lenglet has had an average rating of 6.85 per match this season. If we compare this with Gerard Pique, who is his defensive partner in most matches, his stats don't look that bad. Pique has an average rating of 7.0 across all competitions.
But, Pique also has made more appearances and played more minutes than Lenglet. The veteran defender had made 41 appearances and played 3366 minutes up until now in LaLiga this season.
As we said, match ratings don't show the whole picture. Lenglet has been better than Pique in various facets of the game this season. One of those facets is the ability to concede fewer cards.
In that context, Lenglet has only conceded seven yellow cards in contract to Pique's 19 this season.
In addition, Lenglet's defensive side of the game is also very solid. He is calm and composed in possession, is not caught out of possession too often, does not dive into tackles, and tends not to concede freekicks in dangerous positions.
According to stats obtained from FBref, he has made 48 tackles up until now and helped his team win the possession of the ball in 37 instances. Almost majority of the tackle made by him were in the defensive third.
This means that Lenglet prevents the opposition from getting into dangerous situations and also concedes very few fouls. Moreover, he has only one error leading to goal this season just like Pique and has won 63% of his aerial duels (won 63 and lost 37).
And similar to Lenglet's impressive defensive output is his passing and offensive output. Right now, Pique is usually the more risk-taking CB. He tries to break the opposition lines. However, Lenglet isn't too far behind him in terms of progressive ball play.
Out of 2331 attempted passes this season, he has completed 2138 of them with a pass completion rate of 91.7%. Among those completed passes, 121 of them have been progressive passes. He has made 158 passes into the final third and 5 key passes with one assist.
All these stats show that Lenglet is an important player for the Barcelona squad. His consistency is what Barcelona needs the most since Pique and Umtiti have had their ups and downs with performance and injury issues. 
Similarly, Lenglet is providing a safer defensive option for Barcelona when new defenders like Araujo are taking time to adapt to the first-team system.
Physical Condition and Fitness
Another major factor that makes Lenglet so important for FC Barcelona is his physical fitness. The 25-year-old French defender has been available for selection in almost every game this season.
Surprisingly, he has missed only one game the entire season due to injury; he couldn't play against Leganes CD in November of 2019 due to muscular problems.
Other than that, he has had impeccable fitness. He has started 34 of the 35 games he has played this season and has completed 90 minutes in 31 of them. 
Lenglet is also more mobile than his defensive compatriot Pique. He is more energetic, has more speed, and covers more ground. Stats back this too as he has recorded 271 ball recoveries up until this point in the season with 3.01 recoveries per 90 minutes.
His lack of injuries, fitness, and athleticism is vital to FC Barcelona whose players are getting older and slower in defensive transition.
Because FC Barcelona play with a high defensive line, they are more susceptible to counter-attacks. These are the situations in which his importance goes up even more.
Age
This one is pretty obvious. Lenglet is only 25 years old as of now and still has his prime years ahead of him
Because he has already cemented his place in Barcelona's starting lineup, it is logical to assume that he will continue to do so for the foreseeable future unless something major happens in terms of injuries. 
So, if we conservatively assume that he plays for Barcelona till he's 30, he still has 5 more years at the club. During this time, now 33-year-old Pique will likely leave the club.
In that scenario, there will be no one else capable to be a leader in the backline right now other than Lenglet himself. He will be the one to lead Barcelona's defense upon Pique's departure or his absence.
The Frenchman will also have to act as a mentor to anyone who comes into the team to partner him in defense. That could be Ronald Araujo, or Jean-Clair Todibo—if he returns back to the club. That partnership could also be found in some other defenders on Barcelona's radar. One such name would definitely be Eric Garcia.
Conclusion
Lenglet looks like a glimmer of hope in a dark place. He is one of the few decent signings that Barcelona have done in recent years. His future looks bright in Barcelona.