Eric Garcia Vs. Ronald Araujo: Who Should FC Barcelona Choose For The Future?
FC Barcelona have their eyes set on Eric Garcia, a former La Masia and current Manchester City player. However, they have a hard choice to make between him and Ronald Araujo, a young talent currently at the club. Who should the club choose for the present and the future?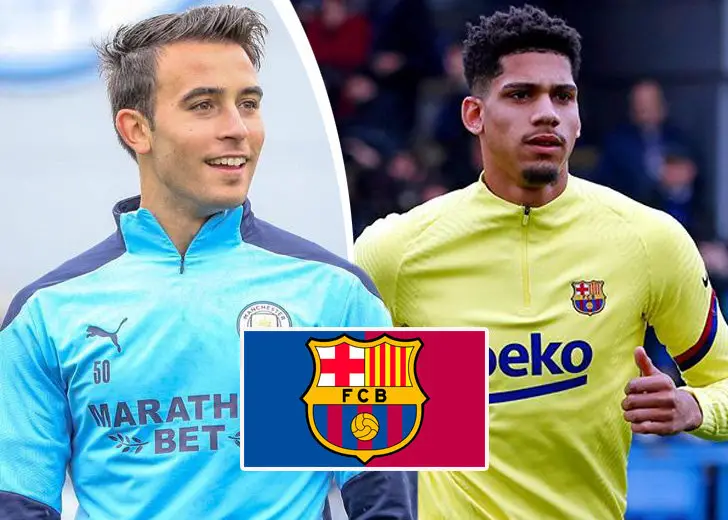 FC Barcelona have been on the transfer market for players of various profile. Their pursuit of Lautaro Martinez to strengthen attacking options is well documented. They also brought in Miralem Pjanic to bolster their midfield, although it remains to be seen how he will work out at the club.
And, in recent times, the club have been looking for a defender to gradually replace Pique in the long-run.
However, Barcelona currently have a dilemma when it comes to defenders for next season. They have to choose between either promoting young talent in Ronald Araujo from the B team next season, or they have to go out and bring in defenders from other clubs. One such name that has emerged is Eric Garcia from Manchester City.
But, who should the club choose? Who is the best bet for the Blaugranas, for now, and for the future? Here, we analyze both the players and try to figure out who will be the best bet for the Catalan giants.
Eric Garcia
Eric Garcia was an FC Barcelona youth player until the summer of 2017. On the 1st of July 2017, he went from Barcelona's Under 16 team to Manchester CIty's Under 18 team for a diminutive fee of €1.7 million.
Since his transfer to the youth ranks of Manchester City, he has improved exponentially. In a span of three seasons, he has gone from the U18 team to the first team.
He made his step up to the first team during the 2019/20 season and is now playing under Pep Guardiola.
His Stats Playing For Manchester City
The 19-year-old is a ball-playing central defender. He stands at a height of 1.83 meters or 6 feet. His stats on the pitch are reflective of his talent.
This Premier League season, he has attempted nine tackles and won two of them. Furthermore, his stats for successful tackles against dribbles has gone up significantly. He has won 5 out of 6 attempts at tackles against dribbles. He also has no errors leading to goals, has 12 interceptions and 36 clearances.
Garcia has made 10 Premier League appearances this season with 609 minutes played in total. Similarly, he also has 3 EFL Cup appearances (270 minutes), One Champions League appearance (90 minutes), and one FA Cup appearance (90 minutes). Among those appearances, he started 6 Premier League games, started all three EFL Cup games, as well as started in both his games in the UCL and FA Cup.
His passing game is impressive as well. He has completed 523 of his 548 attempted passes up until this point in the PL. He has 27 progressive passes and made 25 passes into the final third of the pitch.
At 19, his stats are impressive. But, he still has a lot of room for improvement; and he has been doing just that under Guardiola at Manchester City.
The City's manager has been giving him valuable game-time, has tried to convince him to stay in Manchester and is also confident that he will stay at the club.
However, the lure of FC Barcelona is too high for any player to ignore. In addition to that, Barcelona needs to sign a defender as soon as possible. 
Hence, Garcia could become an important player in Barcelona if he joins them. In addition, he will get a chance to learn from Pique, a player whose boots he will be expected to fill-in in the near future. And he will also be a tough competitor to Ronald Araujo if he stays.
Amidst all the rumors, Guillem Balague has said that Eric Garcia wants to come to Barcelona and also has had an agreement about personal terms. He also said that the two clubs were talking between themselves about the transfer.
If Guillem's statements are true, it is now only the case of whether Barcelona will go out and sign Garcia.
Ronald Araujo
Eric Garcia, if he joins Barcelona, will be in direct competition with another La Masia talent, Ronald Araujo.
The latter arrived at the club's B Team from Club Atletico Boston River in Uruguay in August of 2018. He cost a mere 1.7 million Euros for the talent and his experience at such a young age.
The Uruguayan center-back played two seasons with the Boston River in the Uruguayan top division. With them, Ronald made 31 appearances across two seasons (2017 and 2018). He started 28 of his 31 games and played a total of 2,486 minutes.
After arriving from his home country to Spain, he made steady progress in the Barcelona's B-team. He was the first choice CB for the B-team during the 2019/20 season.
Making 20 appearances for them, he started each game and played the whole 90 minutes in each of them.
Ronald Araujo Stats Playing For Barcelona
After a number of impressive performances in the B-team, he was called up by Ernesto Valverde for his first-team debut. On the 6th of October, Ronald played his first game with the first team against Sevilla. The game ended in a good 4-0 home win for the team. However, Ronald marked his debut game with a red card in the 87th minute.
Since then, he has been a regular part of the first-team squad, and especially after the arrival of Quique Setien. To everyone's surprise, Setien started him in the first league game after the lockdown against Mallorca.
And Ronald returned the favor fairly. The defender completed 90 minutes on the pitch and gave an impressive performance. Since then, he has been a regular part of the team and has made three more senior appearances.
In those playing minutes, he has recorded impressive stats as well. From the back, he completed 123 of his 130 attempted passes, played three progressive passes, and four passes into the final third.
His Physique & Age
Standing at 1.91 meters or 6 feet 3 inches, he is taller and thus, probably is physically superior to Eric Garcia.
At just 21, Ronald has the potential to be a great defender in the future. Before reports of Barcelona's interest in Garcia surfaced, the club were reportedly ready to promote Araujo to the first team. Now it is up to the hands of the board to decide on his promotion.
Conclusion
Both Eric and Ronald are great defenders at their respective ages. One has earned the admiration of Pep Guardiola whereas the other has taken important steps in knocking at the door of Quique Setien for a position in the first team at FC Barcelona.
From a sporting standpoint, both of them are good enough to get into Barcelona's first team—especially now when the club needs strengthening in its defense. The major reason why the Catalan giants have been facing defensive woes has to do with the injury of Samuel Umitti.
Because of Umitti's injury and Junior Firipo's incompatibility, all the responsibilities of defense have fallen on the shoulders of Gerard Pique and Clement Langlet. However, they cannot always overworked. If continued to do so, the two players are also likely to be injured sooner or later.
The Money Factor
Money plays a great role as much as the sporting aspect does in football nowadays. Thus, hiring a player today is not only a sporting decision.
With the club already engaged in the pursuit of Lautaro Martinez, and having just signed Miralem Pjanic in a financially-motivated transfer deal, there is a huge shortage of cash at the club.
Thus, it would make sense for the club to go for promoting Araujo rather than paying for Garcia's signatures. That would also be a rational move because Garcia's contract with Manchester City runs out next summer.