NFL Senior Brian Baldinger Has Daughter: Is He Married (Wife) Or Has Girlfriend?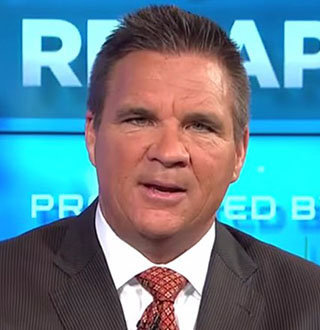 The tall and handsome former offensive football star and present-day commentator, Brian Baldinger has had a lot of female fan following since the very beginning of his stardom. The 59-year-old handsome hunk was among the most crushed-upon-celebrities from the early '90s.
The Pittsburgh, Pennsylvania native is a former professional American football offensive lineman who spent his professional career of 11 years playing in the National Football League (NFL) for the Dallas Cowboys, Indianapolis Colts and Philadelphia Eagles. Since 1997, he has been active as one of the major media contributors in the NFL industry.
The Pittsburgh, Pennsylvania native is currently working as an analyst for NFL Network's Total Acess and contributor to NFL.com. Likewise, he also serves as an analyst for Compass Media Networks' NFL and college Broadcasts. Previously, he had also served as a sports broadcaster and a play by play commentator for Fox Sports.
Not only in the television industry, but the former NFL pro is also active in the radio sphere as well. He currently serves as a co-host for a talk show for Sporting News Radio and sometimes contributes on major media networks and radio networks like 97.5 The Fanatic.
Similar: Andrew Napolitano: Married Man Or, Gay? Plus His Net Worth And More
Two Of His Family Members Also Were Footballers
Brian Baldinger belongs to a footballer family as his younger brothers, Rich Baldinger and Gary Baldinger, are as well former footballers who once played for the NFL.
Brian spent his childhood playing a variety of sports around New Jersey, but he and his brothers eventually became locally recognized in Minnesota for their sports as the family had shifted to Minnesota. He completed his schooling from the Massapequa High School and graduated from Nassau Community college and then transferred to the Duke University.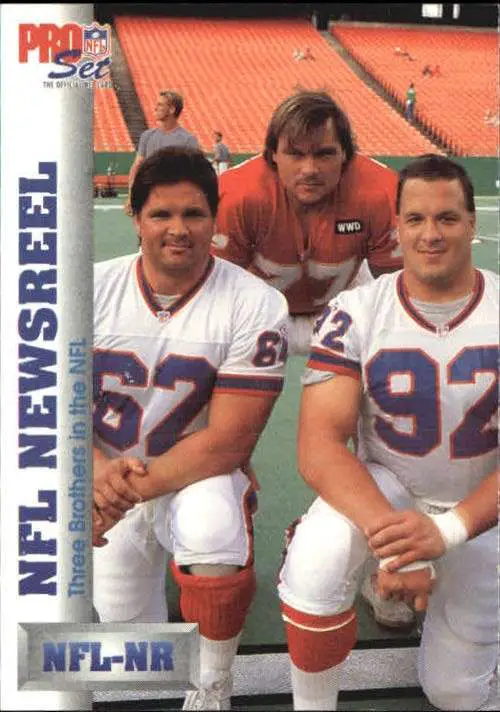 NFL Brothers: Brian Baldinger(Left), Rich Baldinger(Middle) and Gary Baldinger(Right) in a Pro Set in 1992 (Photo: Beckett Marketplace)
Baldinger was a very successful Football Offensive Lineman in the early 1990s and played 143 games in his career. He was associated with Dallas Cowboys (1982-1987), Indianapolis Colts (1988-1991), and Philadelphia Eagles (1992-1993).
Know Brian Baldinger's Salary, Net Worth, Age
Born on 7 January 1959, Brian Baldinger is an extremely private person and rarely shares details of his earnings to his fans. But we can surmise that the 59-year-old sports analyst must be getting a handsome salary referring to his fame and works. He has emerged as a famous TV personality and game analyst after playing a total of 143 games in his football career. Doing so, he has made his family proud, especially his father who always wholeheartedly supported him and his brothers' sports ambition.
Related to Net Worth: Geoff Tracy Biography: Age, Wife And Family To Net worth Of Restaurant Owner
Their father Jim Baldinger is a former inspector for the Federal Aviation Administration and a former helicopter test pilot.
NFL Network Suspension Move On Him In 2016 Was Bit Too Much
Baldinger was suspended by the NFL network in November 2016 for 6 months without pay for the comments he had made on a radio interview about an offensive football player. However, he later defended himself by saying that the harsh punishment wasn't justifiable for what he had said.
On 97.5 FM The Fanatic, he had suggested that the Eagles should place a bounty on Cowboys Ezekiel Elliott for Sunday night's game. He said:
"This is the guy that we've got to hurt"
The sporty comment forced the NFL Network's hierarchy to take action against him, and they did what they thought best to avoid criticisms.
Also read: What Is Tim Baker's Age? Family, Wife, Wedding, Job, Net Worth - Personal Life Details

Brian Baldinger Has Daughter: Is He Married (Wife) Or Has Girlfriend?
Having such a standard height of 6 ft 4 which adds to his strong personality as a TV Host, it's evident that he will have a huge female fan following who will be curious about his dating life. Plus, he is already 59-year-old man, and it's confusing for anyone that there still have been no reports about his dating life on Tabloids.
As it turns out, Brian is a family man and shares with his fans the pictures of his family including his niece, father, mother, and even goddaughter, but never opens up about his thoughts on marriage. Indeed, it's true that Brian has a daughter, but she is only his goddaughter not his biological daughter.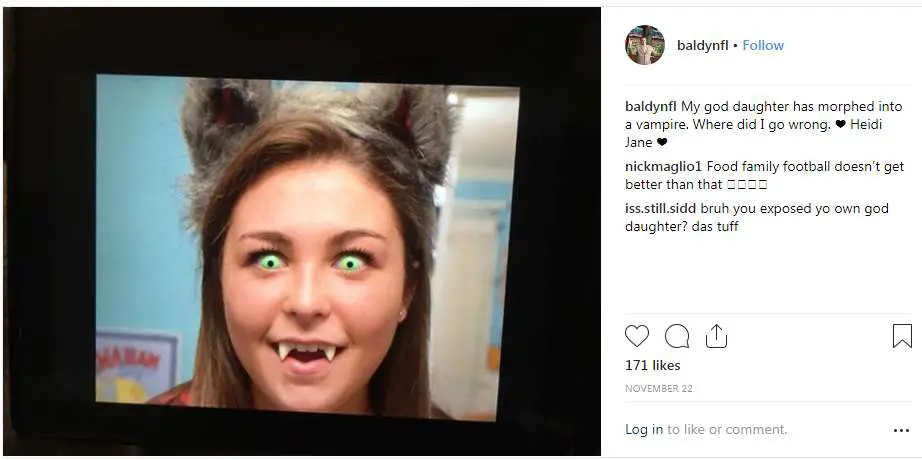 Brian Baldinger's Goddaughter: Baldinger jokes in November 2018 about his goddaughter looks (Photo: Brian's Instagram)
Therefore, it cannot be concluded that whether he is taken or not until he reveals about his relationship status.
---