Insight into Andrew Napolitano's Gay Rumors, Net Worth and Weight Loss
Andrew Napolitano is the senior judicial analyst for Fox News.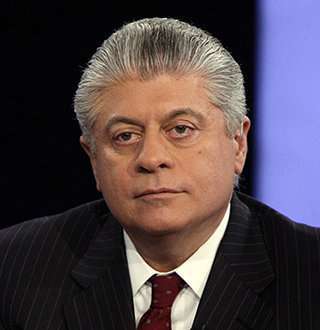 Quick Information
Date of Birth

Jun 06, 1950

Age

73 Years, 3 Months

Nationality American
Birth Name

Andrew Peter Napolitano

Profession

Columnist

Career

1975–present

Relationship Status

Single

Gay

Rumored

Salary

$3 Million

Net Worth

$9 Million

Ethnicity/Race

Italian

Religion

Christianity

Father

Andrew Alexander Napolitano

College

Princeton University

Hair Color

Salt & Pepper

Eye Color

Brown

Birth Place

Newark, New Jersey, United States
Andrew Napolitano is a renowned figure in the law field. With over 35 years of experience, he comments on legal news and trials for Fox News as a judicial analyst. Previously, he served as a Superior Court judge for New Jersey. He was the first youngest judge to take the role from 1987 to 1995. 
Napolitano has dedicated most of his life in front of the camera, making legal decisions and commentaries. Despite being a public figure, he has kept his personal life under wraps, often letting followers to wonder if he is gay. And the gay rumors only got fueled when two males alleged him of assaulting them. 
Lawsuit Fueled the Gay Rumors
Napolitano's gay rumors — that apparently started because of the absence of a wife-figure in his life — got fueled when two men sued him for assault. 
On September 11, 2020, one of the alleged victims, Charles Corbishley, filed a case, accusing Napolitano of forced abuse. The event allegedly took place in 1987 when he met Napolitano in the courtroom. The then-20-year-old was facing three counts. 
As per the report, Corbishley was lured into believing his sentencing would be minimized if he served Napolitano. So he went to his home with a snow shovel to shovel the driveway, as told by defense attorney Robert Hollis, and allegedly got abused by Napolitano. 
After the incident, he was reportedly given a "remarkably lenient sentence" compared to his co-defenders. He was sentenced to five years' probation and 150 hours of community service.
When the news of Corbishley's case became public, another alleged victim, James Kruzelnick, sued Napolitano on September 28, 2020. He alleged that the Fox News analyst stalked him between 2014 and 2017 and coerced him to do strange acts. 
Kruzelnick stated he worked as a waiter at a popular steakhouse in New Jersey when Napolitano noticed him. He alleged that the 71-year-old had an "infatuation" with him and groped him in the bathroom. He also detailed that Napolitano allegedly partnered with the steakhouse's owner and made Kruzelnick serve him. 
Kruzelnick mentioned he did not raise his voice because he was afraid to lose his job. 
While the two alleged victims detailed their accounts, the Princeton graduate denied all claims of assault. His lawyer Tom Clare told Business Insider that the allegations were fictitious and an attempt to smear Napolitano for money. 
Kruzelnick was seeking $15 million while Corbishley was seeking $10 million in damages from the former judge, which could put a dent in his net worth. 
Similar: Marilyn Manson Accused of Abuse in a New Lawsuit by Ex Girlfriend
Andrew Napolitano's Net Worth 
Courtesy of his decade-long career, Napolitano pockets a salary of $3 million every year. His net worth is $9 million as per Celebrity Net Worth. The Newark native lives in his house in Newton, New Jersey. 
A part of his net worth can be credited to his authorship as well. He has published 12 books to date, including 'A Nation of Sheep,' 'Shattered Dreams: One Hundred,' and 'Suicide Pact: The Radical expansion.'
His Impressive Weight Loss
Napolitano, who has a height of 5'5," lost an enormous weight in 2013.
According to an article on Free The Animal, the syndicated columnist lost 60 pounds just by dropping wheat from his diet. It was also reported that Napolitano followed the regime as per the advice of Dr. William Davis.