Teofimo Lopez's Wedding with Wife Changed His Life
Learn the relationship history of undefeated boxer Teofimo Lopez and his wife, Cynthia.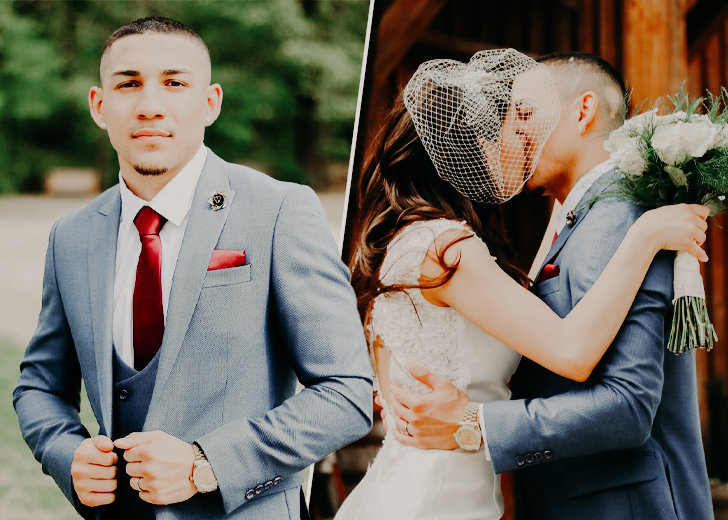 Teofimo Lopez is a professional boxer with a successful career and many accolades under his belt.
He is the world's fifth-best active boxer pound by pound and the world's best active lightweight as ranked by ESPN. Teofimo started boxing professionally in 2016.
With an undefeated record of 16-0, Teofimo's next fight is with another undefeated boxer, George Kambosos Jr.
The López vs. Kambosos Jr. match-up is happening on June 19, 2021, at LoanDepot Park, Florida. 
Teofimo is not only successful in the boxing industry but also in his married life. He has been happily married to his wife Cynthia López since 2019.
Learn more about the duo's relationship and the challenges they had to overcome to be together.
Teofimo and Cynthia Lopez's Love Story 
The Lopez duo's relationship is one of a kind. Teofimo met Cynthia when he was returning to Las Vegas after his match with Vitor Jones Freitas on May 12, 2018.
The boxer did not want to talk to anyone throughout his flight; therefore, he kept to himself. However, it all changed after his conversation with a flight attendant.
While he was putting his gloves on the plane's overhead compartment, a flight attendant complimented those gloves. He told her he was a boxer, to which she asked if he lost his recent match. 
Arrogantly, he replied to the flight attendant, "Does it look like I lost?" She left him alone, but Teofimo was already smitten.
That flight attendant was none other than Cynthia. The boxer kept going back to see her making up various excuses. He asked her age and found out she was 25, almost five years older than him.  
Teofimo asked Cynthia out and eventually met at Dave & Buster's in Las Vegas. There, Cynthia revealed she did not want to date Teofimo before he turned 21.
The boxer understood Cynthia's concerns, but he did not give up. On the contrary, he constantly sent her flowers and showed interest in her. 
Cynthia initially thought that being a successful boxer, Teofimo, was conceited. Regardless, she kept talking to him and realized there was more to him. He understood her, motivated her, and made her laugh. Soon enough, she started reciprocating the feelings. 
After Teofimo turned 21, in August 2018, Cynthia came to meet the boxer at his house. She brought flowers, champagne, cake, and a homemade card that said, "Would you be my boyfriend?" The fighter accepted the proposal, and the duo moved together to Brooklyn. 
Fast-forward to April 23, 2019, and the pair tied the knot. The ceremony was held in Arkansas, where Cynthia's parents lived. After three months of their wedding, the newlyweds went to Greece for their honeymoon. 
The two are still happily married to each other. However, they had to cross some hurdles together - majorly, the disapproval from the Lopez family. 
Teofimo's Family Disapproved Of Cynthia
Ever since Cynthia asked the boxer to be her boyfriend, Lopez received nothing but criticisms from his manager and family. His manager called her a gold digger, warning his client that nothing good would come out of the relationship. 
Teofimo's family had strongly disapproved of his choice, which made the boxer extremely angry. His father, Teofimo Lopez Sr., was the boxer's biggest supporter and his only trainer. Lopez Sr. did not have the best relationship with his father, and he did not want the history to repeat. 
At a young age, Teofimo became the breadwinner of the family. He was supporting his parents, as well as his sisters and his niece. He did not like that his family spoke ill of Cynthia. Even at his wedding, none of the Lopez women showed up. 
His mother, Jenny, did not like that the wedding was happening so fast. It was not that she hated Cynthia, but she disapproved of their relationship. His sister, Adriana, also had a bitter relationship with his wife. 
The relationship between his sister and wife was so negative that Teofimo has banned Adriana from coming to his house. Even Lopez Sr. did not want to attend the wedding. However, just for the sake of his relationship with his son, he attended it. 
It was difficult for Lopez Sr. to see his son get married at a young age. Therefore, to numb the pain and get through the day, he came to the ceremony drunk. Regardless of all the family drama, Teofimo still got married to the love of his life. 
Eventually, the relationship between his wife and family took a toll on Teofimo. After the couple came back from their honeymoon, he went into depression. He could not control his emotions. He was constantly angry and crying. In addition to that, he was drinking a lot as well. 
Cynthia convinced her husband to visit a therapist and let him know he was not alone. She taught him to acknowledge the pain, and slowly Teofimo got better.
Now, he is still an undefeated boxer, still training with his father and happier than ever with his wife and dogs.