Olivia Ponton's Girlfriend Responds to 'Fake' Relationship Labels
Are Olivia Ponton and Kai Novak actually in a relationship, or is it all a ruse?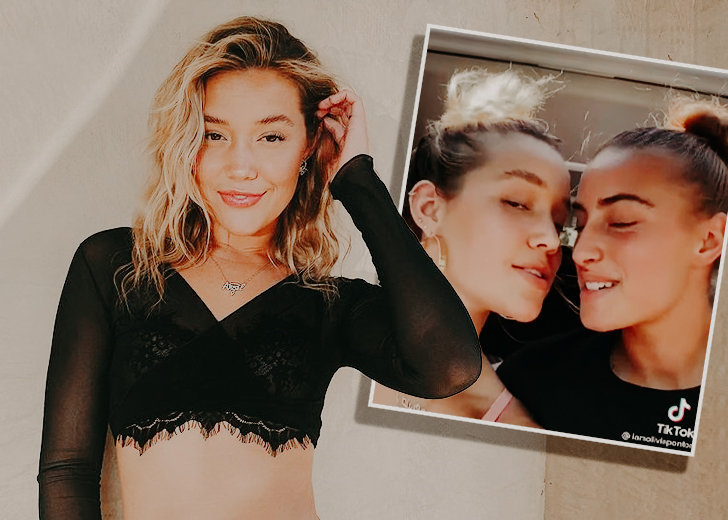 Olivia Ponton is an Instagram and TikTok star who came to fame at a young age after her videos went viral on TikTok. While Ponton started from TikTok, she slowly grew her brand and is now an influencer using her platform to raise awareness on various subjects like equality and gender rights. 
She works with organizations like World Harvest Food Bank and 4Ocean, and recently, she has been advocating for LGBTQ+ Rights. 
On June 2, 2021, Ponton confirmed her gender orientation and revealed she was bi. Additionally, she shared she has been dating fellow TikToker Kai Novak since January 2021. 
Before the confirmation, many people had been speculating that the two were dating. However, a few TikToks claimed that their relationship was fake. Novak took to TikTok to debunk all the rumors about their "fake" relationship.
Are Olivia Ponton and Kai Novak In a Relationship? 
Like Ponton, Novak is also a TikToker who usually posts videos about soccer and fitness. She is a member of the UCLA women's soccer team and usually posts TikTok about soccer and fitness. Before Ponton confirmed their relationship, on April 24, 2021, a TikTok calling their relationship fake surfaced and went viral. 
The video was made by Hannah Kosh, who claimed that the relationship was merely an agreement for Ponton to help Novak's sister get a kick-start at modeling. Kosh also alleged that Novak was involved with a girl named Rilie Hardister, who had commented on the couple's TikTok videos indicating her involvement with the soccer player. 
As evidence, Kosh showed a screenshot of Novak and Hardister on a FaceTime call. She also exposed a series of text messages between the two where Novak was convincing Hardister what she saw on the internet "just isn't real."
One text claimed everything was planned out to get views and reactions from people. Similarly, Novak allegedly confessed she was doing everything for her sister. 
Novak debunked all the rumors via TikTok on April 30, 2021. She addressed the allegations and claimed that everything was fake. She said that Hardister was trying to ruin her happy relationship since she was delighted to be with Ponton. On the video's captions, Novak accused Hardister of being "beyond jealous," and she was attacking the soccer player's character. 
Novak further clarified she had never even met Hardister, let alone date her. The soccer player stated that screen recordings prove nothing, and Hardister was texting one of her friends while pretending to be Novak. 
She's changed the contact, she's changed the phone number, in an attempt to get in between a genuine relationship that Rilie's obviously jealous of.
Fast forward to a month later, Ponton officially came out as bi and revealed that she had been dating Novak since the beginning of 2021,  further debunking Kosh's and Hardister's fake allegations. 
Olivia Ponton's Coming Out Story
In an interview with Teen Vogue, Ponton announced she was bi and a proud member of the LGBTQ+ community. 
Rumors about her gender orientation started swirling when she posted a TikTok back in March. Those rumors were fueled further when she began posting videos with her now girlfriend Novak in the following months. 
She kept quiet since she never thought she would be attracted to someone from her own gender. But it all changed when she slid into Novak's DMs and started falling for her. 
Ponton first came out to her best friend. She admitted it felt surreal, as it was something she had never experienced, and said out loud. Her best friend gave her full support. It was one step forward towards her accepting herself.
Jojo Siwa had publicly announced she identifies as LGBTQ earlier this year. Siwa's courage further inspired Ponton to accept herself and speak out her truth. She wanted to come out for herself and other young girls to let them know it was okay to be confused with one's orientation.
I want to let young girls know that it's okay to not even know your sexuality until you're older. I think it should be more normalized to come out [when you're ready for it].
However, the TikTok star was still insecure about whether she could identify as a queer woman since she was very feminine, unlike the typical stereotype. 
But seeing such a diverse set of queer representations on TikTok with their style and aesthetic helped her realize there was no specific rule or confinement. A person could wear whatever they liked, regardless of their orientation. As a result, she has finally accepted herself and urges others to the same. 
On June 11, 2021, Ponton took to Instagram to announce that she had been the happiest since she announced her gender orientation. She gushed about how she could live happily and freely after all these years of not knowing her identity.