Is Tom Felton Married? A Look into His Relationship History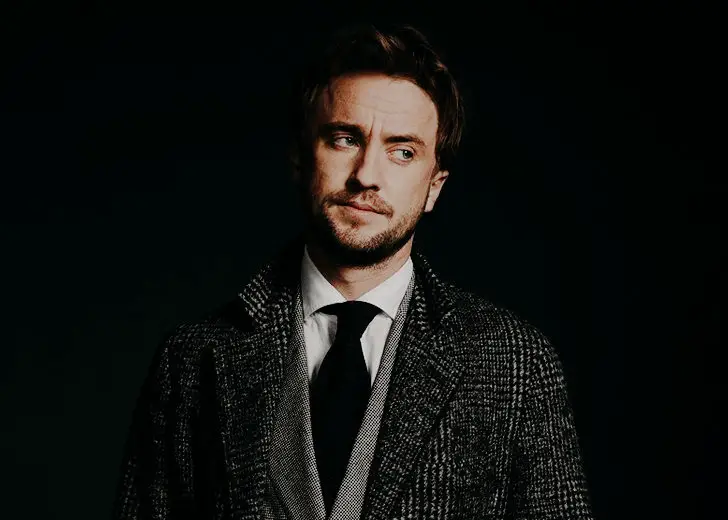 Tom Felton is best known for playing the notorious wizard Draco Malfoy in the Harry Potter franchise.
He started his career in 1997 by acting in commercials and made his debut in 1997's The Borrowers. 
From 2001 to 2011, Felton portrayed Malfoy in all eight Harry Potter movies. He was critically acclaimed for his role and won many awards like MTV Movie Awards for Best Villain and Teen Choice Award for Choice Movie. 
Felton has acted in other movies like 13Hrs, Rise of the Planet of the Apes, Ophelia, and The Forgotten Battle, among others.
The actor has released four EPs and four singles to date. While Felton's professional life is well known, his private life has been under wraps, especially his relationships. 
Tom Felton's Ex Girlfriends 
Many online reports have claimed that at 17, Felton dated singer Melissa Tamschick. Apparently, the paparazzi had caught the duo together in an airport.
The pair were reported in a relationship for over three years — from April 2004 to March 2007; however, there has been no reliable news or source to confirm this relationship. 
Contradicting to the rumors of Felton and Tamschick dating, it has also been rumored that Felton was in a relationship with Australian actress Phoebe Tonkin.
Tonkin is best known for TV series like H2O: Just Add Water, The Secret Circle, The Vampire Diaries, and The Originals. 
The exact timeline of their relationship is unknown, but it is reported that they dated from 2006 to 2008. This timeframe overlaps the timeline of his relationship with Tamschick; however, nothing has been confirmed to date.
Felton's most highly publicized relationship was with a stunt assistant, Jade Olivia Gordon. His ex girlfriend is best known for her work in three avengers movies — Avengers: Age of Ultron, Avengers: Infinity War, and Avengers: Endgame. 
The duo first met during the shoot of Harry Potter and the Half-Blood Prince and started dating in 2008.
Felton was head over heels in love with his then-girlfriend and posted pictures of them together on his Instagram. 
His girlfriend even made a cameo in the epilogue of Harry Potter and the Deathly Hallows, Part 2.
She played the role of Astoria Greengrass Malfoy, wife to Felton's character. Unfortunately, after eight years of being together, the couple parted ways in 2016. 
Gordon then dated American golfer Patrick Rodgers in 2017 and tied the knot in 2019. They welcomed their son, Rafi Rodgers, on December 31, 2020. 
After Gordon, Felton was photographed with a new girlfriend.
In August 2017, The Daily Mail reported Felton had been hanging out with a mystery blonde woman.
The two were photographed kissing and enjoying each other's company in Venice, Los Angeles. However, there has been no news about the mysterious woman to date. 
Is Tom Felton Married?
Felton undoubtedly has an eventful dating history. But it seems like he hasn't yet found a person to make her his wife.
That is to say, Felton has not married as of this time of writing. But he does seem to be on a journey to find his future wife. 
In February 2020, The Sun reported he had joined the celebrity dating app Raya in a bid to find a girlfriend. However, it is not sure if he found anyone from the site. 
Was Tom Felton Dating Emma Watson?
Emma Watson is best known for playing Hermione Granger, one of the arch-nemesis of Felton's Malfoy in Harry Potter movies.
Although Granger and Malfoy hate each other, Watson and Felton are good friends in real life. 
And because of that, the Harry Potter stars have often been speculated to be dating. 
Watson, however, shut down all the rumors of their dating. Instead, she told People Felton was her first crush, and she used to like him during the shoot of the first two movies. 
She also noted Felton knew about this, and now that they are good friends, they joke about the situation. 
Felton has also admitted that the two hang out quite often and enjoy time with each other. The pair have posted a few pictures of each other on their social media.
In addition, they find time to skate together and learn to play guitar. They also promote each other's projects once in a while. 
In 2019, during her conversation with Vogue UK, Watson again shut down the rumors of her dating anyone. and said that she was happy being "self partnered."
As of 2022, Watson is rumored to be dating Leo Robinton.