Emma Watson Spills the Beans on Engagement Rumors and Dormant Career
Emma Watson has clapped back at the news stories that reported her career is "dormant" and addresses rumors of engagement to her boyfriend Leo Robinton.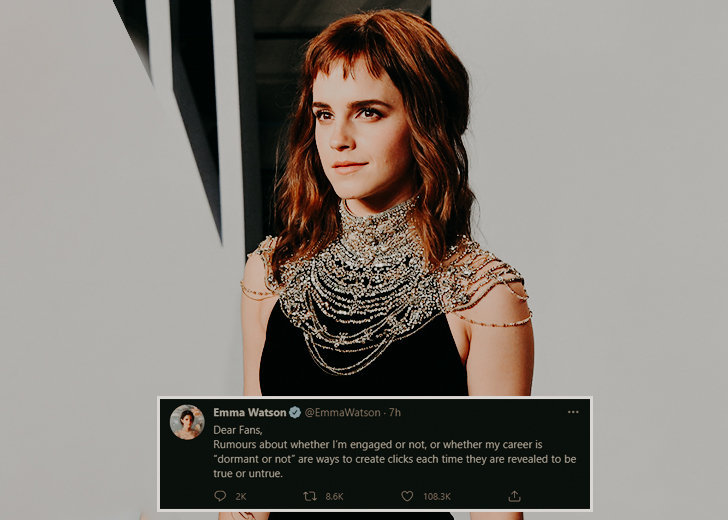 Emma Watson took to social media for the first time in nine months on May 17, 2021, to shut down some false claims surrounding her life, including her rumored retirement from the entertainment industry and alleged engagement to boyfriend Leo Robinton.
The Harry Potter actress clarified that speculations on her personal and professional life were merely ways to generate clicks.
She promised her fans that she'd share any relevant news herself.
Dear Fans,
Rumours about whether I'm engaged or not, or whether my career is "dormant or not" are ways to create clicks each time they are revealed to be true or untrue. — Emma Watson (@EmmaWatson) May 17, 2021
"In the meantime, please assume no news from me just means I'm quietly spending the pandemic the way most people are," she continued. 
Watson mentioned that she'd been spending the days caring for her loved ones and trying her best not to spread a virus that is still affecting people across the globe.
She also joked about her failed attempt to make sourdough bread. 
The 31-year-old actress concluded the special message by wishing for the health and happiness of her fans and expressed her gratitude towards everyone working to keep people safe during these tough times.
I am sending so much love to you, hoping you're ok and as well and happy as you can be in these strange times. And again, thank you to everyone working so hard to keep us safe and well.
E
Xx — Emma Watson (@EmmaWatson) May 17, 2021
Watson tweeted shortly after The Daily Mail published images of her with her boyfriend Robinton, taken on May 13, 2021.
The reports referred to him as her "rumored fiancé," despite there being no implication that she was engaged.
The Little Women actress and her partner were seen leaving a pharmacy store in Los Angeles over the weekend.
Before that, the ultra-private couple was last seen out and about during a coffee run in London's Primrose Hill neighborhood in November 2020.
The actress came under the spotlight earlier this year after The Daily Mail reported in February 2021 that she had retired from acting.
"She is now in LA, where a picture was taken this month, but her publicist confirms her career is 'dormant' and she 'is not taking on new commitments," one of her agents said to the publishing house.
However, in a statement to Entertainment Weekly on February 25, 2021, her manager, Jason Weinberg, refuted the claim, saying, "Emma's social media accounts are dormant but her career isn't." 
Since the release of Little Women in December 2019, Watson has not been linked to any film projects.
Robinton Was Identified as Watson's Boyfriend Last Year
The two were initially photographed kissing in London in October 2019 where he was described as a "mystery man."
Finally, in April 2020, Robinton was revealed to be Watson's boyfriend but very little is known about the Los Angeles entrepreneur. 
Since news of their dating broke with pictures of them kissing two years ago, he allegedly deleted all of his social media accounts.
The first photographs of Watson and Robinton were released shortly before Watson discussed her single status in British Vogue's December 2019 issue.
The interview took place in late summer, possibly before Watson's relationship with Robinton became public.
In the interview, the Paris native revealed she was single and happy. "I call it being self-partnered," she had added.