Sophie Raworth, How Married Life With Husband & Work Pours Happiness!
Shir was married to her longtime friend... for almost fifteen years... Property developer proposed Sophie on... Sophie and her husband had a small wedding in... She is in the top bracket of BBC's salary list earning the yearly salary ranging from...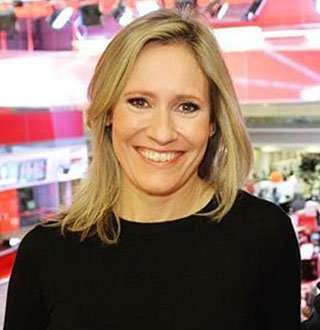 British journalist and broadcaster, Sophie Raworth was proposed by her boyfriend on her birthday in Amalfi, Italy. After the acceptance of the proposal, the couple got married in a local church and maintained a balanced family life.
The Redhill native serves for BBC as a newsreader anchoring the afternoon bulletin for BBC News at One on Tuesdays, Wednesdays, and Fridays, and also occasionally BBC News at Six, and BBC News at Ten.
BBC News At Ten: Sophie Raworth talks about scientists warning about climate change, catastrophe it might bring, and the ways to prevent it. (published on 21 October 2018)
Raworth also serves as the presenter for the consumer affairs programme, Watchdog, and crime story programme, Crimewatch, which broadcasts on BBC One. She started her broadcasting career with BBC as a reporter on BBC Radio Manchester in 1992. 
Sophie Raworth's Bio
The veteran anchor was born as Sophie Jane Raworth on 15 May 1968 to Richard and Jenny Raworth. She gained a degree in French and German at the University of Manchester and postgraduation from the City University.
You Might Like: Stephen Nolan, Nolan Show Host Could Get Married - To Crazy Wanna-be Partner
Sophie's sister Kate Raworth is a renowned economist, who is famous for presenting an alternative approach to the economic policies for the 21st century. Instead of the dominant economic approach of sustainable but continuous economic growth, Kate presented a model of balancing the basic human needs and controlled use of resources. Having already worked for UN and Oxfam, Kate is currently working for Environmental Change Institute of the University of Oxford.
What's Sophie Raworth's Salary At BBC?
Sophie moved to BBC television as a co-presenter of the Breakfast News programme on BBC One in 1997.  After almost a decade, she was named as the main presenter of the lunchtime bulletin, BBC News at One in 2006.
Sophie then became the presenter of Crimewatch Roadshow on BBC One in 2009.  She was landed in a role as the main presenter of Watchdog in 2015. A year later, she replaced Kirsty Young as the chief anchor of Crimewatch.
Another BBC Journalist: Sally Nugent Is Married, Husband Identity & Family Facts Of BBC's Presenter
Recently, Sophie presented the Remembrance Day celebrations from Westminster Abbey along with fellow journalists Fergal Keane and Sean Fletcher. This November 11th marked the completion of hundred years since the Armistice of Wolrd War One since the world breathed a sigh of relief from one of the greatest bloodbaths in human history.
With the successful career, Sophie has derived the significant amount of income from her long-time association to the BBC network. She is in the top bracket of BBC's salary list earning the yearly salary ranging from £150,000 - £199,999.
Sophie's Love For Marathon Is Adamant
Away from the TV screens, Sophie has a profound passion for marathons and has been taking part in various marathons since 2011. She completed the 33rd Marathon Des Sables ultramarathon in the Sahara Desert in April 2018. The marathon, which is a six-day event, has the distance to be covered of 251 kilometers.
Not just that, the lover of extreme adventure sports is next planning to race against the horses dubbed Man Vs. Horses in Wales.
Sophie Raworth Married Her Long-time Friend in 2003, Who Is Her Husband?
Similar to her successful career, Sophie has a serene family life. She has been married to her longtime friend Richard Winter for almost 15 years.
Sophie knew her now-husband as a friend for more than five years before they stepped up their relationship. After dating for about a year in the early millennium, property developer Richard proposed Sophie on her birthday during their holiday in Italy.
Read More:  Marilyn Denis Engaged 40 Years Later, Wedding To Prom Date - Her Story
Sophie and Richard had a small wedding in the local church in December 2003 in London.
Sophie Raworth Is Proud Mother Of Three Children
Sophie loves to spend her free time away from work with her family members and prefers hanging out with her husband and kids in the holidays.
The friends turned spouses welcomed their first child, a daughter named Ella Rose Winter, on 20 May 2004. Similarly, their second daughter, Georgia, was born on 8 December 2005. She then gave birth to their first son named Oliver on 9 March 2008.
Despite feeling guilty every time she leaves the house, her working hours at the BBC are family-friendly, meaning she has been able to create a delicate balance between both.
Despite her busy schedule, she manages her time for the children and makes no compromise in raising them. She is someone who believes that healthy parenting is must in children's development process.
With the noble notion in her mind, Sophie investigated for the Families and Hearts Together (FAST) programme in the BBC Two documentary, Parents Under Pressure, in 2014.
Sophie Raworth investigates irresponsible parenthood, and it's effect on British children in 2014 (Video: Published on Jul 27, 2014)
While suggesting parents to dedicate adequate time to their children, she also supports the US parenting scheme that requires parents to give 15 minutes of undivided attention per day to a child. Not only does she advocates about the parenting scheme, but she also makes sure that she follows it herself.
Keep Reading: Jill Vertes Age 53 Husband & Daughters Are True Love | Bio Unfolds
Thanks to her willingness to put effort into her family, she has had a successful family, one that most people will envy.