Marilyn Denis Engaged 40 Years Later, Wedding To Prom Date - Her Story
Canadian radio and TV personality Marilyn Denis loved someone, then was estranged for a whopping forty years, but then with the turn of fate got engaged to him...she gave birth to her son...She divorced her then-husband soon after and raised her son...Marilyn announced that she was engaged to her high-school sweetheart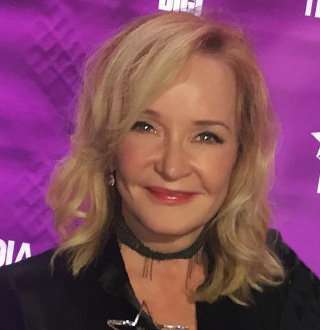 Just like in the star-crossed love stories(read fairytales) we all heard with swoony eyes of our childhood, Canadian radio and TV personality Marilyn Denis loved someone, then was estranged for a whopping forty years, but then with the turn of fate got engaged to him.
The Canada-native is famous as the host of long-running radio show Roger, and Marilyn (previously Roger, Rick, and Marilyn) and her own Television show The Marilyn Denis Show.
The Marilyn Denis Show: Watch Marilyn Denis host her own eponymous talk show on CTV and interview famous personalities (Published on 12 July 2018)
Marilyn has a very healthy habit, with adequate sleep, regular work out, and healthy food habits. For a person who once was slightly overweight, she has achieved a considerable amount of weight loss.
Marilyn Denis Bio (Age)
Although born in Edmonton, Canada on 1 July 1958, the radio personality Marilyn Denis grew up in Pittsburgh, Pennsylvania. Interested in broadcasting from an early age, she went on to get her bachelor's degree in radio, television, and advertising from the University of Idaho.
You Might Like: Nastia Liukin Age 28 & Fiance, Reason To Halt Wedding; Something Fishy?
She later got an honorary Ph.D. in the humane letter from The University of Idaho.
Marilyn Denis Has Parallel Career In Radio & Television
Beginning her career at a local radio station in Moscow, Idaho, Marilyn, later, moved to Calgary, Canada to work for CJAY-FM. Her most popular radio program, however, is CHUM-FM's morning show Roger and Marilyn, for which she has been for over 42 years from 1986 until now.
Furthermore, while at Calgary, she also worked for CFCN-TV as an entertainment reporter and weather announcer, thus starting her television journey parallel to her radio career. In her television career, she has worked as a host of talk show Cityline for 19 years. Shortly after leaving Cityline, she started her own show, The Marilyn Dennis Show.
Marilyn's Denis's Son Is Following His Mother's Path
On 13 April 1988, when her career was only just taking off, she gave birth to her son Adam Wylde. She divorced her then-husband soon after and raised her son alone as a working mother.
Another Canadian TV Personality: Inside Cheryl Hickey Family: Wedding, Husband, Divorce, House & More Personal Life Details
And it seems that she has done a great job, as Adam has followed his mother's footsteps into radio-broadcasting. He is best known as the host of the Blake and Wylde Show in KiSS 92.5.
As of now, Adam is a married man of 30 years of age.
Fairy Tale Love Story: Engaged To High-School Sweetheart After 40 Years Apart
On 8 May this year, Marilyn announced that she was engaged to her high-school sweetheart and prom date, Jim. Apparently, forty years before becoming her fiance and then husband, Jim took Marilyn on a high-school prom date.
After that, due to varying circumstances, the couple lost touch. Fast forward forty years: Marilyn and Jim meet again and reconnect, and as if nothing had changed become fiances, then husband and wife.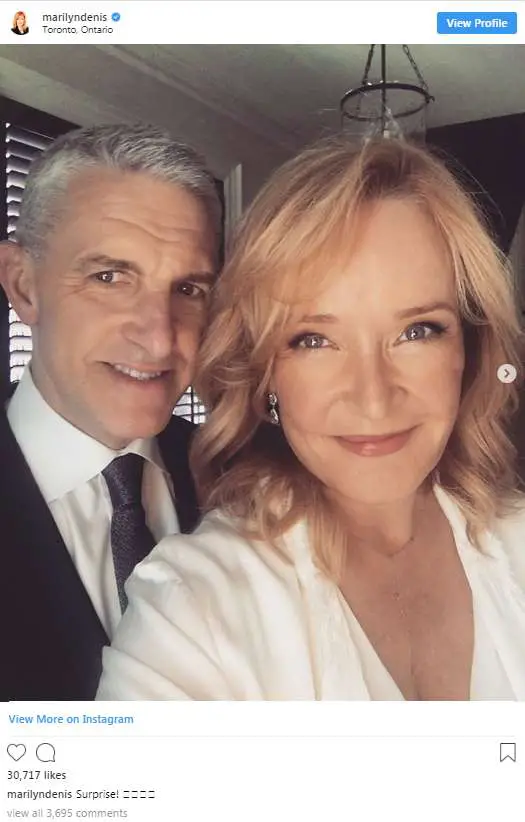 Wedding Day: Marilyn Denis and her fiance, Jim, finally exchanged the wedding rings on 21 June 2018 (Photo: Marilyn's Instagram)
As a perfect conclusion to the star-crossed love story, they got married about a month after being engaged on 21 June in a spectacular wedding.
Keep On Reading: Is Whitney Way Thore Engaged? Who Is Her Fiance? Baby, Net Worth & Facts
Who could have thought that Jim and Marilyn would find their way to each other after forty years, let alone become husband and wife in their sixties? But they did, as unbelievable as that might sound.
It seems as if the star-crossed love stories exist even in real life!