Whitney Way Thore Separated From Fiancé after He Fathered a Child with Another Woman
fiancé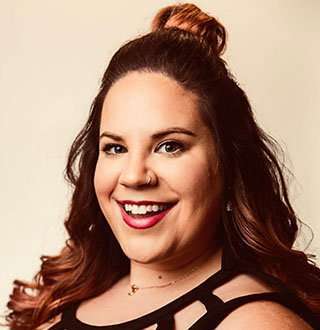 Quick Information
Date of Birth

Apr 14, 1984

Age

39 Years, 7 Months

Nationality American
Profession

Television Personality

Career

2014–present

Relationship Status

Single

Ex-Boyfriend

Lennie Alehat & Avi Lang

Ethnicity/Race

White

Father

Glenn Thore

Mother

Barbara Thore

Brother/s

Hunter Thore

High School

Page High School

College

Appalachian State University

Height/ How Tall?

5' 2"

Weight

380 pounds (170 kg)

Hair Color

Dark brown

Eye Color

Blue

Birth Place

Greensboro, North Carolina, United States

Siblings

1

Official Site

https://www.whitneywaythore.com/
American television personality Whitney Way Thore ended her engagement with Chase Severino at the end of May 2020 after finding her partner was into another woman.
Thore started dating Severino after her business partner from NoBS Active, Ryan Andreas, introduced her to him.
Their relationship — featured in the sixth season of TLC's My Big Fat Fabulous Life — escalated swiftly as her boyfriend proposed to her at the top of the Eiffel Tower in October 2019. The pair had gone to Paris for a business venture.
The chemistry between the two, however, didn't last long as Severino reportedly reconciled with his past flame. He was even expecting a baby with his new mysterious girlfriend. In the wake of such a situation, he confessed about his new relationship to Thore, who had no option but to end their engagement.
The reality star announced her split with her fiancé through an Instagram post on May 21, 2020. Uploading a plain black picture, she clarified she parted ways with Severino. The television personality affirmed her fiancé had "reconnected with a woman with whom he had a long history" and was expecting a baby in October 2020.
At the end of her message, she also stressed she wanted no hate "to be directed toward anyone" and asked for privacy. 
Following suit, Severino Instagrammed a screenshot where he wrote he had nothing but love and respect for Whitney and their time together. He then asked for privacy for himself, Thore, and his baby mama. In September 2020, he welcomed a baby daughter, Aurora Joyce.
THORE'S WEIGHT LOSS AFTER THE BREAK UP: Whitney Way Thore's Self-Contradictory Decision of Switching to Weight Loss Surgery Comes after Many Anxiety Struggles
Her Dating History Reveals a Cheating Boyfriend
Thore has faced many inconveniences in her dating life, mostly relating to infidelity.
In early 2016, she was in a relationship with Lennie Alehat, a man she had met on Tinder in 2015. In July 2016, she found her boyfriend was not at his home in early 3:00 a.m.. His truck wasn't in his driveway, and when she questioned him, he said he was in his house. Following the incident, the duo ended their relation.
Soon after the breakup, the reality star dated another man named Avi Lang until March 2017. They got into the relationship in September 2016. However, her boyfriend hesitated to appear in her reality series My Big Fat Fabulous Life and asked to blur his image every time he got featured. Due to his choice, Thore even hid her relationship from her producers for months.
Her perception that her boyfriend asked for privacy because of his shyness was defied when she found he was cheating on the relationship.
He was an engaged man and had been double dating women. His fiancée, Nada Louis, had reached out to her and revealed the truth. Thus, both the women parted ways with Lang.
Dealt with False Pregnancy Reports
In the fourth season of My Big Fat Fabulous Life Thore thought she was pregnant — anyone would if their three at-home pregnancy tests provided positive results like hers.
But it wasn't just the pregnancy news that startled her; she was surprised and over the cloud because she thought she would never conceive a child being a victim of a polycystic ovarian syndrome. She even called her ex-boyfriend Lenny to inform him he would be the father of her child.
Things, however, didn't pan out as planned. The positive results of her pregnancy test were false and were caused by her cysts on the uterus that secreted pregnancy hormones.
Sharing her despair with the PEOPLE on February 2017, the reality star cited she had felt pregnant for real and disclosed she grieved the news like a loss.