Restaurants Owner Michael Symon Met Wife At One; Recipes To Life & Food
Symon met his wife when he was 20, at his first job after graduation...He started falling for her with her charming personality...has to be one of the best things that have happened to him...The lovers are tirelessly living a tranquil married life for...is to look for master balancer between work and family...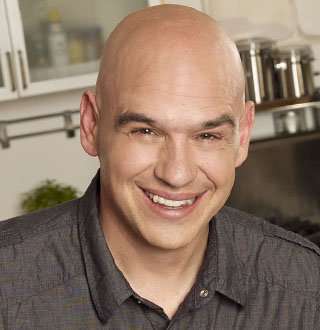 As a professional chef, Michael Symon's passion for food is real. The chef must know numbers of seasoning to flavor his dish. But what does he has in store to flavor his hectic life? A loving wife to romance with!
 The celebrity chef has been grooming his popularity from famous reality cooking shows such as Food Network's The Best Thing I Ever Ate (2008), ABC's The Chew (2011-Present), and Burgers, Brew and 'Que (2015-Present). He can be seen cooking drooling recipes in the show.
Yummy: Michael Symon showcases his  Porchetta with Mostarda recipe in The Chew (Published on 4 May 2018)
Other Chef Star: Christina Tosi & Hosted The Coolest Wedding Party! Bio Reflects All
He is the winner of Iron Chef America (2007) and is honored by James Beard Foundation Award for Best Chef Great Lakes in 2009. To add to the list of attainment, he is an author as well. Live to Cook and Carnivore are some of his best-known works.
Michael Symon Bio (Age), Children, Height
Michael was born on 19 September 1969, in Cleveland, Ohio. The 48 years old, who stands at a towering height of 5ft. 11 inches, has Greek and Sicilian roots. 
The Cleveland native has established fame of a celebrity chef and has 20 renowned restaurants under his ownership; Lola, Lolita, The B Spot, and The Roast to name few. 
The chef has earned countable accolades in his life but his wife of 20 years (and counting), holds the most valuable positions of all. She is his partner in business and manages the front desk while he performs miracles in the kitchen.
Michael Symon's Impressive Networth
The American chef has an impressive net worth of $4 Million. He has made this fortune as a television personality as well as a restaurateur.
The author may as well make out a decent amount from his publishings. 
Also Read: Journalist Katie Pavlich Grips Wedding Vows Looking To Better Married Times With Husband
How Symon Met His Future Wife, Liz Symon
Symon met his wife, Liz Symon when he was 20, at his first job after graduation (1990) at a 40-seat restaurant called Players, where his now wife was a complete stranger managing the front desk and was divorced with the 2-year-old son, Kyle.
He started falling for her with her charming personality and couldn't last the distance when he moved to another restaurant in 1994. As soon as the need of manager at his new workplace popped up, he took his chance to call upon to Liz who happily accepted the offer.
After staying close to one another for almost eight years, the duo got married on 1 November 1998 at the Pilgrim Church, in Cleveland and almost two decades hence, they own more than 20 restaurants.
The star chef doesn't have any child of his own but a stepson named Kyle.
The stepdad seems to have a good relationship with his now adult stepson (age 30) as he wishes him on Birthdays in social media and hands down, his love for the wife could be a somebody's dream come true. 
 Michael Symon's Wife, Liz Flavors His Life
As for the saying, "There is a woman behind every successful Man," it can be applied entirely in the TV chef's case. His 55 years old wife, Liz Symon has to be one of the best things that have happened to him. Their relationship replicates a precisely prepared recipe. 
Relationship and dating might be some teenage gig for most people. But Michael had planned more with Liz. 
The lovers, who walked a long way from making out to long living romance together, are tirelessly living a tranquil married life for 20 years. 
From colleagues at work to partners in life and business, the couple has remained the best duo in handling martial issues as well as restaurant business. Their relationship seems to grow stronger as they go on with succeeding as restaurateurs in the market. 
Explore: Michael Joseph Jackson Jr. Bio Reveals Uncovered Stories: From Family, Net Worth To Hottie Girlfriend Now
Michael Symon Puts Family First
If one is to look for master balancer between work and family, then Michael Symon is the one. But how does he do it?
When asked in an interview with USA Today in Feb 2017, about the hardest part of his career, he disclosed his mantra. 
Finding that balance between work and family. I've been in the restaurant or TV business essentially since I was 19. There have been a lot of 80-90 hour work weeks in those 30 years. To be a good husband to Liz, to be a good role model and father to Kyle, finding that balance. ... You are working and building something and building your dreams, but you also have to focus on what's important -- and that's family.
No wonder he is a hectically happy man.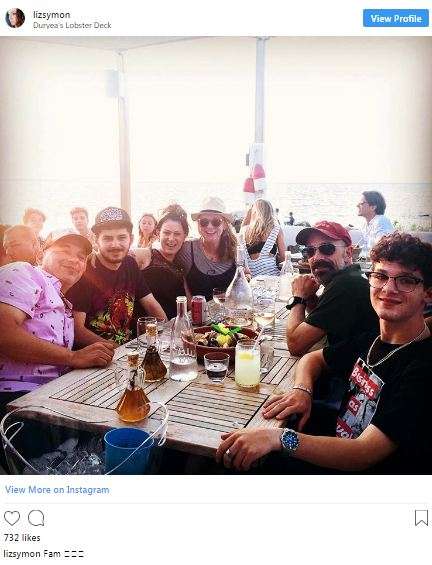 Family First: Michael Symon spends time with his family at Duryea's Lobster Deck on 18 August 2018 (Photo: Liz Symon's Instagram)
The talented TV chef has a whole inspiration to offer for the people willing to follow in his footsteps.