Is Larry Caputo Jr Married? Inside His Life with Longtime Girlfriend Leah Munch
Are Larry Caputo Jr. and Leah Munch still dating?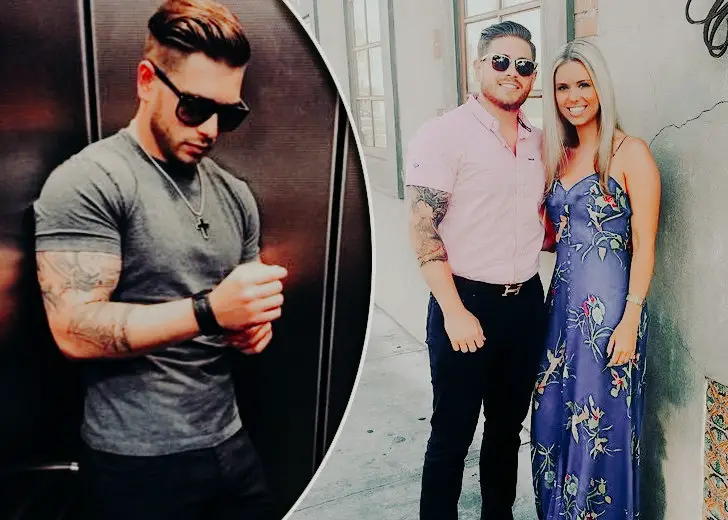 Self-professed medium Theresa Caputo got recognition from her reality show, Long Island Medium.
With her ability to communicate with the dead, she helped people connect with their lost ones. From 2011 to 2019, the show revolved around Theresa trying to balance her work and profession.
Along with her readings and spiritual abilities, Long Island Medium showed glimpses of her family life. Theresa was married to Larry Caputo from 1989 to 2018, and the pair has two kids - Victoria Caputo and Larry Caputo Jr. 
Caputo Jr. is all grown up, and here is all we know about him.
Larry Caputo Jr. Had A Normal Childhood
Through its 14 seasons, Long Island Medium showcased that the Caputo Family was used to living with her mediumship.
In an interview with TLC, Caputo Jr. explained how his mother's mediumship was normal to them since they had grown up witnessing it.
His friends were also okay with his mother's ability; it was normal to him as it was to them. Even if they thought it was weird, they never made him feel like it. Theresa used to even give them advice regarding their college choices and the dating scene. 
No matter what, the 29-year-old revealed he was still proud of his mother and the joy she brought to people through her readings. However, when asked if his mother ever gave him insights from the great beyond, he clarified that Theresa gave him motherly advice, as she rarely gave him medium advice. 
His sister Victoria also shed light on their childhood. She revealed how ordinary their upbringing was, even with all the cameras surrounding them.
They did what any typical kid would — go to school, hang out with friends, play sports, and spend time with their family.
She added that the series showed exactly what was going on behind the scene. They were who they were; loud, funny, expressive, and crazy like any other family.
Larry Caputo Jr.'s Long Term Relationship 
Caputo Jr. has been in a long-term relationship with his girlfriend Leah Munch since they both attended undergraduate school at the College of Mount Saint Vincent.
The pair seemed to be completely in love and have been together for over eight years. The oldest photo of them dates back to March 2012. 
His girlfriend is constantly featured in his Instagram posts. From going on vacations to dinner dates, the couple is always seen together. 
Is Larry Caputo Jr. Married?
There have been no sounds of any wedding bells ringing for Caputo Jr., but Victoria recently got married.
On May 22, Victoria tied the knots with Michael Mastrandrea. The Long Island Medium star shared snippets of her daughter's bridal shower to the wedding on her Instagram. 
Even if Caputo Jr. hasn't made Munch his bride, he constantly takes her to weddings as his date. As evident by his Instagram, Munch has been his wedding date for more than five occasions. However, it is not known if Caputo Jr. took Munch as his date at his sister's wedding. 
The duo has not posted a picture of them together since 2019, the last one being of them on Easter, where they celebrated the holiday with their family.
Since then, Caputo Jr. has shared no pictures of them, and Munch's Instagram has no posts in it. Therefore, it is not clear if they are still dating or have parted ways.