How Jocelyn Hudon Started Dating Her Future Husband Jake Manley
After being together for almost six years, the duo plan on a fall wedding.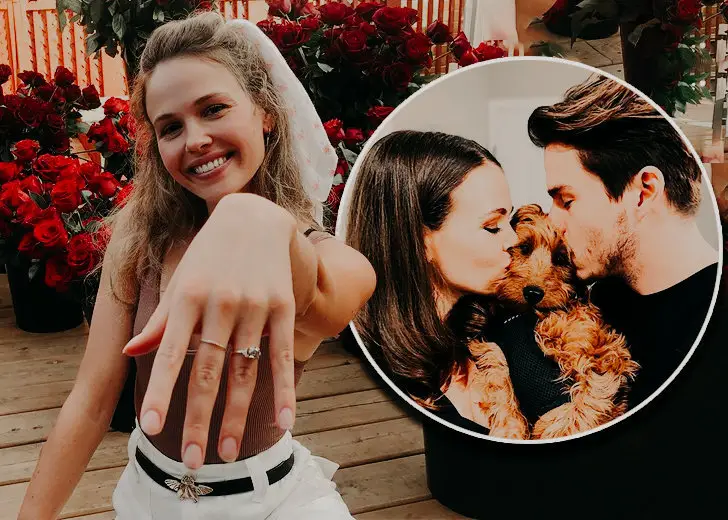 Canadian actress Jocelyn Hudon started her acting career in 2015 with an Adam Sandler movie, Pixels. Since then, she has had a starring role in many hallmark movies like From Friend to Fiancé and Baby, It's Cold Inside.   
Known for playing romantic leads in movies, the actress also had a partner in real life. She is happily engaged to fellow actor Jake Manley, her partner, for almost six years.
From Boyfriend To Fiancé 
Hudon gave details about her relationship with ET Online in August 2020. 
Hudon and Manley had been dating for five years until their fifth anniversary, when The Order star proposed to her. They met through a mutual person who filmed their audition and also had the same acting agent. In 2015, they drove to their agent's summer party together, and since then, the duo has been inseparable. 
The actress knew Manley was the one since the following New Year's Eve when the actor bailed on a party with her and stayed home. Hudon considers the night as "special" since all they did was watch Lord of the Rings and make pasta. She also gushed about his sense of humor and how they balance each other out. 
I also love how opposite from me he is, we're really yin and yang, which is great because we balance each other out.
Talking about their engagement, she explained how the pair drove to Montreal from Toronto for six hours. They stayed at an Airbnb, which had six floors. They climbed all flights of stairs to reach the rooftop, where a surprise was waiting Hudon - 1,000 red roses adorning the patio on the roof. 
Initially, Hudon thought the production had sent her flowers, or the Airbnb had stored them up there. To her surprise, it was all Manley! Her beau had remembered Hudon's favorite episode of Gilmore Girls and took it as a reference to propose to the actress. Manley got on one knee and proposed to a shocked Hudon, to which she said, "Yes."
Manley was really paying attention to what his girl liked. A few years ago, Hudon claimed she told him how much she wanted a black diamond ring with a gold band. Manley got her exactly what she wanted and added his personal touches to it by designing it himself. 
Hudon had announced her engagement to Manley in late August 2020. She posted a series of photos of herself flaunting her engagement while smiling at the camera, tagging Manley on the post.
Her future husband had also shared the joyous news with his followers, with the caption showing they had already been together for five years. 
Future Wedding Plans 
Since October is her favorite month, Hudon is planning on getting married in the fall. She reasoned that since there is not a lot going during that season, it would be perfect. She plans on doing a local wedding in her hometown Toronto. 
Hudon already has two locations in her mind; however, she has revealed none since she plans on keeping it a surprise. Even though she likes a small wedding, there are many names on her guest list; hence, her ceremony would be a medium-sized one. 
The actress also has a couple of 'must haves' for her wedding. She has already planned on the Milk Bar's birthday cake as her wedding cake. For the dress, she has planned nothing on it, but she revealed she would love to go on the Say Yes to the Dress, a TLC show. Hudon is obsessed with the reality show, which is dedicated to helping brides pick their wedding gowns. 
Since this is going to her first marriage and wedding ceremony, Hudon said she is learning along the way.
The Duo's Acting Career
Originally a ballerina, Hudon started going to ballet classes at the age of 3. She trained and performed at the National Ballet School of Canada till she was 17. Since she always loved entertaining others, she had even done a one-woman play in her local church.
She went on to study at the Toledo School of Arts, where she completed her high school. There she made many friends who were aspiring actors, which further piqued her interest in acting.
After completing a degree in communications and a postgraduate degree in Public Relations, she decided to follow her passion and started going for auditions. Alongside acting and dancing, Hudon is also a certified scuba diver.
She started appearing on the big screen in 2015 with minor roles in TV series like Single Ladies and Good Witch. Since then, she has had a successful career playing the lead in many movies and shows like Christmas Wedding Planner, One of a Kind Love, and When Calls the Heart. She has been in seven hallmark productions with four films and three shows in her six-year career.   
Like Hudon, Manley is also an actor known for starring in movies such as The Order, Infamous, and Midway. Not only an actor, but he is also a producer and has three credits under his name for short movies like The Beach Raiders and GUION. 
In an interview with ODDA Magazine, Manley shared he got into acting through filmmaking. Being influenced by movies and shows while growing up, he and his friends would make and premiere self-produced films in their local theater. This led to them needing actors to be in their production. He started pursuing acting professionally after high school and, to date, has 30 acting credits under his name.