Adam Sandler's Daughters Didn't Enjoy Shooting for His Netflix Movie
"They always play crazy, like they didn't know they were shooting a movie."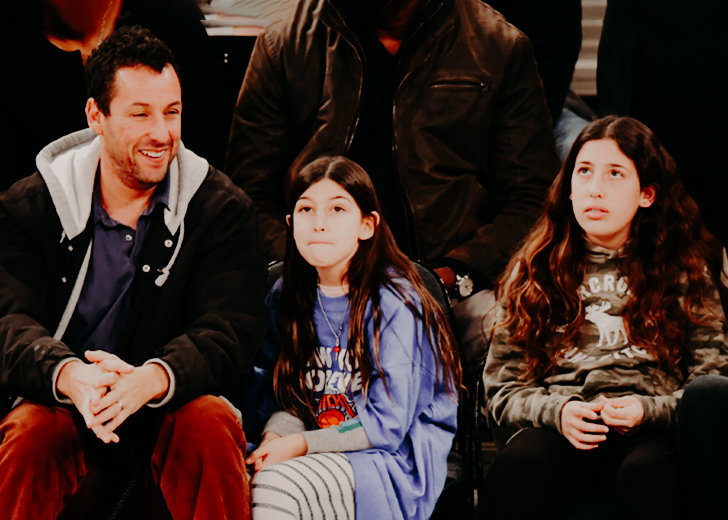 Adam Sandler might be a natural when it comes to being an actor, but his daughters did not enjoy it.
In fact, going by their reaction to their first movie with their father, his daughters might not be joining him in acting.
Sandler sat down with his long-time bestie Drew Barrymore in a virtual interview on her show, The Drew Barrymore Show, where he disclosed that his daughters were not fond of working on set. 
His Daughters Begged To Leave
After running down a few random topics, The Wedding Singer, Blended, and 50 First Dates costars got talking about his Netflix movie Hubie Halloween, more specifically his daughters' experience while shooting for it.
Sandler originally thought that his daughters, Sunny Madeline and Sadie Madison, would be really excited about their first movie. However, that was not the case at all.
With a hilarious voice to mimic his daughters, he added, 
...If they were in a movie and they get to set at 8, I'd say around 9:20, I'm hearing, 'How much more?! Please let me leave!'
The actor complained that his kids made it sound like he forced them onto the movie. In reality, it was his daughters that had requested him for an entire year for a chance to be in one.
As an accomplished actress herself, Barrymore understood that making a movie was a long process that demanded all parties involved to work hard on it.
Her response had Sandler complaining about how Sunny and Sadie always played crazy on-set, like they were unaware of the fact that they were there to shoot a movie. 
He Is Glad They Did the Movie
He explained that his daughters usually stayed in his trailer with their friends. Still, every time he went and knocked on their door to let them know that their scene was ready, they'd act surprised. 
So much so that they didn't even have their makeup on. "It's disgusting, Drew," Sandler concluded. 
Apart from his daughters, his wife Jackie was also in the movie. Despite all the complaints he had, Sandler told People that he was glad his daughters had been a part of that movie. 
According to the doting father, his girls are very fond of Halloween, acting, and dressing up. 
The Girls Take After Their Father's Musical Side
Sandler's girls take after their father when it comes to music, though.
Sunny, the elder of the two, put her pipes on display for her father's comedy crowd when she sang 'A Million Dreams' from The Greatest Showman in June 2019. 
In the fall of the same year, both sisters took the stage during one of Sandler's charity performances and sang Taylor Swift's 'Lover' to the crowd. 
It wasn't just any crowd either. The star-studded audience comprised of names like Julia Roberts, Sean Penn, Courteney Cox, Kaley Cuoco, Rami Malek, and Elizabeth Olsen.
That's not all! The girls drew a standing ovation from the crowd. 
The proud father thanked the audience for their love and commended his daughters before letting them off the stage.