The Medium Life of Theresa Caputo — Spirit Channeling During a Pandemic
Following the pandemic, Theresa Caputo has a few things to look forward to. She is back in the dating game, has a new book, and a new show on Discovery+.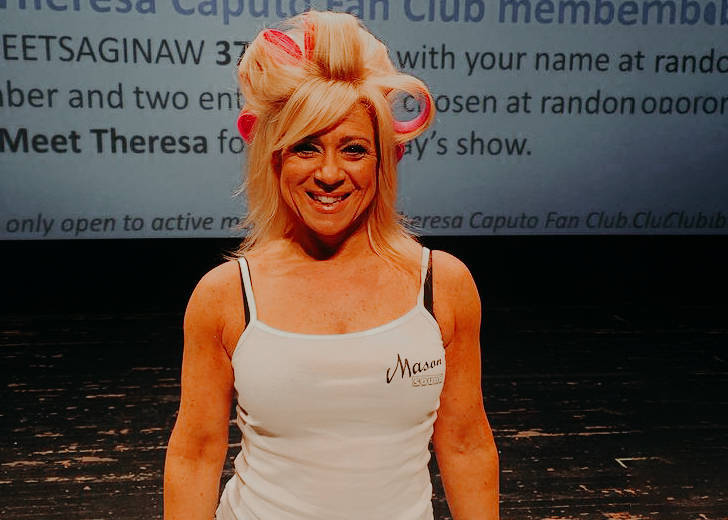 Theresa Caputo, the famous spirit channel, was born in Hicksville, Long Island on June 10, 1966. She has been running her reality show Long Island Medium since 2011 on TLC. After the lockdown, she aired her new season on Discovery+ where she does virtual readings of people. 
The Beginning
On her website, the TLC star mentions that she's been able to see, feel and sense spirits since the age of 4. 
In her appearance on Bethenny in 2014, the spirit medium explained that because of her upbringing she always felt the happenings around her to be normal.
Caputo further admitted to being able to communicate with spirits by her late 20s.
Caputo explained that after suffering from major anxiety issues despite therapy, her mother introduced her to a spiritual healer and teacher named Pat Longo. After a single session, Longo told her that her diabolic anxiety resulted from suppressing her spiritual energies.
Not only did Longo point out the problem, but he also taught Caputo how to channel spirits through chakras and make them communicate with words.
It took Caputo five years of learning before she could finally accept her gift.
Helping People With Her Gift
After realizing what she had was a gift, the TV star started using it to help grief-stricken people deal with the loss of their loved ones. 
The psychic on an episode of LIM from February 11, 2021, mentions that the death of loved ones always leaves the living with a feeling of burden and guilt. 
No matter who we lose or how we die, we here in the physical world are left with burdens and guilt... These negative emotions do not give us the ability to heal, so a spirit is here to give us these positive reinforcements that it is OK to live life with happiness and joy even though they're gone.
She has left her clients in tears during her reading in countless episodes. The psychic always focuses on helping her clients get over their guilt and heal.
Her Career
On her website, the psychic admitted she started her career with just a business card and word of mouth.
The spirit medium has also authored four books. Her first book 'There's More To Life than This' came out in 2013  and was the #2 New York Times Bestseller. Followed by the New York Times Bestseller 'You Can't Make This Stuff Up' in 2014. Then another New York Times Bestseller, 'Good Grief' In 2017. 
After a 3 year hiatus, Caputo released her fourth book, 'Good Mourning.' 
Following the pandemic, she has also released her show Long Island Medium on Discovery+. The spirit medium explained on The Kelly Clarkson Show that she started out doing phone readings and then moved to zoom readings.
The medium admits that moving her readings online is an excellent opportunity. She is thrilled to be able to connect with people all over the world. 
Apart from her books and shows, Caputo also started her podcast Hey Spirit with Theresa Caputo on October 1, 2020. 
 Why Did Theresa And Larry Caputo Divorce? 
The 54-year-old made headlines in 2017 when she decided to split with her husband of 28 years, Larry Caputo.
The couple shared two beautiful children, son Larry Junior,30, and daughter Victoria, 26. The couple had been married since 1989.
According to Radar, Theresa filed for separation from Larry on December 1, 2017. Upon their separation, the two gave a joint statement to Radar. 
After 28 years of marriage, we have decided to legally separate. We will always love each other and our two wonderful children. We are united in supporting each other and our family. Please respect our privacy during this time.
Many fans of Long Island Medium foresaw the couple's separation as their marriage woes had been prevalent in previous episodes.  
In a few of her episodes aired during November 2017, both of them were showing signs of separation.
On her November 13, 2017, episode, Theresa confessed to friends how her relationship with Larry had changed from the last season. She emotionally expressed that the two of them had grown apart, and it was quite hard to make it work.
In another one of her episodes on November 27, 2017, Theresa was brought to tears during one of her readings after being overwhelmed by her relationship struggles. 
In an exclusive interview with Radar in January 2018, the husband of the medium revealed that he felt the show had a huge role to play in their separation.
Larry confessed that although the idea of being in the public eye 24/7 seems appealing at the beginning, it starts weighing down on you in the long run.
Another reason for their separation was the time constraints. Larry explained-
What Theresa does is very demanding, and it was consuming most of her time — which takes away from personal time.
In her appearance on the Tamron Hall Show, 3 years after her separation, the host asked if she was still grieving over her divorce. The psychic mentioned that she had been with her husband since she was 17 and despite their split, they still love and respect each other. 
In the same show, Theresa admitted to having a new man in her life who she has been dating. 
Daughter Is Engaged to Be Married
According to Victoria's Instagram, the 26-year-old is engaged to be married to her best friend Michael Mastrandrea in May 2021. 
Victoria and Michael got engaged on May 27, 2019, following the proposal that took place on Feb 17, 2019.
In her post on June 6, 2020, the couple shared some adorable pictures from a recent photoshoot. This celebrity daughter wedding is set out to be one for the books. In the pictures, Victoria is flaunting a knee-length dress with black and beige imprints, matched with black boots. Alongside her is her husband-to-be Michael wearing an oversized white tee paired with dark blue jeans and white sneakers. 
The couple made news when they bought their first house together in February and by the looks of it; they have already begun the wedding planning.
Theresa's Net Worth
In June 2018, according to Radar, Theresa's net worth was reported to be about $3 Million. 
According to Nicki Swift's analysis, it was predicted that the Psychic gets paid somewhere around $25,000 per episode by TLC, and with over 100 episodes, it is believed her net worth is above $2.5 Million from the show alone.
Adding to that, her personal reading charges, her book's income, her house, and her podcasts, Theresa's net worth might be above the estimated amount.