LA Thoma Age 30 Wiki: Grant Gustin Fiancee Real Name, Job To Net Worth
Andrea LA Thoma graduated from...LA worked as a student physical therapist in...People often call her LA instead of her real name...People often call her LA instead of her real name...After dating for merely a year and a half, LA got engaged to her partner...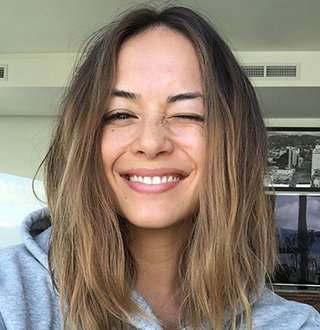 Instagram personality LA Thoma snatched the stage when her engagement to a famous actor was revealed. As a result, fans were curious to know more about LA who stole the actor's heart. 
LA Thoma came to the spotlight after being introduced as American actor Grant Gustin's girlfriend, or better, his fiancee. Some people know her as a fitness model as well.  
Here are some enthralling wikis on LA Thoma's age, real name, bond with her family, her job, net worth, and her dating life with Grant Gustin.
1. Who Is LA Thoma? Wiki Reveals Everything
Born on 11 July 1988, Andrea LA Thoma graduated from Kent State University with a Bachelor's of Science degree in exercise physiology.
After attending Old Dominion University to get her Doctorate of Physical Therapy, LA worked as a student physical therapist in Virginia for five months before heading west to California to finally become a professional physical therapist.
You May Also Like: Coyote Peterson Wiki: Behind Adventure, Who Is Wife Of Wilderness Star?
And there's no doubt that her job motivates her to be healthy at all times since she's always posting her work out tips on social media; yes, she works out every day, and you bet she has got a gorgeous toned body.
People often call her LA instead of her real name, and that has grown on her, considering the fact that she hasn't kept her real name on her social media sites.
Talking about social media, LA, age 30, has got over 451k followers on her Instagram account. It was all thanks to her relationship with her fiance, Grant Gustin, the actor of the Flash carrying the net worth of $2 million, that heightened her profile in social media sites.
2. LA Thoma's Dating Status With Grant Gustin Changed To Engaged In Short Time-span 
After dating for merely a year and a half, LA got engaged to her partner, Grant Gustin in April 2017. And they have quite a story behind the proposal.
So Grant Gustin was planning to propose LA a bit earlier, but his schedule was ruined due to commitments to The Flash.  
So, that got delayed, and it was a surprise like every other proposal, that almost got busted as Grant had kept the ring in the backpack that the two shared. Well, fortunately,  LA didn't see the ring, or she just pretended not to see it, which is kind of impossible.
Since he doubted that LA had seen the ring, Grant dropped down on one knee later the same day. Oh, and the best part, LA thought he was joking, and she laughed before saying yes realizing that it was all true.
Read Also: Maddie Ziegler Age 15 Wiki: Boyfriend Confusion, Dating Status Of Dancer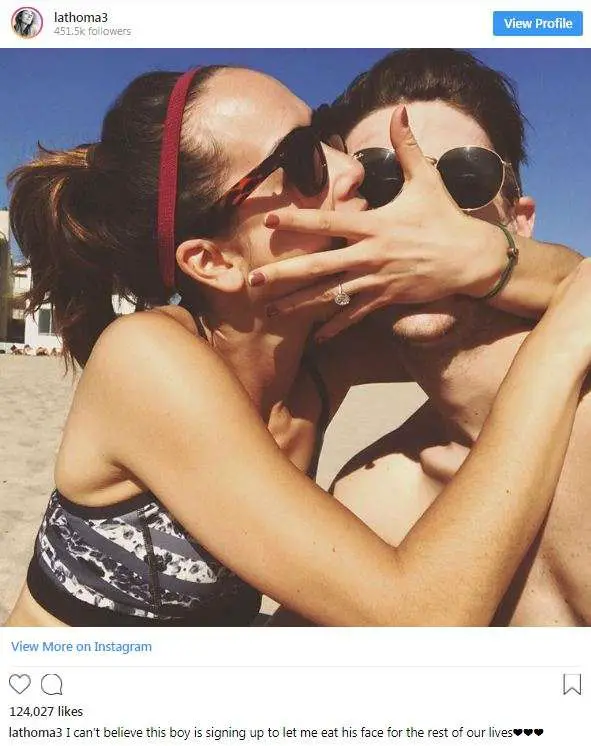 Beautiful People: LA Thoma shows off her engagement ring as she cuddles up to her beloved, Grant Gustin (Photo: LA Thoma's Instagram | 2 May 2017)
Grant, age 28, talked about how random the proposal was in an interview with Conan O'Brien as he said,
It was such an impromptu proposal and random moment, she thought I was joking, actually, when I proposed. It was obviously not a very good proposal. She laughed at first. But then she did say yes.
It was Grant who first revealed their engaged status through a captionless picture on Instagram as the couple sat together smiling on the beach and LA flaunted her ring.
3. LA Thoma Isn't Getting Married Any Soon
It was when the couple went on a vacation in Malaysia after their engagement that the rumors of them getting married flew. But Grant soon addressed the rumors and stated that the two had yet to pronounce their wedding vows.
You Don't Want To Miss: Gok Wan Partner & Boyfriend | Out Gay Romancing Amid Booming Career?
He posted a picture with LA on Instagram in December 2017 as he dispelled the rumors by saying,
It was incorrectly reported, without our permission that LA and I had a private wedding while we were here, but that's not quite the truth. While we did have a beautiful, symbolic Kadazan ceremony to honor LA's ancestors, we still won't tie the knot until next year.
Well, it is already 2018, but the couple hasn't shown any sign of getting married at all. They are in a live-in relationship and have three kids; four-legged kids to be exact.
So, they don't seem to be rushing to get married or start a family since they are already a family of five.