Maddie Ziegler Age 15 Wiki: Boyfriend Confusion, Dating Status Of Dancer
Here are some enthralling wikis on Maddie Ziegler's age, height, her experience of working with Sia...her dating life with her boyfriend...There were certain rumors about Maddie cheating on her boyfriend...they were seen exchanging flirty comments on Instagram and Snapchat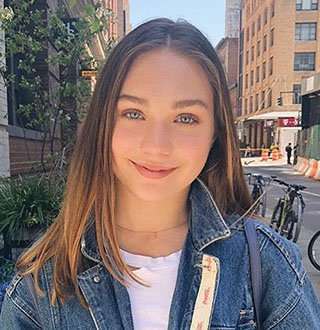 American dancer Maddie Ziegler made her name through her graceful dance on Sia's music videos. However, it's not just the silky dance routines that people want of her, as they also want a slice of her personal life and yearn to know about her dating status.
The dancing sensation is more commonly known for dancing in Australian singer, Sia's music videos including Elastic Heart and Chandelier. Having initially found fame through Lifetime's reality show, Dance Moms she now is a household name in the dancing world, thanks in no big part to Sia.
Here are some enthralling wikis on Maddie Ziegler's age, height, her experience of working with Sia, and her dating life with her boyfriend.
1. Maddie Ziegler's Bio: Age, Height & Career
Born on 30 September 2002, Madison Nicole Ziegler was raised in Pittsburgh, Pennsylvania alongside her younger sister, Mackenzie.

Back In Past: Maddie Ziegler posts a throwback picture of her mother and younger sister Mackenzie along with her (Photo: Maddie Ziegler's Instagram)
She has got two older half-brothers from her father's previous marriage and two older step-siblings from her step-father.
You May Also Like: Michael David Gershenson Wiki: From Bio & Age To Family With Kate Bolduan & Net Worth
The 16-year-old dancer started taking dance lessons from the age of two and joined Abby Lee Dance Company at the age of four. Maddie won several titles with Abby Lee Dance Company at national dance competitions including the 2014 Dancers Choice Award for Favorite Dancer 17 & Under.
It was in 2011 that Maddie and her mother appeared on the first season of Lifetime's Dance Moms.
Standing at the average height of 5 feet 6 inches (1.69 meters), Maddie continued to make appearances on the show alongside her mother and sister until the last season. She had already gained some massive attention from the Dance Moms and frequently made guest appearances on the spin-off program Abby's Ultimate Dance Competition.
2. Maddie Ziegler's Rise To Fame: Calls Sia Her Second Mom
Having appeared in numerous music videos, Maddie became the most recognized from dancing in Sia's 2014 music video for Chandelier at the age of 11, that won the ARIA Music Award for best video. It received nominations at the 2014 MTV Video Music Awards for Best Choreography and Video of the Year, winning the former.
The video also got nominated for the Grammy Award for Best Music Video in 2015. It has reached 1.9 billion views on YouTube and was the 13th most viewed YouTube video at one point. In 2015, Sia released another music video for her song, Elastic Heart and Maddie starred in the video with Shia LaBeouf that gained more than 960 billion YouTube views.
Maddie also starred in the music video for Big Girls Cry, completing her trilogy of videos from Sia's album, 1000 Forms of Fear. She danced to Sia's vocals on numerous television shows including Jimmy Kimmel Live!, The Ellen DeGeneres Show, Saturday Night Live, and Dancing with the Stars.
Read Also: Sam Asghari, Britney Spears' Boyfriend Wiki: Age, Family, Job, Net Worth
Sharing a deep bond with Sia, Maddie spends a considerable amount of time with her and have worked together for the upcoming movie, Sister. While talking with People about the relationship the two share, Maddie said,
It doesn't feel like work when we're together anymore. It's really just a bond that we have. She's my second mom.
Despite the fact that they aren't blood-related, Maddie and Sia have got a beautiful relationship of a mother and daughter, and Sia doesn't step back to do what's best for Maddie's career as well.
3. Maddie Ziegler's Boyfriend: Splitting After Months Of Dating
Maddie had been dating her then boyfriend, Jack Kelly for 18 months and they were one of the most adorable couples, but fate wasn't with them as they consequently parted ways.
The Dance Moms star first met Jack when she was eight, and after meeting again years later, they started going out. They even enjoyed a trip to Down Under in Australia for two weeks to celebrate the pair's one-year anniversary.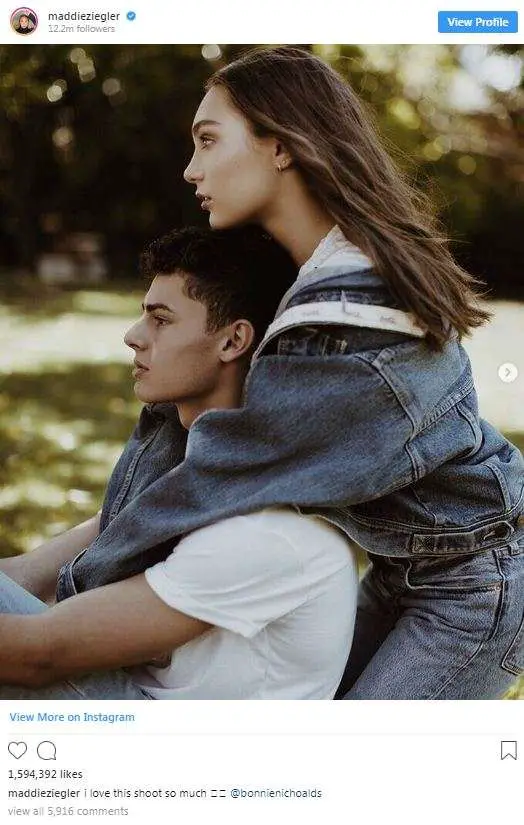 Love In Air: Maddie posts a picture with her ex-boyfriend on Instagram on 26 June 2018 (Photo: Maddie Ziegler's Instagram)
Unfortunately, Maddie broke up with her Australian boyfriend in August 2018, and a close friend of the couple revealed that the two were taking a break because of their work schedules.
You Don't Want To Miss: Nathan Schwandt Wiki: Age, Dating, Girlfriend, Ex, Brother, Gay & More
There were certain rumors about Maddie cheating on her boyfriend with another young age star Joey Birlem as they were seen exchanging flirty comments on Instagram and Snapchat. But Maddie didn't take long to slam back at the rumors addressing that she would never flirt with anyone else while in a relationship. Well, rumors are always drastic, not forgetting to mention that there was even a rumor of Maddie being pregnant (just a 'rumor').
Words have been spread that Maddie is in good terms with her ex-boyfriend and there hasn't been a defining reason behind the separation except for the difficulty of maintaining the relationship between distance and schedules.