How Gina Carano's Personal Life Had Surprising Twist With Boyfriend Kevin Ross?
Gina Carano recently rekindled her personal life with her on-and-off kickboxer boyfriend Kevin Ross after breaking up with Superman himself, Henry Cavill. Carano's recent birthday message to Kevin Ross on her Instagram post proved that Carano and Ross are still going strong.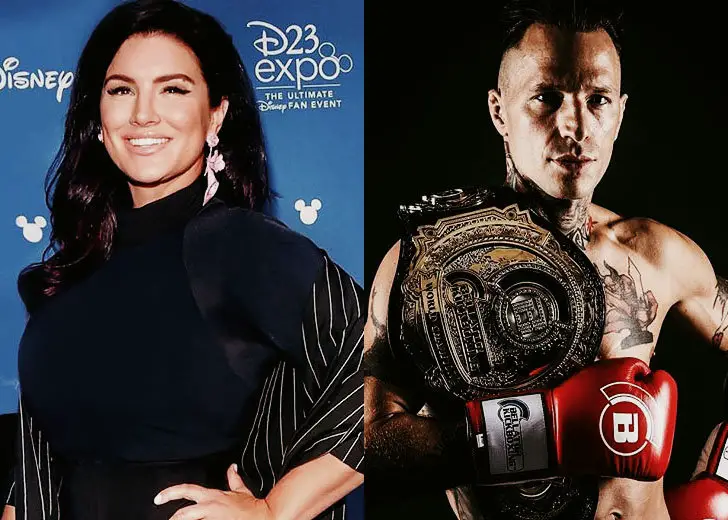 Sometimes we may let go of the person we treasure the most only to realize that we couldn't live without them. American MMA-fighter-turned-television-star Gina Carano and boyfriend Kevin Ross also realized how much they mattered to each other after they separated.
Did Gina Carano Ever Date Henry Cavill?
After splitting with Kevin Ross the first time, Carano indeed got involved in an on-again-off-again relationship with DCEU star Henry Cavill. And though the couple grabbed headlines on the red carpet, their relationship didn't last long, reported E Online.
The pair first got together in September 2012. However, they separated just a year later in the summer of 2013.

Gina Carano with Henry Cavill at the GREAT British Film Reception (Photo: Jonathan Leibson/Getty Images)
After his split from Carano, Cavill started dating The Big Bang Theory (2007) star Kaley Cuoco for a brief time before again reconciling with Carano.
Later, they again got back together in October 2013, only to break up after a year in December of 2014.
Gina Carano & Kevin Ross Got Together After A Decade & Realized They Had Immense Love For One Another
Gina Carano's personal life had a surprising twist in 2015. She had dated Muay-Thai fighter, Kevin Ross back in the early-2000s. Then, Ross was just starting his professional career. They broke up four years later, but again started dating in 2015.
Then, TMZ reported Ross's statement which stated that the couple was together for around six months before they finally decided to make their relationship public.
For those of you that don't know we dated for 4 years, were broken up for a decade then got back together on the 14th anniversary of the day we met.
He continued:
Gina is not only the reason I'm even doing what I am but literally the reason that I'm even alive and walking around still. You are my inspiration, my best friend, my everything!!!
In one of her 2020's Instagram posts, Gina Carano also expressed her love for Ross emphasizing that whoever she has become today, it was because of his support and belief in her. She even thanked him for never giving up on her no matter what situations. Carano writes:
I am who I am because you came along and believed in me when no one else did.. whoever said "they don't make them like they used to.." has obviously never met you..
Thank you for never giving up on yourself and never giving up on me.. no matter how hard I tried to get you to. You'll see.. one day.. they will hear the music that is in your soul... they will see what I've always seen. Happy birthday, my one of a kind.
This message was taken from her Instagram post on 28 July 2020, on the occasion of Ross's birthday. This is also another evidence that Carano and Ross are presently together, as of now.
The feeling is the same for Ross as well. On one of his Instagram posts, he said, "Regardless of our ups and downs, together or apart, you have always been an inspiration and light." "The one who keeps me honest and who I hold myself accountable to the standards that you instilled in me. Regardless of what the future brings I am forever grateful," he further added.
What Happened When Gina Carano First Dated Kevin Ross?
It was during his initial time with Carano that he first took up Muay-Thai. Carano was very supportive of Ross's decision and even attended his first training sessions. Following that, they both started achieving success in their MMA career, and that, ironically, was the reason they had to separate at the time.