Henry Cavill's New Girlfriend Natalie Viscuso Isn't New to the Entertainment World
The 'Man of Steel' star's newly Instagram official girlfriend is a Hollywood executive.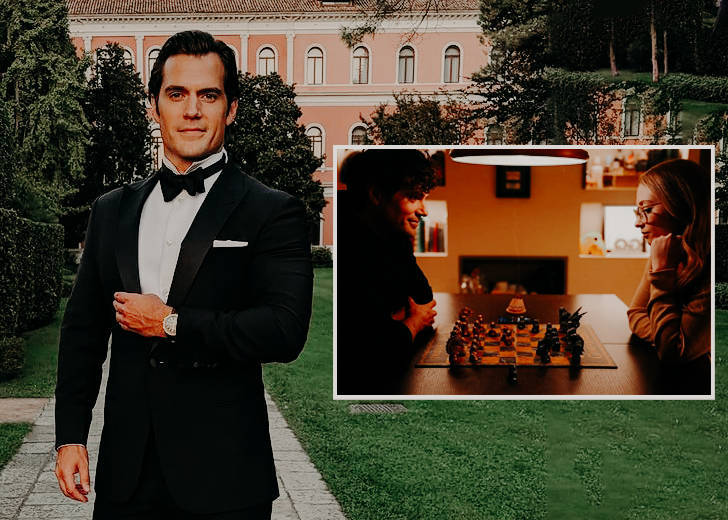 Henry Cavill recently went Instagram official with his girlfriend, Natalie Viscuso. The Justice League star posted a picture of him gazing lovingly at his partner while she contemplated the game of chess between them.
The picture gave a vibe very similar to that of Netflix's The Queen's Gambit. Cavill's post accompanied a sweet text that read, "This is me looking quietly confident shortly before my beautiful and brilliant love Natalie, destroys me at chess."
Viscuso, too, mirrored his post, uploading the same picture and captioning, "Just teaching my dear Henry how to play some chess...or...maybe he let me win?"
A few days before the new couple became Instagram official, they were spotted holding hands while walking Cavill's dog Kal in London.
Cavill's past relationships had been with an actress, stuntwoman, show jumping rider, and even an MMA fighter. But while Viscuso isn't an actress or an athlete, she isn't exactly new to the entertainment world.
Viscuso Was In My Super Sweet 16
Viscuso isn't an actress, but she starred in MTV's My Super Sweet 16 back in 2005. It was a reality TV about rich kids throwing their 16th birthday party.
In the episode of My Super Sweet 16 featuring Viscuso, she famously said, "I deserve everything I have because I have always been the nice girl, never just the rich girl." She also admitted to being spoiled and that money was not an object to her.
Viscuso has come a long way from her teenage years and is currently a Hollywood executive. She is serving as the vice president of Legendary Entertainment. It is one of the production companies behind Cavill's films, Man of Steel (2013) and Enola Holmes (2020).
Viscuso Also Has A Furkid
Aside from both being involved in Hollywood, Cavill and Viscuso also have another similarity. Both of them are parents to a dog.
Cavill's dog Kal is well known among his fans. Kal is an American Akita, and The Witcher star had talked about his dog with On Demand Entertainment, calling his dog his savior.
He has been an absolute savior for me. He is a true companion and in those moments when I just need another being around but not necessarily putting loads of efforts into that person, he's fantastic.
As for Viscuso, she has a French Bulldog named Meat and often posts photos of him.
When Did They Start Dating?
Cavill's last known relationship was with stuntwoman Lucy Cork, whom he called the world's best stuntwoman. The two broke off their relationship in 2018, and he had been presumed single ever since.
It's unclear when Cavill started dating Viscuso, and it wasn't until they were spotted walking his dog on April 6 in London that he was linked romantically with her.
Back in February 14, 2020, Cavill had confirmed that he was still single. Sharing a picture of his dog with a rose, he had wished everyone on the occasion of Valentine's Day.
Cavill wrote, "Happy Valentine's day, everyone! For all my fellow single pringles out there, you don't have to be in a relationship to enjoy today, it's about Love. Enjoy seeing others in Love, love your friends, your family, and especially yourself."