Know about Fred Hammond's Album, Ex-wife, Marriage, Divorce Controversy And Net Worth
Fred Hammond has a biological daughter and an adopted son with his ex-wife Kim.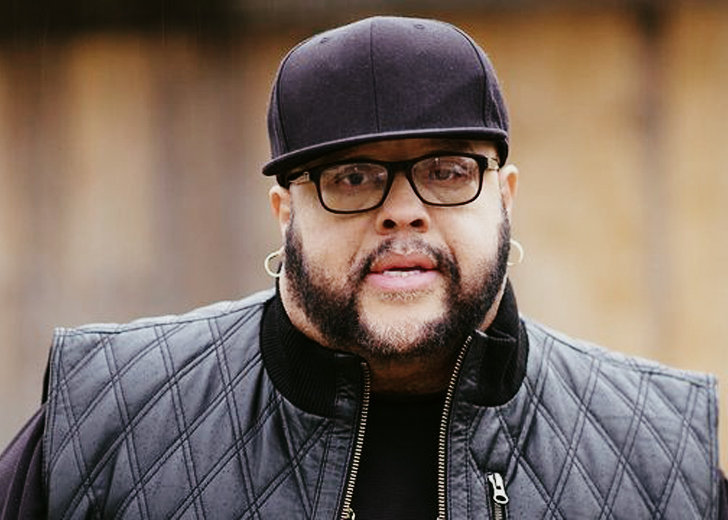 American gospel singer, record producer, and bass guitarist Fred Hammond has been a prominent figure in contemporary gospel music. 
Unlike many traditional gospel singers who usually craft songs in urban contemporary gospel, Hammond uses a diverse range of styles in his music, including hip-hop, R&B, and disco in his faith songs, be it gospel, inspirational worship, or contemporary Christain genres.
The Detroit native has 29 albums to his name, such as, I am Going On, Number 7, Love Unstoppable, Praise in the House, Inner Court, The Spirit of David and I Will Trust, out of which he co-created 11  as a member of the urban contemporary gospel group Commissioned and 4 as a part the experimental Gosepl group, Radical of Christ.
After leaving Comissioned, he sold millions of songs with Radical of Christ, which her formed comprising of young people from a choir based in Detriot.  
Hammond also has award-winning non-album singles such as 'Let the Praise Begin,' 'Power,' 'King of Glory,' 'Celebrate,' 'Better Thant That (feat. The Singletons),' and 'We Have Not Forgotten.' 
Read the full article to know about Fred Hammond's ex-wife, marriage, divorce controversy, and net worth.
Is Fred Hammond Married or Dating now?
Hammond remains unmarried as of now and is not dating anyone publicly. 
How many Children does Fred Hammond have?
The 'No Weapon Formed Against Me Shall Prosper' singer has a biological daughter named BreeAnn Hammond with his ex-wife and an adopted son named Darius [nickname: Bubba]. 
His son, Darius, was selected in the 'First Team All-Conference' as an NAIA freshman in 2018. He remained undrafted in NBA in 2020.
Darius Linkedin mentions that he has worked in Face to Face Productions, a production company serving his father Fred Hammond, as a warehouse associate since 2017.
He has a bachelor's degree in business administration degree from Kansas Wesleyan University. 
Moreover, Fred's daughter BreeAnn has tried to carve a name for herself as a TV personality, singer, songwriter, and entrepreneur. 
In 2023, she was cast in the reality show, Grown and Gospel, a show about a group of six childhood friends born in the Detroit gospel music scene juggling their personal life insecurities, challenges, and past demons while aiming for professional success.   
In February 2023, BreAnn revealed on her Instagram that she had been r*ped and s*exually assaulted more than once. She stated that she was hiring a legal team to fight for herself.
Did Fred Hammond Divorce his WIfe?
Gospel singer and musician Fred Hammond takes the unorthodox route and often gets criticized by the church-going community.
He, himself, is divorced but is quite vocal about the love and romance a man and wife share with each other. He divorced his wife of 18 years, Kim,  in 2004 and still hasn't remarried.
If you didn't know, Kim Staten is also a gospel singer who worked together with Hammond in some of his music. She previously was acting on the now-deleted Instagram handle @klimmyannstaten.
In addition, Staten is a former teacher who worked in the Staff Directory Grand Prairie Independent School District. She also did bookkeeping and admin stints at Face to face productions.
Fred Hammon's on his Divorce and How Gospel Community Would React  
Hammond, in an interview, claimed to be searching for the perfect one to share his love with. He shared that god's love helped him to overcome his tumultuous divorce and personal life woes. 
"There was a lot of broken, but even with the broken, there was still time for faith and celebration," he said. "'I Will Find A Way' was written out of one of [my]  broken days. I went to a season when I cried every day, it seemed, for four or five months. Then, on one of my worst days, where I didn't want to get out of bed, I had this track and those words came out—how much I love even in the midst."
In 2044, he spoke with Billboard and spoke against the divorce criticism he got, stating that he was against some people who taught, "you can't be human and make a mistake."
He added that the Gospel community, unlike the Christian contemporary music community, wouldn't judge him too much because of his divorce. He insisted, " It's like urban and black people are family and will understand. Some of them will have opinions, but most people just kind of understand and walk you through. They forgive and move on."
At the time, there was the trend that a career of a divorcing gospel singer would decline. But Hammond wasn't worried as he believed in forgiveness. He shared,
Fred Hammond was ready to get Married again
It has been over fifteen years since Hammond divorced his ex-wife Kim Hammond, but the gospel singer hasn't remarried since then.
In an interview with Essence in February 2012, he shared that his pastor initially advised him not to jump too quickly into another marriage after divorce.
That being said, he stated that he was, personally, looking to get married and welcomed the idea that someone special was waiting for him.
"I thought I would marry again soon thereafter [his divorce], but my pastors told me not jump into anything," he said. "There isn't anyone in the picture right now, but I do look forward to getting married again."
In the meantime, the gospel singer focuses his time putting up songs in praise of Jesus and God. He has even won multiple Grammy Awards for his work.
Fred Hammond's Daughter Is a Married Woman now
Fred's daughter BreAnn has been married to her husband for seven years now. They started dating fourteen years ago.
Fred and his Daughter BreAnn strained Relationship
The singer's daughter BreeAnn was a teenager when her parents divorced in 2004.
Fred had a strained relationship with his daughter, to say the least. His daughter, BreeAnn, even spoke on the record about her relationship with her father.
In an interview with REDigion, she said that her parents' divorce affected her deeply and strained her relationship with her father.
She added that as a married woman, she now understood the complexities of marriages and accepted that her parents were imperfect human beings trying to live the best way they knew how. 
In Hammond's defense, he told South Florida Sun-Sentinel magazine in February 2010 that he always did the best he could in the best way he knew how.
He claimed that he became spiritually empty after his divorce from his wife, Kim. And his immediate priority after the separation was to ensure that his two children, who both appeared in Love Unstoppable, were well-settled and let them know that he wasn't abandoning them. 
BreeAnn certainly seems to have forgiven her father's past misgivings as she now sings backup for her father during his shows, and she even helps him write some of his songs.
Fred Hammond Sings about Jesus and Love | And his Views on Divorce
Unlike other gospel singers, Hammond has taken his gospel singing a step further. He takes the platform of gospel singing to sing about love and romance, which the singer repeatedly gets the flak for. 
His critics argue that gospel singing is a praise to the Lord and Jesus Christ, and his songs tainted the very concept of that.
But Hammond justifies his work by saying that love and romance are in dire need in today's times.
In the same interview with Essence, Hammond stated that he never quite understood the taboo nature of romance in the gospel-singing world. He argued that if good people [god-fearing] could say things like "I love you my baby," or "My honey," — then there shouldn't be a problem when people sing it.
It's a crazy taboo that has to do with years of tradition. If they can say, 'I love my baby' or 'My honey is so good to me,' then there shouldn't be a problem when you sing it. 
He further brought to attention the staggering figures of divorce in Christian homes and how the love that they preach in churches was far removed from reality.
He mentioned that fifty percent of first-time marriages ended in divorce. Second-time and third-time marriages had a failure rate of sixty and seventy percent, respectively.
While those facts might need corroboration, it is apparent where Hammond was getting at.
He said that people coming to churches put on a good face, but the story behind their walls was in stark opposition. And that his love and romance songs were his way of fixing that.
Fred in Unafraid of Being Controversial among His Christain Followers
Time and again, Hammond has challenged orthodox Christian believers' views regarding his songs of love. Contrary to the populace, he believes that falling in love and an intimate connection with one's partner was God's gift that one shouldn't be ashamed of.
He argued back to his critics, through his [now-deleted] Facebook post, for not understanding the turbulent times a relationship can oftentimes come across.
He also asked everyone to understand single men and women who wanted that feeling of love to feel connected. 
God is love and with in Himself lies the most intense and greatest of all intimacies...That's why falling in love, a deep soul intimate connection and [explicit] intimacy feel so good because it's God's gift we've just perverted and distorted it. 
Hammond's stance on romance is not the only source of criticism that the singer faces. The singer also repeatedly gets flak for collaborating with other singers and artists from outside the gospel genre. 
In 2018, when he collaborated with rapper Snoop Dog on a gospel album, he was heavily criticized.
"I lost a couple of best friends — a husband and wife team walked away from me, called me a sinner," Hammond told Rolling Stone in October 2018.
But that didn't put a dent in his future work. It can even be said that it strengthened his resolve further.
The following year Hammond teamed up with another artist, Kanye West, to work on his Jesus is King's track 'Hands On.'
What is Fred Hammond's Net Worth?
Hammond has an estimated net worth of $5 million.