Tom Morello and Wife Denise Luiso Try to Instill Important Values in Their Kids
Grammy-winning musician, Tom Morello, along with this wife Denise Luiso, are trying to teach their two sons important values in life.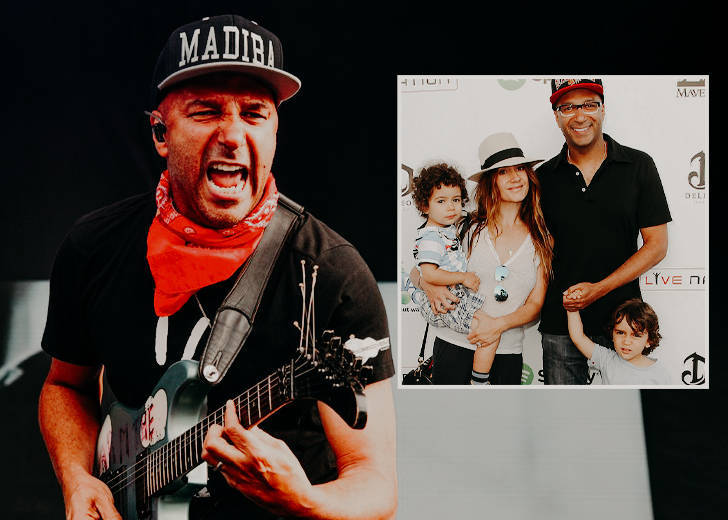 Tom Morello has made a name for himself as a guitar virtuoso for Rage Against the Machine, winning 'Grammy Awards', and raising voices as a political and social activist. Now, as a parent, he is instilling these very values of being loud for one's rights onto sons Rhoads and Roman with wife Denise Luiso.
Morello And His Family 
Morello was born to an influential schoolteacher, Mary Morello, and former Kenyan Diplomat Ng'ethe Njoroge. The star was born in an influential family with a lot of family members in the Kenyan Government. When he was just 16 months old, his father disowned him. He was raised by his single mother in the small town of Illinois. 
He got married to his wife, Denise Luiso, in 2009. She is a musical supervisor based in Los Angeles, California. The couple has two sons together — Rhoads and Roman. The guitarist has confessed that he named his sons after two of his heroes — late guitarist Randy Rhoads and L.A. Rams quarterback Roman Gabriel. 
Morello Instills Values In His Kid
In an interview with Elaine Sir in November 2019, the musician opened up about his parenting skills and his sons.  
When asked about what are the 3 values he intended to teach his children, the Audioslave member revealed they were kind, fierce in protecting the underdogs, and be independent spirits.  Adding to that, he hoped his sons would be kind and fierce in protecting the underdogs.
He said that the great surprise of parenting was children teaching their parents' values. He reminded that the children were their own people and parents should try to model their kids rather than telling them to do something. 
"They're not pets or projects. They're individuals who are going to shape their own destiny. So you do your best to try and model... rather than telling them they must be Presbyterian or must fight for human rights — you MODEL that."
Morello And His Parenting
Morello defined a successful child as someone who is confident and emotionally safe in knowing they are loved and cared for. This is exactly what the singer is aiming for. Since his mother raised him, there was an absence of a father in his life. He asserted he was going to make sure that his history would not repeat in his son's life. 
To make his sons a successful child as he defined, Morello's key is to be present and prioritize them even if it means turning down work and rest. He said that whenever his children request to do something with him, he never turns them down. His major motive behind this is to give his kids the confidence that they are the most important people in the musician's life. 
Morello confessed he juggles parenting and his career. He had cut back from his tours so that he wouldn't have to be far from his kids. Referring to his own childhood, the singer said that he was blessed to make choices in favor of him being with his kids. 

Tom Morello shared a tattoo that says 'Be Yourself'. (Source: Instagram)
The singer revealed he tries to have a lot of unstructured playtimes. Some activities he does with his sons are going around the yard looking for five different types of leaves, hiking, and looking at coyote trails. He also plays baseball with them and other kids and their parents. 
On his sons' diverse heritage, Morello said he had started teaching them about civil rights even though he didn't know at what age one is supposed to. Since the kids are Kenyan, Italian with a little French, the actor said that it was important for the children to understand the people who came before them. He doesn't just focus on the major accomplishment, but also minor ones giving examples of his relative Jomo Kenyatta who was Kenya's president but also a piano player. 
"I think it's important that they know all the stories. From the successes and the failures and the richness of their history. Not just the glossier highlights."