Eva Mendes and Ryan Gosling Relive Their Dating Days with a Sweet Throwback Pic
Eva Mendes and Ryan Gosling have definitely come far.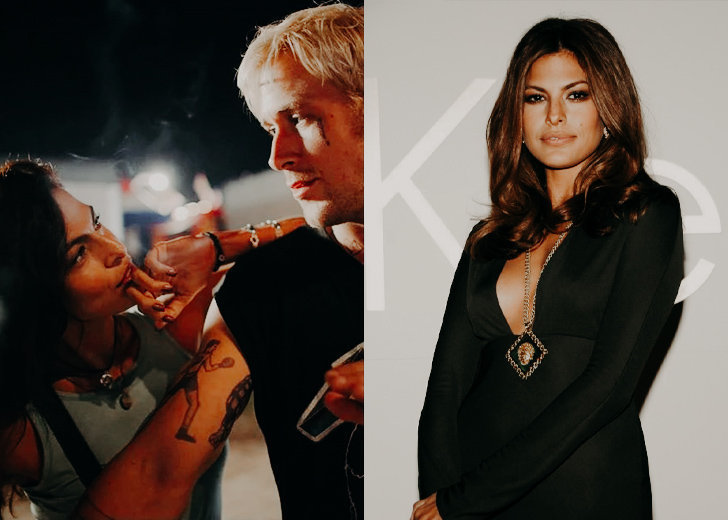 A decade and two kids later, Eva Mendes And Ryan Gosling have definitely come far.
The couple first met on the set of The Place Beyond the Pines, where they starred as former lovers who shared a son. Since then, the couple has been there for each other through thick and thin.
A decade later, Mendes reflects on the film that started it all by sharing a nostalgic image on Instagram of the two staring into each other's eyes while in character.
Fans were definitely here for the throwback picture because the Hitch actress rarely shares images of her husband or her family.
Fans quickly detected a similarity between the photo of Romina (Mendes) and Luke (Gosling) with another high-profile couple. "Yall look like the original Megan fox and Machine Gun Kelly," one fan wrote, likely referring to Mendes's dark locks and Gosling's bleach-blonde hair and tattoos. 
On Keeping It Private
The duo has been together for over ten years and is still one of Hollywood's most notoriously private couples. They are rarely seen in public together and keep details of their family life firmly under wraps. Till today, no one knows when they started dating or how they fell in love. 
However, they gush about one another from time to time and sound enamored with each other during the rare times they talk about their relationship in public.
In a conversation with a fan under the comments section on an Instagram post last year, Mendes explained why she avoids the spotlight and doesn't share pictures or talk about her husband and family life online. 
I have always had a clear boundary when it comes to my man and my kids. I'll talk about them, of course, with limits, but I won't post pictures of our daily life… As far as Ryan and I, it just works for us this way to stay private.
The actress also revealed she wanted to respect her husband's privacy, so she would never share any photos of him that weren't already in the public eye. While Mendes seldomly shares glimpses of her life on social media, her The Notebook star husband doesn't have one at all.
Working with Her Husband
Although Mendes has taken a break from acting since becoming a mother and hasn't appeared in a movie since her then-boyfriend's directorial debut Lost River in 2014, the star might make her cinematic come back, and she wants it ideally to be alongside her husband. 
The fantasy drama marked the second time she worked with Gosling, who played Cat, a cabaret performer. During a 2019 interview with Oprah Magazine, Mendes reminisced on her experience working with Gosling. 
The actress shared that she loved working with him and it was nothing short of magical. She iterated that she would love to either act opposite him again or be directed by him at some point.
She then admitted that in her career spanning 2 decades as an actress, she had two of the most incredible creative experiences with him.
And, of course, she wants a third.