Ryan Gosling Was Forced to Keep His Face Tattoo in 'The Place Beyond the Pines'
"I was like, OK. You want some tattoos, huh? And he says, 'Yeah, and I want to get a face tattoo,'" 'The Place Beyond The Pines' director later said of Gosling.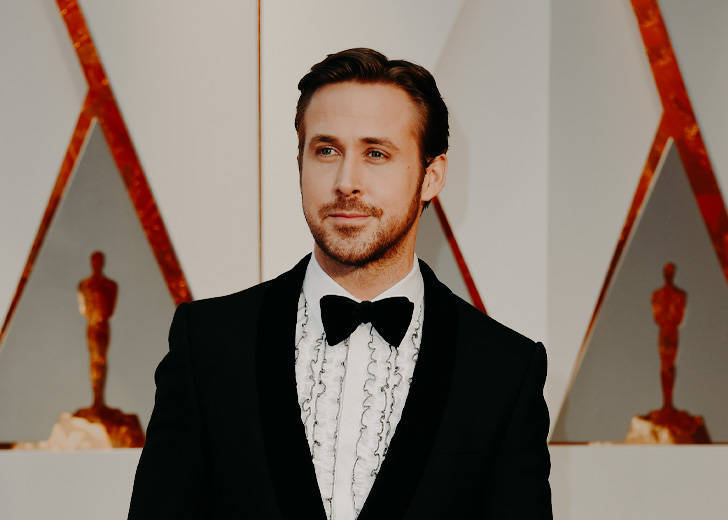 Hollywood heartthrob and celebrated leading man Ryan Gosling was forced to keep his striking 'dagger with blood drop' face tattoo in the 2012 drama The Place Beyond The Pines.
Gosling Regretted His Decision to Get a Face Tattoo
Gosling played a character named Luke, who is a stunt motorcyclist at a traveling carnival in the crime drama. The stunt rider turned robber wanted a happily ever after with his newborn son and lover (Eva Mendes). 
For this role, the actor flaunted multiple fake inks on his body, but the tattoo that caught people's attention was the 'dagger with blood drops' on the left side of his face.
In a 2013 interview with NPR, the movie's director, Derek Cianfrance, revealed that the actor was eager to cover himself in tattoos, and he was not responsible for them. "I did not put that tattoo," he said.
Upon asking how it got to that point, Cianfrance said Gosling called him six months before the team started shooting and gave him the idea of "the most tattoos in the movie history." The handsome actor shared his desire to get a cool face ink of a dagger dripping blood.
Hey, D, how about the most tattoos in movie history? I was like, OK. You want some tattoos, huh? And he says, 'Yeah, and I want to get a face tattoo.' And I was like, 'Really? A face tattoo?' And he says, 'Yeah, face tattoos are the coolest.' And he says and this one's going to be a dagger and it's going to be dripping blood.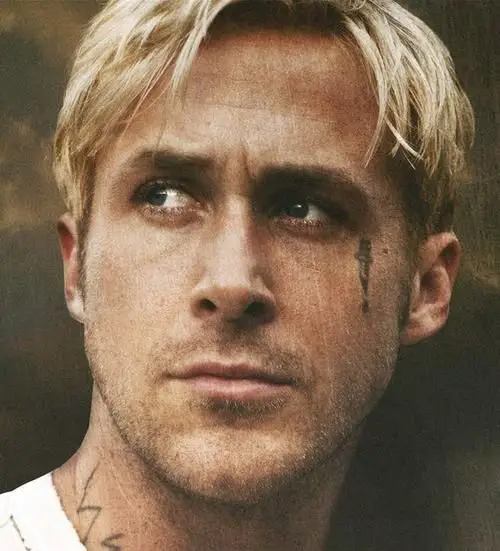 The Notebook actor showed up on the first day of the shoot with temporary yet extravagant tattoos on his face and body. But Gosling came to regret his face tattoo by lunchtime on the first day. 
Gosling asked if they could re-shoot without the face ink, as principal photography had barely begun. Cianfrance denied him and said, "The movie is about consequence and now you have to live with your choices."
In a 2013 interview with Cinema Blend, when asked about the face tattoo, the actor replied it was distracting and that he went too far. He confessed to having a "real sense of shame," but added that it brought something unique to the character.
Eventually, Gosling embraced his mistake and delivered a hauntingly melancholic performance as Luke in the movie.
 I made these decisions to look this way, and it really did kind of, you know, it added to the performance that I never could have.
Are Ryan Gosling's Tattoos Real?
In time, Gosling's temporary face tattoo faded off, which led some fans to question: "Are Ryan Gosling's tattoos real?" and "Does Ryan Gosling have tattoos?"
It is true that Gosling has gotten many fake tattoos made for a variety of reasons, but it is also true that Ryan Gosling has real tattoos.
His real tattoos include the cover of The Giving Tree on his left bicep and a self-described "ghostly lady and a skeleton" on his inner left arm. Then there is that famous barcode tattoo on his wrist.
Gosling has also tattooed himself. The monster hand tattoo on his left hand, which often gets mistaken for a chicken—he did it himself.
Despite all of his real and temporary tattoos, in an interview with The Guardian, Gosling implied that none of his tattoos had any meaning behind them. He said, 
A tattoo should never be meaningful, because at a certain point you're going to hate it, and it might as well make you laugh.
In a Relationship with His 'The Place Beyond The Pines' Co-Star Eva Mendes
It was reported earlier that Gosling and his lady love, Eva Mendes, first met on the sets of the movie in 2011. However, it's not true.
In a 2020 interview with Oprah Magazine, Mendes clarified the two had known each other for a while, and working together in The Place Beyond The Pines was exciting. 
In a 2019 interview with Women's Health, Mendes said that having children was the "furthest thing" from her mind before she met Gosling.
Ryan Gosling happened. I mean, falling in love with him. Then it made sense for me to have... not kids, but his kids. It was very specific.
After spending almost a decade together, the couple is blessed with two gorgeous daughters — Esmeralda and Amanda.
While they aren't legally married, the good-looking pair has been inseparable since 2011 and is incredibly protective of their relationship and children.