Know Cesar Millan's Married Life, Family, Wife, Net Worth, Gay & Dog Psychology Based Training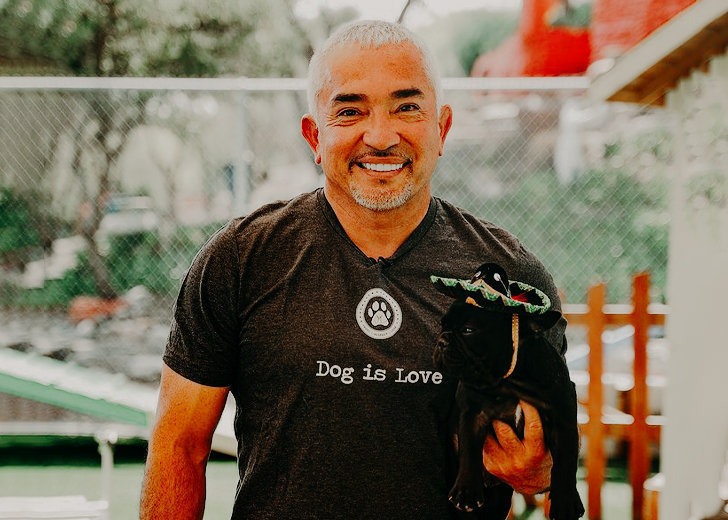 Fan-favorite Mexican American dog trainer Cesar Millan, who is known for his structured dog training methods involving exercise, discipline, and affection to make dog owners assertive pack leaders, is not married now.
But the 'A Member of the Family' author was once in a marital bond with his ex-wife Ilusion Wilson, who taught him to be a better partner.
When their marriage ended with a divorce, a devastated Millan contemplated suicide. Just then, a new woman, his now-fiancee Jahira Dar, entered his life and helped him move on.  
In this article, we have covered the Culiacan native's marital and dating status, divorce, net worth, early family life, and specialized dog training programs.  
Who is Cesar Millan?
Born on August 27, 1969 (age 53) in Culiacan, Sinaloa, Mexico, Millan spent his childhood on the farm in Sinaloa in which his grandfather, Teodoro, was a tenant farmer.  
There, he got first-hand experience working with animals, including dogs—his most beloved. He was nicknamed el Perrero (translation: the dog herder).
At age 21, he illegally made it to the United States with only $100. He worked in numerous labor jobs before getting his first stint in the States at a dog grooming store despite knowing any English. 
Fate gradually turned his way—the illegal immigrant (he would get citizenship in 2009) would one day open a dog training center called Pacific Point Canine Academy with high profiles clients such as Jada Pinkett Smith as one of his first clients. 
During his initial days in business, he also worked as a limousine driver. That's when he met Jada who also aided him by sending her English teacher after he shared with her about his troubled English.
Dont Miss: Cesar Millan's Dog Junior Allegedly Killed Queen Latifah's Dog
Meeting with the American actress turned out to be an untapped opportunity for the dog trainer. Jada's circle of friends was so impressed by his charisma and fondness for dogs that they also turned out as his clients.
Later, he opened a two-acre Dog psychology center in Los Angeles and later moved to California. The center has grown in popularity for its ability to train dogs with severe behavioral problems. 
Millan's special ability has also been shown in his television programs and fans laud his use of distinct vocal marks and voice commands, gestures, and body language to connect with the dogs. 
In 2002, he came up with the dog rehabilitation television show called Dog Whisperer (2004-2013, 2013, 2016) with MPH Entertainment. The show became the top-rated show on National Geographic during season one. 
The co-creator of the monthly magazine, Cesar's Way, and the television series of the same name (2021) came up with the documentary show Cesar Milan's Leader of the Pack with POWWOW Media Partners in 2013. 
The show's premise was based on Millan's rehabilitation effort to give shelter dogs a new home at his new Spain located Dog Psychology Center located.
A year later, Millan's new show was released called Cesar 911 on Nat Geo Wild. 
Later in 2015, his company Cesar's Way teamed up with Nickelodeon and Sid and Marty Kroft Pictures to create the American television series Mutt & Stuff.
The series showcased the bond and daily playful activities of Cesar's son Calvin and his big yellow cartoony dog named Stuff with other real dogs in the fictional dog school named Mutt & Stuff. 
And since 2021 to now, Millan has been working on his series, Cesar Millan: Better Human, Better Dog, which spanned to season three in 2023.
He also has an immense social media presence. For instance, his YouTube channel boasts 2.60 million plus subscribers who he educates through his Better Human Better Planet podcast and extensive videos on dog training and dog psychology.
With the show, Millan aims to showcase his training efforts in the newly updated psychology center in California as he assists the new owner to deal with their difficult dogs' behavioral issues. 
If interested, you can learn more about his dog training programs and dog merchandise you can buy on his website Cesars Way.
Is Cesar Millan Dating or Married Now?
Dispelling all the gay rumors, Millan has been in a long-term relationship with his current partner Jahira Dar, a former stylist and wardrobe consultant, since August 2010.
She currently functions as the creative director of his company, Cesar's Way Inc. She is a dog and nature lover just like Millan.
The veteran dog trainer credits his Dar for her loyalty and honesty. In addition, he is thankful to her for helping him rebuild his life after a 2010 divorce that led him to initiate suicide. 
When his wife of 16 years and his biggest business partner, Illusion, filed for a divorce in 2010, he was not only facing financial troubles but also his beloved 16-year-old dog Daddy had died not long ago.  
The year, Millan would first meet Dar who was then working as a salesperson at a Dolce and Gabbana store.
Cesar Millan and his Then-girlfriend got Engaged in 2016
In April 2016, he acted upon his month-long proposal plan and told his girlfriend they were going on a trip to Spain.
Without letting her know, he changed the tickets for Greece and took her on a dinner date at the top of Mount Lycabettus, Athens.
There, the dog behaviorist got on one knee and proposed to his girlfriend while a violinist serenaded them.

Cesar Millan with his current partner Jahira Dar after their engagement in 2016. (Photo: Instagram)
He gushed about his romantic engagement proposal to People in the same month, saying he was proud of his perfect plan. He also praised his fiancee and dished how she helped him rebuild his life. 
Millan used pleasant words like compassionate, gentle, spiritual, intelligent, instinctual fun, and strong, among others, to praise Dar.
Cesar Millan's Marriage with Ex-wife Ilusion Wilson
Millan and Wilson's love story is straight out of a romantic Hollywood movie, with a tweaked ending.
The dog trainer was 23 — single and living with his six dogs after fleeing Mexico at 21 — when then-17-year-old Wilson saw him and fell in love at first sight. After a quick friendship, the pair hit it off.
But things turned south as soon as Millan heard he could be jailed for dating an underage girl. He had fled Mexico to escape poverty, and he couldn't risk being deported. All he could do was ask Wilson to stop seeing him.
The psychotherapist was heartbroken but still determined to be with Millan. So as soon as she became 18, she went to him, and the pair started living together.
Months later, the then-teenager realized she was pregnant. The canine expert wasted no time and proposed to her. They married in the same year, in 1994, and welcomed their first son Andre in 1995. 
Their marriage, however, crumbled within a year, for Millan couldn't value their bond.
The Dog Whisperer host had taken his wife as a necessary asset and not an equal partner. 

Cesar Millan's ex-wife Ilusion Wilson and his sons. (Photo: Instagram)
When his wife left him with their infant son, he realized the value of family and his wife. In light of the separation, he agreed to undergo therapy to reconstruct his marriage. And the pair reconciled after six months. 
Millan and his ex-wife welcomed their second son, Calvin Millan, in 2001. But after living together for 16 years, Wilson filed for divorce in July 2010. 
Divorce with Ex-wife devastated Cesar Millan
The timing of the divorce was certainly what devastated Millan more. He wasn't expecting to see his years-long marriage crumbling when facing financial challenges.
The death of his 16-year-old dog, Daddy, had exacerbated the slump. And three months later, he discovered he was getting a divorce.
In the wake of all the problems, the Culiacán native contemplated suicide. He mixed different pills and gulped them down, only to wake at a psychiatric hospital. 
His kids had found him unconscious and taken him to hospital.
Millan shared about the harrowing experience in an interview on Today and mentioned how he was subconsciously asking his kids to take him to their ranch to die.
After recovering from the incident, the 52-year-old realized the impression he was leaving on his fans who visited him.
So he made up his mind to change his life for good, and the process became easier after he found love again in his current partner Jahira Dar in 2010.
He also made amends with his past and agreed to pay a one-time amount of $400,000, monthly spousal support of $23,000, and monthly child support of $10,000 to his ex-wife after the divorce in April 2012. 
How many Children does Cesar Milan have?
Cesar Millan has two children, Calvin (born in 2001) and Andre (born in 1995), from his 16 years of marriage with Illusion. 
The two sons are following in their father's footsteps and are passionately working in their father's business.
What is Cesar Millan's Net Worth?
Millan's estimated net worth is $20 million and his estimated yearly income is $600 thousand from his businesses.