Brittany Renner Wiki: Amid Baby Daddy & Dating Delimma, Who Is Boyfriend?
Brittany was rumored to have dated American football quarterback...rittany reportedly claimed that she was pregnant, stating that Colin was the baby daddy...it wasn't long before Brittany's supposed boyfriend responded to the outrageous claim...she was introduced as the partner of rapper...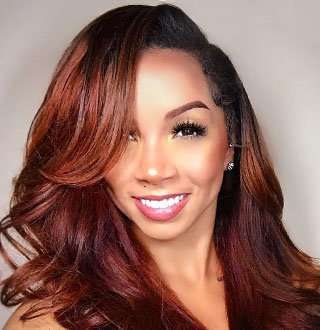 Instagram star Brittany Renner never had a knack to stay in a long-term dating tag. But has she found the right one and changed her mind?  
Brittany Renner is entirely known as a fitness model and social media personality who has with over 4.5 million followers on Instagram and 243k fan following on Twitter.
Here are some captivating wikis on the Instagram model's age, height, and her dating status with her rumored boyfriend.
1. Brittany Renner Attracts Fans With Gorgeous Body
Born on 26 February 1992, Brittany Renner was raised in Ocean Springs, Mississippi alongside her brother, Steven, and sister, Lexie. She played soccer during her college days at Jackson State University.
You May Also Like: Penn Badgley, Age 31 Married To Doula Wife; Long-Term Dating Succeeds
The 26-year-old fitness enthusiast started her career as a salesgirl and caregiver while working as a Zumba instructor as a side job. When she found herself quite confident to step in the world of social media, Brittany didn't hesitate a bit and gained some fans with pictures of her fit and toned body.
Standing at an impressive height of 5 feet 5 inches (1.68 meters), Brittany has over 4.5 million followers on Instagram today and has successfully started her line of sports bras and yoga pants.
Her popularity took another height as she posted a fitness video entitled as Brittany Renner Track Circuit.
As her fame hit the sky, Brittany has been invited to several events, seminars and boot camps from renowned organizations like Microsoft and XBox.
As her career line spreads out from being a media star to a business person, there's no doubt that her net worth can be calculated in a significant amount.
2. Brittany's Reaction To Pregnancy Rumors With Supposed Boyfriend
In October 2014, Brittany was rumored to have dated American football quarterback, Colin Kaepernick. And it was all calm until Brittany reportedly claimed that she was pregnant, stating that Colin was the baby daddy in an article published by Media Take Out.
She appeared to have posted a picture with Colin, and since Colin was extra careful to be photographed with any woman, people thought that the claim might be valid. But the post was soon removed and replaced with a solo picture of Colin.
And it wasn't long before Brittany's supposed boyfriend responded to the outrageous claim by posting the album cover for the rap song, STOP LYIN. He captioned the picture,
We just goin call this my anthem now! Keep trying.
While he didn't mention Brittany on the caption, the indication was quite clear. Brittany was equally taken aback by the post about her being pregnant when she apparently wasn't. And she later tweeted out how the internet wasn't always true.
Read Also: Sherine Tadros Bio: Age, Nationality, Married, Husband, Family & More
She also pointed out the media's flaw as the post photoshopped her original picture to write about something untrue. The flames of the rumor soon burned out as Brittany started dating an NBA superstar in 2016.
3. Ben Simmons Out Of Sight As Rapper Boyfriend, Symere Woods Is On The Frame
Brittany has quite a history when it comes to dating, following her rumored pregnancy post with her supposed ex-boyfriend, Colin Kaepernick.
Besides the rumors, she soon started dating NBA player, Ben Simmons in November 2016 but kept a very low-key relationship.
There were no further details on Brittany's dating status for quite a while until she was introduced as the partner of rapper, Symere Woods aka Lil Uzi Vert in August 2017. So that confirmed that Brittany had broken up with her then-boyfriend, Ben Simmons and the reasons of the split are still hidden.
Coming back to the topic of Brittany dating Lil Uzi, the relationship was confirmed when Lil Uzi shared a picture with Brittany on Snapchat.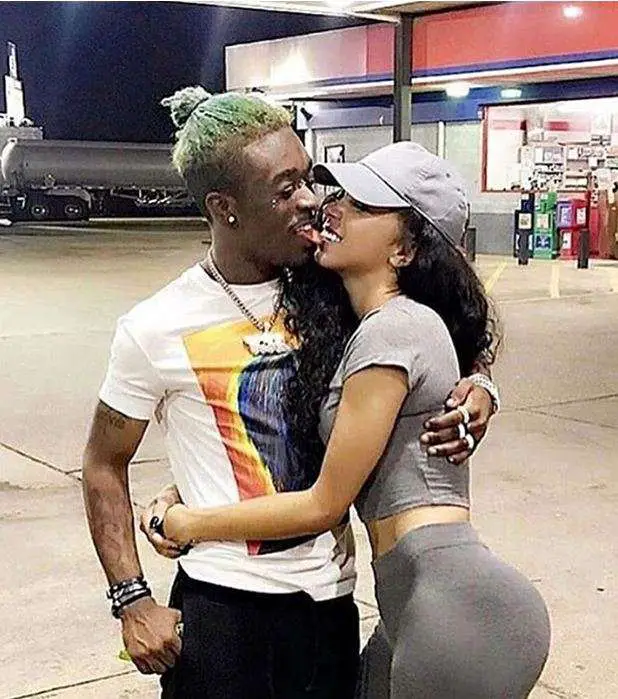 Wow There! People Are Watching: Brittany and her boyfriend, Lil Uzi display intense PDA while Lil Uzi licks on Brittany on Snapchat in August 2017 (Photo: hollywoodlife.com)
And that was quite a great way to break the news. But wait, you might be wondering if Brittany is still dating Lil Uzi. Well, Brittany is not the one to stay dedicated in a relationship and looking at her posts that mention nothing related to Lil Uzi; they have quite possibly parted ways.
You Don't Want To Miss: Why Iain Stirling Age 30, Love Island Narrator Came Out With Girlfriend
4. Brittany Dating One Rapper Boyfriend To Another Rapper?
There's one more thing to mention; Brittany posted a short video on Instagram that showed her smiling for the camera while Canadian rapper Drake popped up in the frame giving a huge smile.
That led to subtle rumors on Brittany dating Drake, but not everything needs to be connected romantically, so maybe they're just acquaintances.
As of now, Brittany hasn't introduced her boyfriend because she hasn't mentioned anything on dating but let's hope she soon opens the door to long-term relationships.