Inside 'The Bachelor' Alum Ben Higgins' Dating Life
Ben Higgins and fiancée Jessica Clarke are planning to tie the knot in 2021.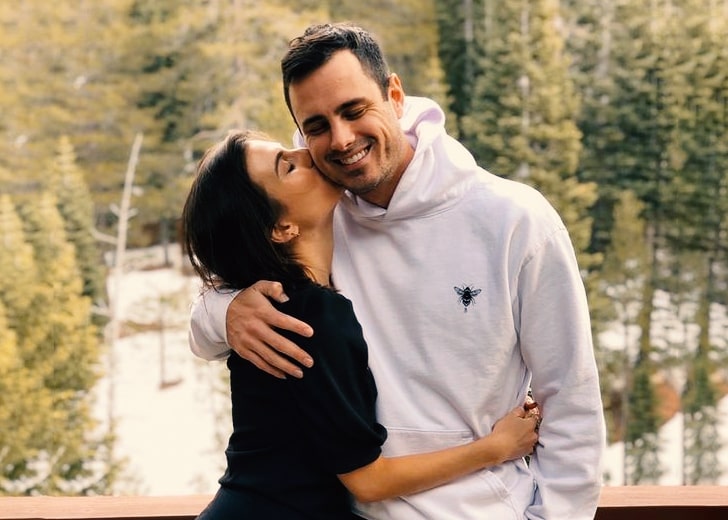 The Bachelor star Ben Higgins first made his way into reality TV as a contestant on the 11th season of The Bachelorette. Though he wasn't Kaitlyn Bristowe's top choice, he finished in third place and was later named the season 20 Bachelor which aired in 2016.
Higgins proposed to Lauren Bushnell during The Bachelor's 20th season finale in March 2016 and they even got their spinoff show, Ben and Lauren: Happily Ever After?
Unfortunately, their relationship didn't last long, and they separated in May 2017.
Higgins has since moved on with his girlfriend, Jessica Clarke, and the two got engaged in March 2020. They planned to marry later in the same year but had to postpone their big day because of the pandemic. They are planning to get married in the fall of 2021.
What Happened to Ben Higgins and Lauren Bushnell?
During his time as the Bachelor, Higgins was left with two final contestants — Lauren Bushnell and Jojo Fletcher — both of whom he had professed his love to. After a tough decision, he ultimately chose Bushnell, but their relationship only lasted for a year.
Higgins shared why he and Bushnell went their separate ways on his Almost Famous podcast.
I would say the joy we felt towards our relationship at the beginning was — for some reason — slipping away. And we were both working very hard to bring that joy back. And it just never seemed to get there.
The reality star also added that though both Bushnell and he had ended their relationship, it was hard for both of them as they had believed the other to be "the one" for them and spent so much time together.
Like Higgins, Bushnell has also moved on and tied the knot with country star Chris Lane on October 25, 2019.
Higgins And Clarke
Higgins and his fiancée Clarke first met in 2018 via Instagram and started dating shortly afterward.
In the beginning, the two maintained a long-distance relationship, and he introduced her to his fans in February 2019 through an Instagram post where he recounted their story.
I've been selfishly keeping this girl to myself for too long! Hey friends meet @jessclarke_! I successfully slid into her Dm's a few months ago. I took a risk and I am glad I did. She is someone special and I look forward to where life is going to take us.
Higgins and Clarke got engaged in March 2020 and became homeowners a few months later in December 2020. Only Clarke lives in the house right now and they will move in together after they get married.
Though The Bachelor alum and Clarke's big day is approaching, Higgins recently opened up about struggles with mental health in an episode of Better Etc. with Trista Sutter podcast.
He revealed he was back in Indiana after suffering a breakdown. He also shared he was lost as to where his life was headed and was trying to figure out what life had in store for him.