Why Is Chris Harrison Leaving 'The Bachelor' after 19 Seasons?
Here is a full timeline of why Chris Harrison left 'The Bachelor' after almost two decades of being the host of the show.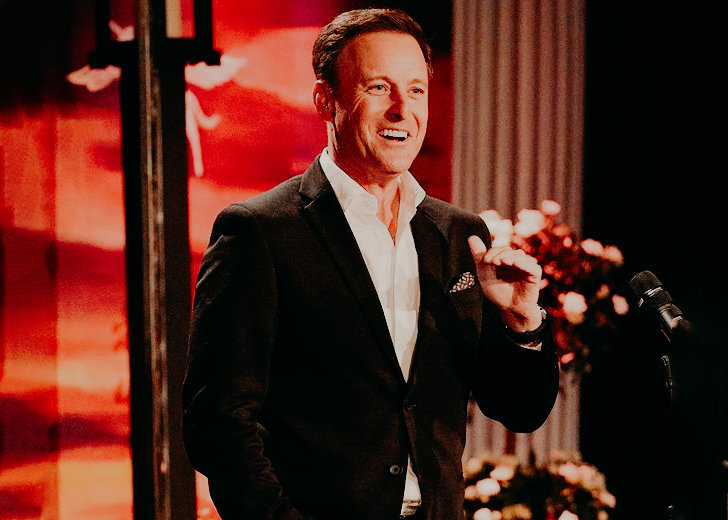 The Bachelor franchise is a reality TV series that revolves around a person searching for their life partner. The franchise started with The Bachelor in 2002 and has 25 seasons to date.
The response to the show has been excellent by the fans and critics. As a result, many spin-offs like The Bachelorette, Bachelor in Paradise, The Bachelor Presents: Listen to Your Heart, and Bachelor Pad, among others, have been made. 
While many contestants have come and gone, one person was with the franchise since 2002 — Chris Harrison. He was the host for The Bachelor and its spin-off for almost two decades. 
However, because of some controversies, Harrison announced he would leave the franchise permanently. 
Why Is Chris Harrison Leaving 'The Bachelor?'
The main reason why Harrison is leaving the franchise is for defending the controversial past of one contestant, Rachael Kirkconnell, a graphic designer.
Kirkconnel won the heart of the first African-American bachelor in the franchise's history, Matt James. The two were in The Bachelor season 25. 
After the season premiered in January 2021, it was revealed that Kirkconnel had made racially insensitive comments in the past. In addition, she was accused of being a racist in her high school. 
Similarly, photos of her smiling in front of Confederate flags and attending an Old South-themed frat party surfaced on social media. As a result, Kirkconnel and Matt parted ways. 
Many fans of The Bachelor were demanding an apology from Kirkconnel. It was then when Harrison defended her and ended up creating a bigger controversy than before. 
In an interview with Extra on February 9, 2021, the show host asked the fans to be considerate about Kirkconnell's situation. 
Harrison continued to speak in favor of The Bachelor star. He said that people online were tearing Kirkconnell apart without listening to her side first. 
He also said that people on the internet acted as judges and executioners to bring the graphic designer down. Similarly, he pointed out that she and her family's privacy was being hindered. 
Rachel Lindsay, the interviewer, mentioned Kirkconnell had not apologized to date when it had already been six weeks since her racist past had surfaced.
Nevertheless, Harrison continued to defend Kirkconnell. He questioned why people were demanding things out of her. The host kept saying that he was not supporting the graphic designer. 
However, that was exactly what he was doing. He kept speaking over Lindsay and did not let her speak her mind. 
Harrison faced massive backlash and was heavily criticized for this interview. On February 10, 2021, the host issued an apology via his Instagram. 
He apologized to the franchise fans and claimed that he was taking complete accountability for his actions. He clarified he was not speaking on behalf of Kirkconnell and his intentions were pure. 
He also apologized to Lindsay for not listening to her and understanding her point of view. However, he ended the apology on a positive note promising his fans that he would do better. 
Just two days after the interview, on February 11, 2021, Kirkconnell also took accountability for her actions. She took to Instagram to apologize to the people she hurt and admitted that she had been wrong and ignorant.
On February 12, 2021, Lindsay gave the behind-the-scenes moments of the infamous Harrison interview. She said that the host had joined the discussion to talk about an episode from the show. 
However, when Lindsay asked him the allegations against Kirkconnell, she said that "he went off." Since Harrison did not let Lindsay speak properly, she felt like he was trying to push an agenda. 
She revealed the host did not have any problems with the interview. He was nonchalant about it and did not believe he was wrong. 
On February 13, 2021, Harrison again took to Instagram to let his fans and followers know he was taking a break from the franchise. In addition, he blamed himself for his actions and promised to educate himself more on the matter. 
He also announced that he would not be hosting the 'After the Final Rose' special. Emmanuel Acho stepped in as his replacement for the special.
On March 4, 2021, Harrison apologized once again for his actions on Good Morning America. On June 7, 2021, the host left the franchise forever.
Harrison negotiated an eight-figure settlement with ABC for his permanent leave. To date, the host's permanent replacement has not been announced.
However, public figures like David Spade, Tayshia Adams, and Kaitlyn Bristowe have stepped in to host the show.