Matt James Shares First Photo with Girlfriend Following Their Rekindled Romance
After their split in February, Matt James and Rachael Kirkconnell have rekindled their romance.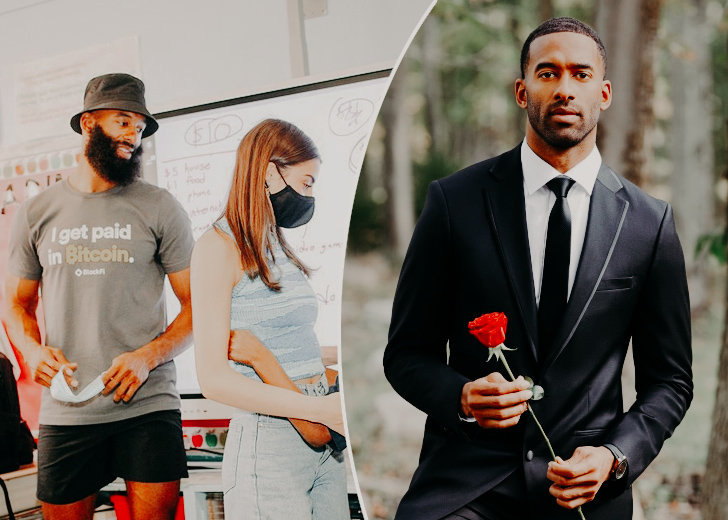 American television personality Matt James is the first African-American to become a lead on the dating show, The Bachelor. Among the 38 women taking part in Season 25 of the said show, James pursued a relationship with the beautiful 24-year-old graphic designer Rachael Kirkconnell. 
It was a start to their relationship on and off-screen.
The couple soon broke up but are back together again. James recently shared the first photo of the couple after their rekindle following their split in late February.
First Post After The Break-Up
On May 27, the former bachelor posted a wholesome picture of his girlfriend hugging a child as he watched them in awe. 
The picture appears to be in connection with his ABC Food Tours organization and BlockFi, as he has tagged their official Instagram. In the caption, he talks about an empowerment series for the students to provide access to resources and opportunities to uplift their financial literacy related to savings accounts, budgeting, and cryptocurrency.
On April 28, James confirmed that he and Kirkconnell were back together. In an interview with People, he revealed he had been seeing Kirkconnel and was not pursuing any other relationships besides her.
On May 25, the former Bachelor appeared on the Pomp podcast, discussing his relationship with the 24-year-old. He revealed his girlfriend had given him an ultimatum, which finally pushed him to commit to their relationship fully. 
She was like, 'If you're going to make this work, let's do it. But, if you're not going to make it work, I'm going to let you do your own thing.
The Controversy That Led To Their Split
Right after season 25 premiered in early January 2021, Kirkconnel's racially insensitive past came to light. Kirkconnel received a lot of backlash for the photos of her attending an Old South-themed frat party in 2018. 
She also made headlines when a TikTok user accused her of being racist in high school. Screenshots of Instagram photos Kirkconnel enjoyed featuring people smiling in front of Confederate flags then surfaced on social media.
The controversy escalated when the host of the dating show, Chris Harrison, sat down with Rachel Lindsay, asking the fans to be a little more understanding of the situation. The statement did not sit well with fans.
Just two days after the interview, Kirkconnell finally issued an apology on February 11, taking accountability for her actions, admitting that she had been wrong and ignorant.
It was later revealed during the After the Final Rose special that the pair had split because of the controversy. The news of the split was also confirmed by the long-time Bachelor Nation spoiler source, Reality Steve, on February 23, 2021, via Twitter. 
However, there were rumors confirming that the pair had reunited again in April after James flew her out to New York City to stay with him. Kirkconnell believed she would see James mend their relationship but was disappointed when that didn't work out. 
A woman claiming to be James' ex said that he had spoken with her just days prior, inviting Kirkconnell to stay with him in New York, making the 24-year-old feel as if James had broken her trust.
Regardless, after all the ups and downs in their relationship, it seems like James and Kirkconnell are back together for good.