Chris Lane and Wife Lauren Bushnell Experience Parenthood with Lots of Diaper Duties
Chris Lane and Lauren Bushnell recently gave birth to a son, and the couple couldn't be happier about it.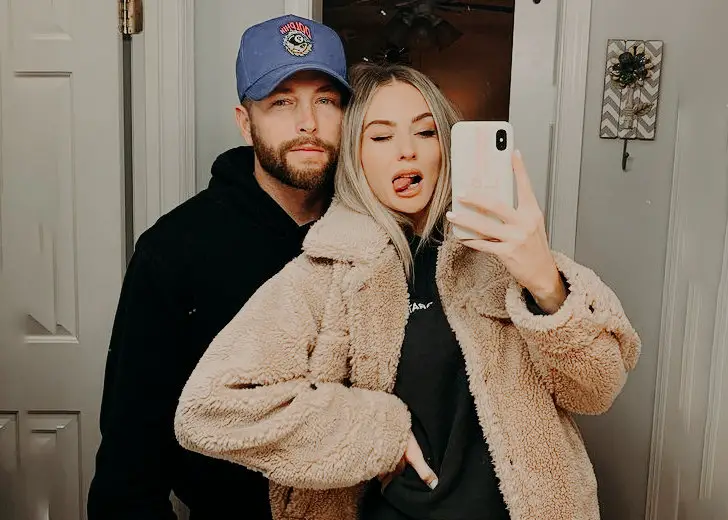 Chris Lane is a famous country music singer and songwriter. He is well known as the frontman of the Chris Lane Band. 
The band released their debut album Let's Ride in 2012, which charted on the Billboard Top Country Albums list. As a solo artist, Lane released his first album, Girl Problems, in 2016, which was a critical success. 
The album debuted at #55 on the Billboard 200 chart, and its single 'Fix' peaked at number one on the Billboard Country Airplay chart.
Since then, he has established himself as a promising country singer and was nominated for New Male Vocalist of the Year in the 2017 ACM Awards. 
The talented musician has achieved success not only in his professional career but also in his personal life. He is married to reality TV star Lauren Bushnell, and the couple is a proud parent of one.
Chris Lane and Lauren Bushnell Become Parents
Lane and Bushnell welcomed their first child Dutton on June 8, 2021. 
The singer recently sat down with HollywoodLife to discuss his new role as a father. It has been over two weeks since the country singer became a dad, and he loves every minute of it.
Lane shared his favorite part about being a parent is watching his son change. The singer felt like he noticed something different about his child every 10 minutes. 
He further explained that watching his wife as a mother of his child has been one of his favorite things about parenthood. He feels his son is fortunate to have her as his mom because she is good at it. 
The couple was nervous at first because it was their first time, but Bushnell has adapted very well. With barely any sleep, she has managed to take excellent care of their son.
With all the things she has done, the singer considers his wife a superhero. 
Lane released a new song titled 'Ain't Even Met You Yet' dedicated to his son on June 25, 2021. He revealed he had written the heartfelt song months before the arrival of their son. 
Lane is very proud of this number and can't wait for Dutton to hear when he is old enough to understand it. 
In an interview with People, the couple revealed their newborn was already stubborn and loved to observe his surroundings. 
They named their son after the last name 'Dutton' of the drama series Yellowstone. Funnily, Bushnell called her son's middle name after her lawnmower. 
She had a mower called Walker mower and had an epiphany that Walker would make a good boy's name. However, the duo was confused about whether to keep Walker as his first name or middle. So, in the end, they named their son Dutton Walker Lane.  
Chris Lane and Lauren Bushnell's Relationship History
Before Lane and Bushnell were together, Bushnell was engaged to another guy. 
She was a contestant at Bachelor season 20 and was proposed by Ben Higgins in the season finale. She said "yes," and the pair starred in a spinoff of season 20 - Ben and Lauren: Happily Ever After? 
However, Higgins and Bushnell did not receive their 'happily ever after' since Bushnell broke off their engagement in May 2017. 
The same July, Bushnell dated Devin Antin, a real estate agent. They were together for more than a year before parting ways in August 2018. The TV personality met her future husband while she was in a relationship with Antin. 
Bushnell and Antin were attending a music festival where they watched Lane perform at Stagecoach. She got an opportunity to meet her future husband backstage after his performance. 
Before Bushnell and Lane started dating, they took a vacation with a group of friends. Bushnell said that the singer spent the entire trip convincing her he wasn't dating material.
After the trip, the pair starting hanging out properly and eventually got together. Bushnell began dating the country singer in November 2018, three months after her breakup with Antin. 
They made their relationship red carpet official at the 2018 BMI Country Music Awards. Soon after, the duo started making public appearances and hanging out with each other's families. 
Fast forward to June 16, 2019, and Lane popped the question to the reality TV star. The singer knew his girlfriend did not want an elaborate proposal, and she preferred an intimate one. 
So, Lane proposed to the love of his life in the backyard of her Oregon family home. But, before proposing, the singer got the blessing from his father-in-law to ask for his daughter's hand on the occasion of Father's Day. 
Lane proposed to Bushnell in the most romantic fashion. He sang her a song he wrote for her, showing her how much he loved her, and then asked her to be his wife. 
The duo could not wait to get married. Just after four months of engagement, they tied the knot at a private ceremony. They got married surrounded by family and friends in Nashville.